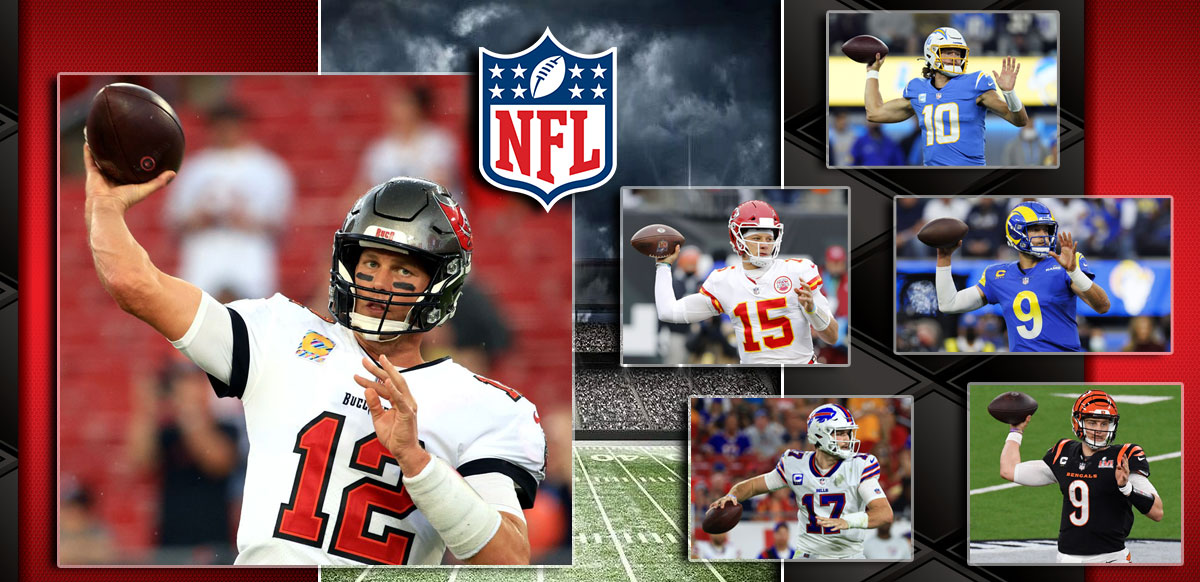 Justin Herbert opens as the +750 betting favorite to lead the NFL in passing TDs next season.
44-year old Tom Brady, who led the NFL in that statistical department last season, is next at +800.
Patrick Mahomes is third in the BetOnline oddsboard at +850.
Los Angeles Chargers' incoming third-year QB Justin Herbert has opened as the odds on favorite to lead the NFL in passing TDs next season.
According to the BetOnline App, the 6th pick of the 2020 NFL Draft is the +750 betting favorite to produce the most touchdown passes next season.
The 24-year-old Herbert is coming off a Pro Bowl season in Los Angeles. Although it was the "other" L.A. team that won the Super Bowl, Herbert is coming off another scintillating season as the Chargers' starting QB.
2021 Offensive Rookie of the Year
Justin Herbert wins the 2020 offensive rookie of the year.

Most TD passes by a rookie (31) ✔️
Most completions by a rookie (396) ✔️
Most 300 yard games by a rookie (8) ✔️
Most total TDs by a rookie QB (36) ✔️ pic.twitter.com/Qik8zIf0Ws

— uSTADIUM (@uSTADIUM) February 7, 2021
As a rookie, Herbert not only won the Offensive Rookie of the Year award but he also shattered Baker Mayfield's rookie record with 31 touchdown passes while also setting NFL rookie records for most completions with 396 and highest passing yards per game average at 289.1 passing yards per game. Herbert also became the first rookie in NFL history to throw multiple TD passes in six consecutive games. He was also the first player in NFL history to throw 15 TD passes and amass 1,500 passing yards in his first six NFL games.
Last season, Herbert did not slow down. He became only the 9th QB in NFL history to have a 5,000 passing yards season, finishing with 5,014. He also finished third with 38 passing touchdowns and had a total of 41 touchdowns last season, breaking Phillip Rivers' Chargers franchise record.
Although the Chargers were eliminated by the Las Vegas Raiders from playoff contention in their final game of the regular season, Herbert did not go down without a fight. His game-tying TD in regulation was his 69th career TD, enabling him to break Dan Marino's NFL record of 69 TD passes in a QB's first two NFL seasons. That game went to OT but the Raiders won on a 47-yad FG by Daniel Carlson.
Passing TD, Yards Leader at Age 44
Age 44.

Passing yards leader. Passing TD leader.

Tom Brady.? pic.twitter.com/HwgbGtZ7ws

— The Athletic (@TheAthletic) January 10, 2022
Not surprisingly second on the BetOnline odds board is Tampa Bay Buccaneers quarterback Tom Brady who is returning to a 23rd NFL season in 2022. The six-time Super Bowl winner announced his retirement after the Bucs were eliminated by the Los Angeles Rams in the Divisional Round of the NFL playoffs. But just 40 days later, Brady had a change of heart and announced that he will be coming back to play next season.
Brady finished second behind Aaron Rodgers in the 2022 NFL MVP balloting and he was the NFL's leader in both passing touchdowns and passing yards, doing so at the age of 44 and breaking Payton Manning's previous mark as the oldest player to lead the NFL in TD and passing yards by an incredible seven years. The issue with Brady however is that he is turning 45 in August and no matter how great he was last season, there is always that possibility that Father Time will catch up with him. Still, at +800 odds, Brady is an intriguing option.
Kansas City Chiefs Patrick Mahomes is third at +850 but with the Chiefs losing Tyreek Hill, Mahomes may not be an enticing bet. Super Bowl LVI winning QB Matthew Stafford who finished second behind Brady with 41 TD passes last season is next at +1000. Losing SB LVI QB Joe Burrow who was 8th in TDs last season with 34 is also listed at +1000 as is Josh Allen whose Buffalo Bills are the current odds on favorite to win Super Bowl LVII.