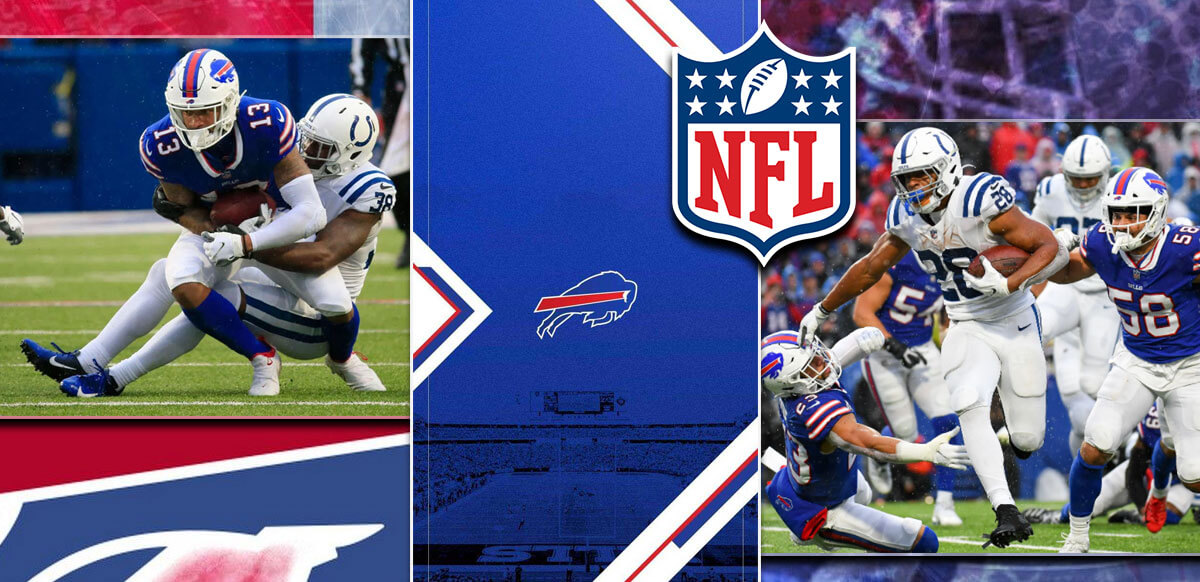 Oddsmakers fading Buffalo in several categories
Allen's struggles lower his futures
Patriots still trail Bills despite five-game winning streak
The jury is now officially out on the Buffalo Bills. You meet their top-ranked defense with a physical running game with a physical back such as Indianapolis' Jonathan Taylor and you can have success.
Taylor rushed for 185 yards on 32 carries while the Colts total 264 on the ground in Indy's 41-15 beat down of the Bills on Sunday.
Well, it's over. #INDvsBUF | #BillsMafia pic.twitter.com/wV7uJCyBom

— Buffalo Bills (@BuffaloBills) November 21, 2021
The rushing attack was complemented by a defense that turned Bills quarterback Josh Allen over four times in the win.
Buffalo has lost two out of it's last three games and has now faded to third in odds to win the Super Bowl at (+800) with the Buccaneers still the favorite with the Kansas City Chiefs creeping back into the conversation at (+750).
.@itslilmooney and @jay__sneed were straight up BALLIN on Sunday ? pic.twitter.com/V2iAOUQ5uE

— Kansas City Chiefs (@Chiefs) November 23, 2021
The Bills rushing attack is spiraling downward as well. Buffalo had five 100-yard games through the first five weeks.
Since then, they have had two out of the last five and coincidentally, they were 0-3 in those games.
Devin Singletary is the Bills' leading rusher as he has carried for 415 yards this season, but Buffalo does not have a 100-yard rushing game out of any of it's running backs.
Playoff Potential
The Bills still are the favorite in the AFC East with a (-165) number to win the AFC East. New England has improved to (+130) with Miami (+15000) and the New You Jets (+100000) still getting odds.
Buffalo's odds faded from the (+450) of a week ago after they used a 366-yard passing day from Josh Allen to jump to a 38-3 halftime lead over the New York Jets en route to a 45-17 win.
Factor in though, two weeks ago, even after Buffalo lost to Jacksonville, the Bills were at (-750) with the Patriots at (+400).
QB Josh Allen: We played like sh*t and it starts with me. This loss stings, but we will be better because of it. #BUFvsJAX pic.twitter.com/7RHVjnuOdl

— Buffalo Bills (@BuffaloBills) November 7, 2021
Buffalo is now at (+600) to get the number one seed in the AFC Playoffs. This is the fourth best odds behind Tennessee (+200) , Baltimore (+400) and Kansas City (+400).
Buffalo is at (-550) to at least make it to the playoffs for the third year in a row as they ran to the AFC Championship game a year ago where they lost to Kansas City, 38-24. The Bills are at (+400) to not make it to the playoffs.
Most online sportsbooks still feel that Buffalo will win the AFC East as the Bills are (+350) to at least get a wild card as they are tied for eighth in this category.
Allen's Struggles
Josh Allen has thrown four touchdown passes against five interceptions in these last three games. His quarterback rating bottomed out at 62.5 in the 9-6 loss to the Jaguars win Week 9.
This is hardly a comparison as he had 17 touchdown passes vs. three interceptions in the Bills' first seven games as Buffalo started 5-2 over those first seven games.
Allen has fallen into second in odds to win the NFL's MVP at (+600) as he is passed by Buccaneers' Hall of Famer to be Tom Brady (+300). The Rams' Matt Stafford, Dallas quarterback Dak Prescott, and Green Bay QB Aaron Rodgers all post (+1000) odds behind Allen.
QB Josh Allen: I have a lot of trust and faith in this team. How we played today is not who we are. #BillsMafia pic.twitter.com/dKUd6Rglku

— Buffalo Bills (@BuffaloBills) November 21, 2021
A month ago, Allen led the NFL MVP race with odds at (+300) as Arizona's Kyler Murray, out with an injury the last three weeks, and Prescott were posted at (+450) as Brady was found with a (+600) number and Stafford was in the same place with the (+1000).
Allen was 21-of-35 for 209 yards with two TDs and two interceptions vs. the Colts. Part of the problem as of now is the pass protection as he has been sacked 15 times and seven in the last three games.
The former Wyoming Cowboys quarterback has also fallen back to seventh place in NFL Offensive Player of the Year odds at (+2500). Los Angeles Rams wide receiver Cooper Kupp leads at (+175), but he is getting quite a battle now from Colts running back Jonathan Taylor who is at (+275).
Patriotic Events
New England leads the AFC East by one-half game at 7-4 while Buffalo is 6-4.
But the Bills as we noted are still the AFC East betting favorite as we noted earlier.
The Patriots have won five in a row and six out of seven as they have outscored the Falcons, Jets and Panthers, 94-13, in the last three weeks.
Lots of football left, but after a slow start to the season, the Patriots playoff possibilities are taking shape.@pfwpaul takes a look around the league: https://t.co/sBd6fOC9ht

— New England Patriots (@Patriots) November 23, 2021
New England has moved up into a tie with the Baltimore Ravens at (+600) odds to with the AFC title with a continually improving defense as well as the management skills of quarterback Mac Jones.
The former Alabama quarterback is once again ahead of Ja'Marr Chase for NFL Offensive Rookie of the year as Jones renders (-105) odds and Chase checks in with odds posted at (+125).
On Oct. 25, Chase was in the lead as he was seen with composite odds at (+105) with Jones at (+400).