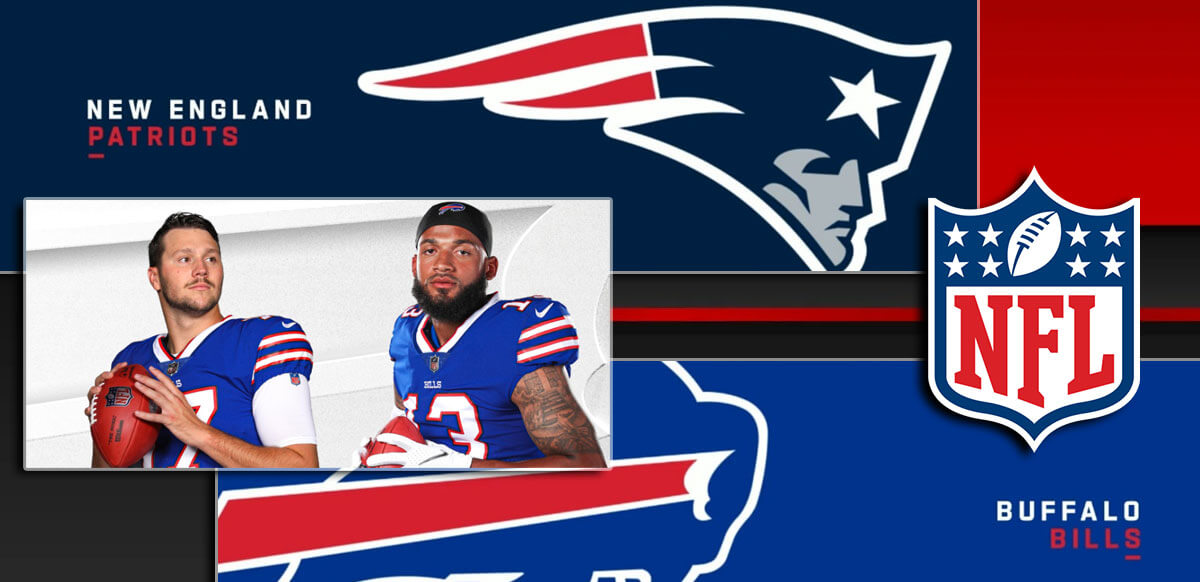 Bills' Allen makes good on his prop bet numbers
Bettors on Buffalo's Singletary, Davis, Sanders het paydays
Pats' Jones on the fade in NFL Offensive Rookie of the Year numbers
Buffalo quarterback Josh Allen had one of those career games in the Bills' 47-17 beat down of the New England Patriots in an SEC Wild Card game on Saturday night.
THAT'S A BILLS WIN!!!#NEvsBUF | #BillsMafia pic.twitter.com/30bv2YYT6U

— Buffalo Bills (@BuffaloBills) January 16, 2022
He threw five touchdown passes as he hit tight end, Dawson Knox, with two of those, and then Devin Singletary ran for two touchdowns in the rout.
Allen threw for 310 yards as he connected on 21 of 25 passes and he blew away the prop bet of 237.5 yards as Buffalo destroyed the point spread which was at (-4.5). Knox had his two TD catches in the first quarter as money posted on him to score first was at (+1100) as well as him catching two or more TD passes was given a (+1700) tag. The top NFL sportsbooks had posted Allen with 1.5 touchdown passes for the game and of course he had secured the two to Knox early in the game.
It was Devin Singletary's turn in the second quarter as he scored on touchdowns from three and 16 yards out to give Buffalo a 27-0 lead with 1:53 remaining before halftime.
Shake and bake!

?: @NFLonCBS pic.twitter.com/9GuuJT2ys0

— Buffalo Bills (@BuffaloBills) January 16, 2022
Singletary, who led the Bills with 870 yards on the ground in the regular season and only seven rushing touchdowns, paid on his (+800) odds to score two touchdowns.
Bets on Emmanuel Sanders (+425) and Gabriel Davis (+330) paid as well as Sanders caught a 34-yard TD pass from Allen early in the third quarter and Davis's TD catch gave Buffalo a 40-10 lead with 13:22 left in the game. Allen's next cover was on rushing yards as he came into the game with his best rushing mark of his career at 763 yards which equated to 6.8 yards per carry.
In averaging 44.8 yards per game this season, the oddsmakers set his rushing yards number at 49.5 and he also blew this away with six carries for 66 yards.
The Patriots were Overmatched
New England was not involved at any point in this game with how thoroughly dominated they were. Allen asserted himself immediately in leading Buffalo on touchdown drives on nine plays and 70 yards and ten plays and 80 yards as the Bills chewed up 10:15 in the first quarter.
The Patriots' first touchdown was a three-yard TD pass from Mac Jones to Kendrick Bourne which covered the 42.5 points on the OVER and cut the Bills's lead to 33-10 with 4:12 to play in the third quarter.
Bourne later caught a four-yard pass from Jones with under two minutes left in the games. Bourne's eight catches for 77 years was his best outing of the season, and bettors who bet on him were paid with the (+2800) odds that he would score twice.
BIG MAN TOUCHDOWN.

?: @NFLonCBS pic.twitter.com/RVAipjMaqp

— Buffalo Bills (@BuffaloBills) January 16, 2022
As for Jones, he is history now in his plight to win the NFL's Offensive Rookie of the Year as Cincinnati wide receiver Ja'Marr Chase has odds at (-250) to win the award while Jones, who struggled over the Patriots' last five games, is at (+200).
Chase led the Cincinnati receiver corp in Saturday's 26-19 win over the Raiders with nine catches for 116 yards.
Meanwhile, Jones threw for just 232 yards, and most of those were in the fourth quarter when the Bills were in their soft zone mode. He also threw two tough interceptions as both were on the first drive of each half, and the Bills turned those into 14 points.
Bills Super Bowl Odds On the Move
The Bills' Super Bowl odds moved up after the game as they now are back to (+500) odds from (+750) last week. Green Bay has the No. 1 seed, and the bye in the NFC, and the Packers are still a slight favorite to win Super Bowl LVI as they are posted with (+380) odds while the Kansas City Chiefs are at (+400).
Lambeau Field awaits.#SFvsGB | #GoPackGo pic.twitter.com/Hgkd8McYWX

— Green Bay Packers (@packers) January 17, 2022
The Chiefs used 404 yards and five touchdowns on the arm or quarterback Patrick Mahomes to smoke the Steelers, 42-21, on Sunday night. Allen now has improved from odds at (+650) to win Super Bowl MVP to (+550). Green Bay's Aaron Rodgers is even with Mahomes as both sit at (+450). Tampa Bay QB Tom Brady is fourth at (+600).
The Betting Public
Immense numbers are the norm when discussing wagering during the NFL Playoffs and on the Super Bowl. A bettor in New York placed a $250K net on the Buffalo Bills to win the Super Bowl, which would pay out $2,125,000.
A win that gave all of us chills.#NEvsBUF | #BillsMafia pic.twitter.com/aQ9ZdLwLmd

— Buffalo Bills (@BuffaloBills) January 16, 2022
The Cincinnati Bengals were subjects of the next biggest bet as a bettor posted $50,000 on the Bengals (+2000) to win the Super Bowl. He or she would have a payout of $1,000,000.