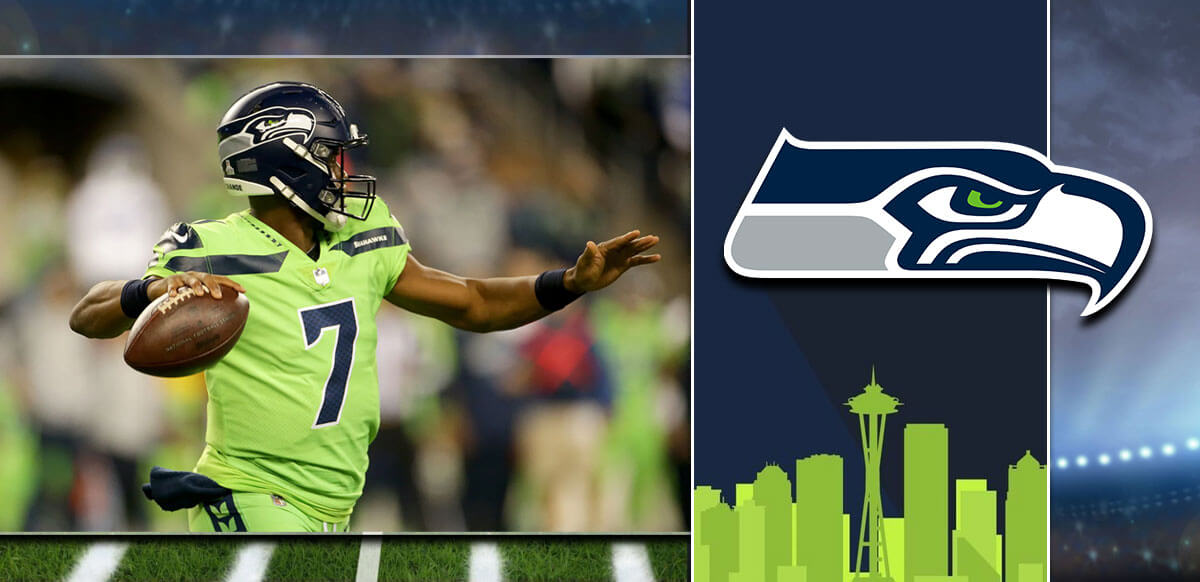 Oddsmakers post prop bets on Geno Smith's stats for this Sunday's Seahawks-Steelers matchup
Seahawks' defense gets total yardage prop
Odds move in favor of Steelers
When Russell Wilson went down with a fractured finger on his middle finger on his right throwing hand, it was first thought that he could out close to six to eight weeks. As it is now projected that it will be more like four after successful surgery, backup QB Geno Smith takes the controls on Sunday night when the Seahawks fly into Pittsburgh in a battle of 2-3 teams.
The start of something special. ?

The last time we played in Pittsburgh, @dkm14 scored his first NFL touchdown! ? pic.twitter.com/8engOMYgPi

— Seattle Seahawks (@Seahawks) October 14, 2021
According to BetOnline.ag, Smith is already on the short list for prop bets as he is getting odds at (-190) that he will throw an interception and (+145) odds that he will not get picked off by the Steelers at Heinz Field.
Smith threw 34 interceptions combined in 2013 and 2014 as he was a rookie starter for the New York Jets as he had about zero of an offensive line and found himself on the ground a combined total of 71 times in those two years. Since 2014, he was with the Jets for two more years, then the Giants and Chargers while spending the last two in Seattle.
The odds on the touchdown passes are a little more challenging as Smith is set at (-220) to have UNDER 1.5 TD tosses, and he's catching (+155) to be over that number (-115).
"Are you kidding me?!" ?

Go All Access with @Bose during our Week 5 game against the Rams, to @GenoSmith3's touchdown pass to @dkm14.

— Seattle Seahawks (@Seahawks) October 12, 2021
In those first two seasons with the Jets, Smith threw 25 touchdown passes and has had multiple touchdown tosses in six career games.
Oddsmakers set a total passing yardage number at 229.5 yards for Sunday's matchup with the Steelers. Smith's odds to go UNDER the number are (-130) while he is posted at (-110) to push OVER the 229.5 yards. In the 42 games in which Smith has appeared, he has 30 touchdown passes and 37 interceptions, but he has been hampered by troublesome offensive lines as he has been sacked 82 time.
Teams have an 18-24 record in Smith's appearances as his last start was on Dec. 3, 2017, for the New York Giants at Oakland, where the Raiders took a 24-17 decision.
Fledgling Flaws
Coach Pete Carroll's teams are long known for their tough defensive identities that are unyielding to opposing offenses. Seattle went into a rebuild last season, and it has continued over into 2021 with player movement and injuries.
Seattle's defense is last in the NFL as it gives up 450.8 yards per game, and it gives up 305.6 yards passing (31st/NFL) and 145.2 yards on the ground (31st/NFL). Oddsmakers place the Seahawks' defensive yardage total at 390.5 with (-120) odds on both the OVER and the UNDER. They even get back to Russell Wilson on the props in asking the question if he will be with the Seahawks in the season of 2022-23. The 'Yes" is laying odds at (-200) as of now, while the "no" is catching (+150) odds.
Wilson was off to a season where it felt like he could pull the Seahawks through to enough wins to get into the playoffs as he had completed 90 of 125 passes for 1,196 yards. He had thrown 10 touchdown passes with only one interception while hoisting a hefty QB rating of 125.3.
Stalking Steel Town
The Steelers are 5-point favorites to win Sunday Night's contest with Seattle. Bovada was posting Seattle (+4) last Sunday, but when the certainty of Wilson's injury situation took control, the line moved from (+4.5) to (+5), where it has been since Sunday.
BetOnline.ag had an interesting week with the odds as the Seahawks were favored by (-2.5) almost all of last week.
However, again with Wilson being announced out for the potential four-week stint, the line changed by 6.5 points and the Seahawks were sitting at (+4) while moving to (+4.5) in the early to mid-week and then touching down at (+5) early yesterday morning. There was not as much fluctuation on the OVER/UNDER for the game as Bovada had it set at (+43) on Monday with (-115) odds. Those fell to (-110) and now (-105) as of this morning.
BetOnline.ag had a different look as the significance of the confidence in the Seahawks sans Wilson was underscored with the drop of the number.
The OVER/UNDER started at (+48) (-110) last Tuesday and then after then on Sunday night after the news of Wilson's finger injury as he had to be lifted from the loss to the Rams, the number fell to (+43) (-115) and then on to (+42.5) as now it seems steady at (+42) as the odds have moved from (-110) to (-112) to (-118).