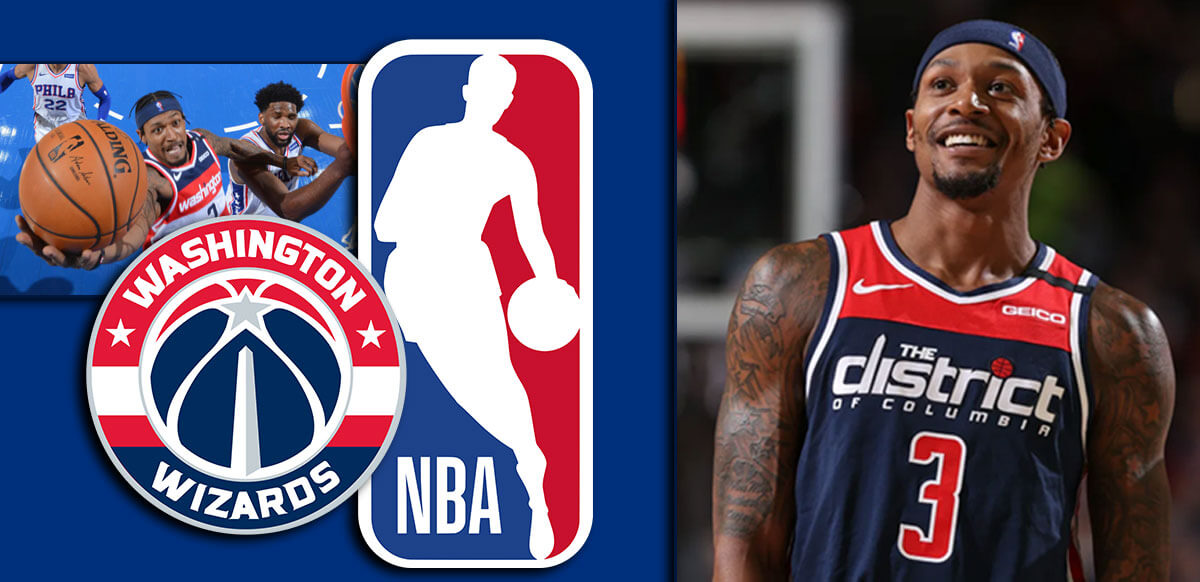 Bradley Beal (+250) is the betting favorite to win the 2021-22 NBA scoring title over Steph Curry (+400).
Steph Curry took last season's scoring title by scoring 46 points in his final regular season game.
The return of Klay Thompson is expected to eat some of Curry's scoring opportunities this year.
After being denied by Steph Curry last season, Bradley Beal has opened as the odds on favorite to lead the NBA in scoring during the 2021-22 season.
The Washington Wizards franchise player fell short to Curry by 0.68 points per game in last season's Scoring Race which went down the wire and had one of the most exciting finishes ever. However, with a new season ahead, the oddsmakers believe Beal is the man to beat this year.
The best NBA betting sites have listed Beal as the +250 betting favorite to become the NBA's next scoring champion. Curry is currently second at +400 while Dallas Mavericks superstar Luka Doncic and Portland's Damian Lillard are third at +650. Philadelphia's Joel Embiid is 5th at +800. New Orleans Pelicans' Zion Williamson and 2021 NBA Finals MVP Giannis Antetokounmpo are next at +1100 apiece.
Curry Beats Beal For 2021 Scoring Title
Warriors' Stephen Curry beats out Wizards' Bradley Beal to win second NBA scoring titlehttps://t.co/0SdjgERf4D

— CBS Sports NBA (@CBSSportsNBA) May 16, 2021
Beal was the early odds on favorite to win the Scoring title but after a historic scoring run, Curry became the -150 betting favorite in late April. With Beal coming up with big games of his own as the Wizards battled back to get to the postseason, the two went back and forth in the oddsboards.
The battle went down to their respective final regular season games. In the end, Curry won the crown after scoring 46 points in his last regular season game while Beal only managed 25.
In any other season, Beal would've won that scoring title. But Curry had an improbable year, including a record-breaking stretch in April which catapulted him to the thick of the scoring race. Despite that, Beal still averaged a career-high 31.3 points per game last season and established himself as one of the league's best point makers.
With Klay Thompson expected to return this season for Golden State, Curry's shot attempts could theoretically go down, making Beal the obvious betting favorite to win the 2021-22 scoring title. Doncic are Lillard are justified at +650 as they carry the bulk of the scoring load for their teams while Embiid at +800 will need to score more, especially if gun-shy Ben Simmons sticks around in Philly.
Wizards Need a Big Season From Beal
The Wizards finished the 2021 season strong and made it to the playoffs despite being a 0.6% longshot to do so on April 6th. But after winning 34 games in a 72-game campaign, the oddsmakers have pegged Washington's 2021-22 season win total to 33.5, even though the league is returning to the traditional 82-game regular season schedule.
Bookmakers aren't also too high on Washington to return to the postseason as they are currently a massive -700 favorites NOT to make the playoffs. Their championship and conference odds are even worse.
Washington currently has the 4th longest odds to win the 2022 NBA championship at +12500 at online sportsbook BetOnline. They also have the second-longest odds to win the Eastern Conference at +5000 and the second-worst odds to win the Southeast Division at +4000.
But then there's Bradley Beal. At 28, he is at the peak of his powers. If the Wizards are to beat the odds again this season, just as they did last year, they need another big campaign from Beal. With a decent supporting cast, they might pull off a surprise in the East, and Beal too could upend his challengers by winning the scoring title.