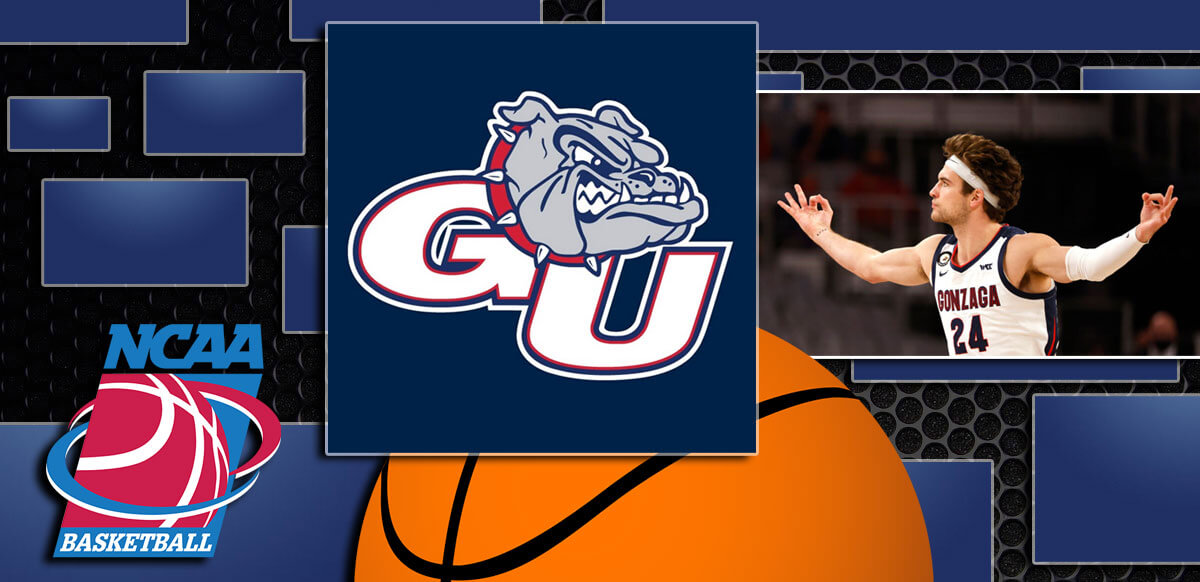 Gonzaga still has best odds to win National Championship
BYU, San Francisco and Saint Mary's make the WCC a potential four-bid league
Timme fades in Wooden Award odds despite sizzling conference start
The Gonzaga Bulldogs are off to their usual rollicking start in the WCC as they sit at 3-0, but that record went to incredible heights over the first three games.
— Gonzaga Basketball (@ZagMBB) January 17, 2022
The Bulldogs have averaged 110.6 points in piling up wins over Pepperdine, BYU, and Santa Clara as the team has gotten up an average of 73.3 shots per game while making 60 percent of those in WCC play. Big man Drew Timme is averaging 26.7 points and is shooting 79.1 percent in these three league encounters.
Online sportsbooks have Gonzaga posted with (+600) odds to win the national championship. Duke and Purdue are tied for the second best odds at (+900) with Baylor at (+1200) and Kansas (+1400). Auburn has made a major climb as the Tigers are sixth at a (+1600). They are No. 2 in the AP poll as they had 36 first place votes to 25 for the Bulldogs, but Gonzaga edged Auburn out by four points for the top spot.
Saturday, Timme had 32 points and point guard Andrew Nembhard nailed 19 as the Bulldogs enjoyed a 115-83 rout of Santa Clara. Timme made 14-of-18 shots while freshman center Chet Holmgren scored 11 points and grabbed 12 rebounds.
Third straight ?pt game

presented by @WellsFargo pic.twitter.com/RFBGZZTbEx

— Gonzaga Basketball (@ZagMBB) January 15, 2022
The Bulldogs have the best odds to make it back to the Final Four as well as they commence with (+115) while Duke is (+190) and Purdue (+200).
Once again, Baylor is spotted at (+240) with Kansas (+300).
Auburn is once again getting movement as Bruce Pearl's Tigers have the sixth best odds to make it to the Final Four at (+350).
Nothing Timid About Timme with his Explosion
Even with Timme's aggression in the paint, he is still tied with Duke freshman Paolo Banchero with (+1000) odds to win the Wooden Award. Overall, Timme is posting 18.6 points and 6.0 rebounds while shooting 65.5 percent from the field.
No surprise here ?
?☝️ #WCChoops Player of the Week: Drew Timme, @ZagMBB
?https://t.co/IGQGu4kZ4e pic.twitter.com/YxCjGpoRNJ

— WCC Basketball (@WCChoops) January 17, 2022
Coach Mark Few has challenged this team with a schedule that included Texas, UCLA, Duke, Alabama and Texas Tech with the Blue Devils and Crimson Tide recording wins.
Timme had his season-high of 37 points in the win over Texas and his season-low of seven points as the Bulldogs defeated Texas Tech.
Holmgren is given (+4500) odds to win the Wooden Award as well as he is the Bulldogs' second leading scorer at 13.1 points and 8.5 rebounds while posting a 61.1 percent average from the field.
Nembhard is averaging 9.7 points, but 14.7 points in WCC play where he is dishing assists at an 8.7 per game clip inside the conference. Nembhard is poised with (+15000) odds to win the award as his overall assist-to-turnover ratio is 5.3-to-2.2 in 29.6 minutes per game in 16 outings.
Wisconsin's Johnny Davis (+750) has a slight edge over Kansas' Ochai Agbaji and Illinois center Kofi Cockburn as they sit at (+900).
At 14-2, Gonzaga has a 9-7-0 ledger ATS as the Bulldogs have covered their last three in a row and five out of their last six games. Gonzaga has been a 30 or more points favorite on 10 occasions and has a 5-5-0 record ATS, as such.
The Bulldogs have odds at (-10000), so with the talent on hand and the eye on a potential national title, it's the Bulldogs' to lose once again.
WCC Improving, but Bulldogs are still Overwhelming Favorites
The WCC is having a solid year outside of the behemoth from Spokane as BYU, Saint Mary's and San Francisco all look like they will make dates for the NCAA Tournament in March.
The league, itself, is ninth in the nation, according to KenPom analytics and the four above teams are in the Top 37 in the NET rankings this week as the Cougars sit at No. 27 with the Dons penciled in at No. 35 with the Gaels at No. 37.
BYU has odds to win the WCC sitting at (+800), according to PointsBet. While the Cougars are 14-3 overall, they are 10-7-0 ATS and are 6-3-0 with 2-3 dates rest. The have covered the OVER in eight of 13 non-conference games and have only four covers in 11 games with equal rest.
The Cougars' defense has been one the biggest keys as BYU holds opponents to 39.6 percent from the floor which is why we may be seeing more UNDERS with the Cougs. Alex Barcello paces the attack with 16.8 point per night.
San Francisco's last NCAA Tournament appearance was 24 years ago in 1998, but a dynamic backcourt led by Jamaree Bouyea (17.9 ppg, 4.9 rpg) and Khalil Shabazz (12.6 ppg) has USF thinking it can get into the tournament and win games.
The biggest boost for coach Todd Golden's squad has been 6-10 forward Yauhen Massalski, who shoots 61.1 percent from the field is second in scoring and leads the team in rebounding (14.1 ppg, 8.2 rpg).
The Dons are 15-3 overall, but are 5-12-0 ATS and are 2-6-0 ATS in their last eight games. San Francisco had three consecutive OVERS before the 71-69 loss to BYU UNDER on Saturday as USF has eight OVERS in 17 games.
Saint Mary's has won three out of it's last four games as the Gaels are 13-4 and 1-1 currently in the WCC. The Gaels are 6-10-0 ATS and they are 0-5-0 ATS as an underdog. The Gaels are known as a tempo team under coach Randy Bennett, but they have covered the OVER in four of their last six games.
Matthias Taas (12.4 ppg, 6.1 rpg) leads SMC, as the Gaels' defense has been really solid in allowing only 58.1 points on average (8th/CBB) and they allow opponents to make only 5.1 three-point shots per game (13th/CBB).