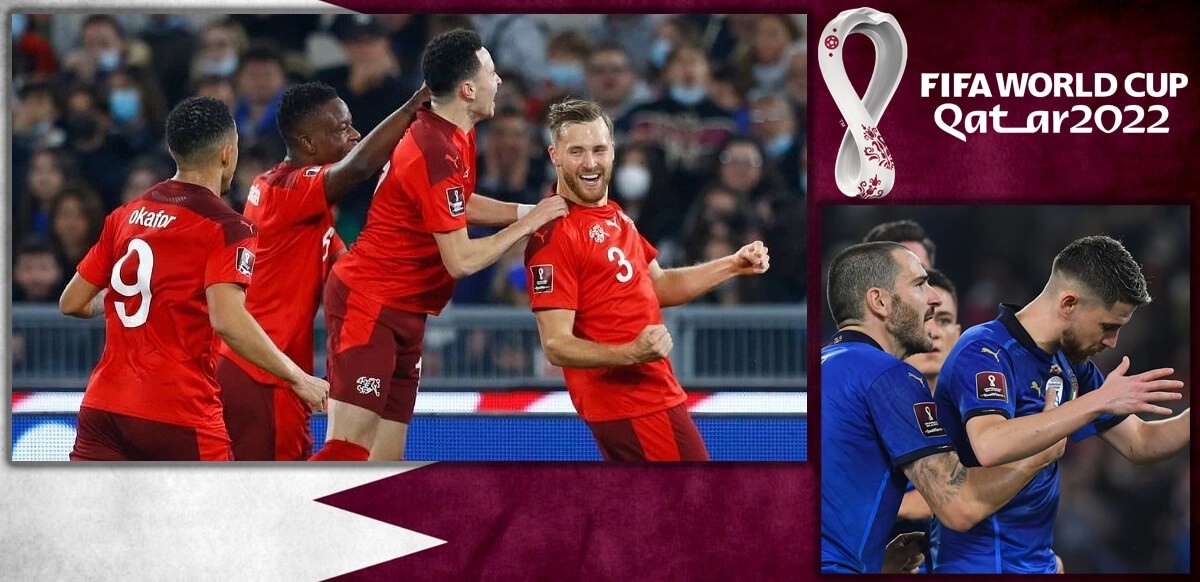 Coming into the eighth and final round of WC Qualifiers, Italy and Switzerland are in a deadly race for direct qualification to Qatar World Cup 2022. They both have fifteen points coming into the final fixture, but Italy is currently in front thanks to the goal difference. If you like betting on soccer, this match is worth checking out!
Switzerland WC qualifier hopes are still alive, though. They're set to play against Bulgaria at home in the final round, whereas Italy goes up against Northern Ireland in what ought to be a tricky away leg. Things will be ferocious in both stadiums, with plenty of betting lines promising good value.
That said, what's the ideal option here? Let's have ourselves a closer look!
Switzerland WC Qualifer Hope Lives On
We've seen several direct clashes for World Cup qualification yesterday. Serbia, against all odds, shocked Portugal to clinch a direct spot in Qatar. Russia failed to do the same against Croatia, following a late own goal that sent the Croats to Qatar.
However, this here is not a direct clash. Italy vs. Switzerland WC qualifier battle will be fought on two different stadiums. At the moment, Italy has superior goal difference by two goals. If both teams win, Italy has to win with a margin that's at least two goals bigger than Italy's.
But, then again, Italy will have a much tougher time on their hand. Northern Ireland are third in group C and have conceded seven goals thus far, whereas Bulgaria conceded ten. Plus, Bulgarians are set to play away. Northern Ireland is going to play in Belfast and, despite the fact they don't have theoretical chances of going through, home supporters ought to be their 12th player.
89': VAR awards a penalty for Italy
90': Jorginho skies the game-winning penalty against Switzerland

— B/R Football (@brfootball) November 12, 2021
All these calculations are in play because of Jorginho's missed penalty that helped the Swiss clinch a draw in the last fixture. If he had scored that, Italy would've practically been through to Qatar.
But, as things stand now, this duel is far from over! Italy has a tough game on their hands, whereas Switzerland has an imperative of stomping over Bulgaria at home. If Switzerland wins and Italy draws or loses, Swiss is through to Qatar. If they both win, then we're going into deeper speculations.
If they can score 5+ goals and keep Sommer's net clean, that would almost guarantee them direct qualification to the 2022 World Cup… because let's face it, there's no way Northern Ireland concede lots of goals at home, no matter how aggressive Italy comes into that match.
I for one fancy Switzerland WC qualifier chances here! I reckon they are going to defeat Bulgari with at least four goals to spare. At +210, Switzerland to cover -3 spread is what I'm looking at here. Everything is perfectly set up for this one, so make sure you don't miss out on it!