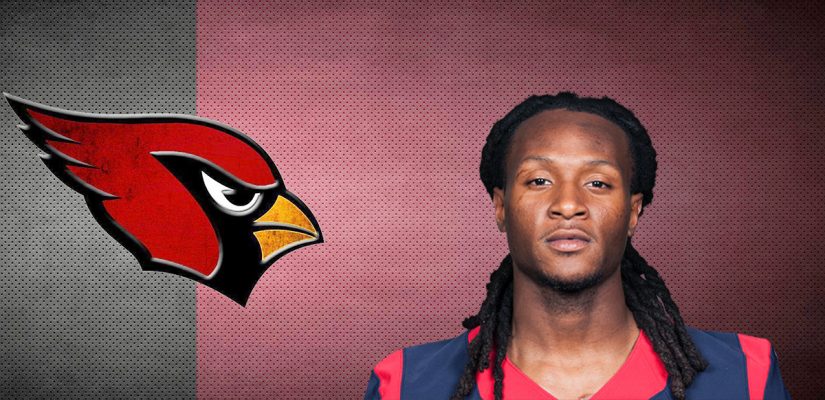 Cardinals acquire WR DeAndre Hopkins, 4th round pick from Texans for RB David Johnson, 2nd round pick
Arizona's odds to win Super Bowl 55 improved from 70-1 to 50-1 at Caesars Sportsbook
Houston's odds to win Super Bowl 55 dipped from 35-1 to 50-1
The coronavirus pandemic may have caused the entire sports world to grind to a halt, but the NFL offseason is still moving forward as planned. Monday marks the official beginning of the 2020 league year, which means we have gotten a deluge of roster moves as teams move to position themselves ahead of the upcoming season.
We are expecting to see plenty of big-name players change teams over the next few weeks, but nobody expected DeAndre Hopkins to be one of them. In a stunning move, the Houston Texans have reportedly agreed to trade the All-Pro wide receiver to the Arizona Cardinals. In return, Houston will receive running back David Johnson and a future second-round pick. The Texans will also ship a future fourth-rounder to Arizona.
Surprising Trade
ESPN's Adam Schefter says that the Texans will absorb the entirety of Johnson's contract. The former Pro Bowler comes with a cap hit of $10.2 million in 2020 and $7.9 million in 2021. Johnson originally signed a 3-year deal with the Cardinals in 2018.
Hopkins has become one of the best receivers in the league since the Texans drafted him with the 27th overall pick in the 2013 draft out of Clemson. Hopkins has amassed at least 1,000 receiving yards in 5 of his 7 NFL seasons thus far, and he has crossed the threshold in each of the last 3 campaigns. This past season, Hopkins caught 104 passes for 1,165 yards with 7 touchdowns. He has scored at least 11 touchdowns in 3 of his 7 professional seasons.
Adding Hopkins gives the Cardinals a bona fide No. 1 pass-catcher for Kyler Murray. Murray is fresh off of winning the NFL's Offensive Rookie of the Year award, and Hopkins should prove to be an ideal fit next to Murray in Kliff Kingsbury's high-octane offense.
The Texans, meanwhile, are optimistic that Johnson can return to form following a couple of injury-plagued seasons. Houston is set to lose both Lamar Miller and Carlos Hyde in free agency, which leaves Duke Johnson as the only running back on the active roster.
LETS GO HOUSTON!!! See you soon ? pic.twitter.com/7Fclzwjse0

— David Johnson (@DavidJohnson31) March 16, 2020
David Johnson, a former third-round pick by the Cardinals out of Northern Iowa, was a Pro Bowler and a First Team All-Pro selection in 2016. That year, he racked up 1,239 rushing yards with 16 touchdowns on 293 carries. He broke his wrist in the first game of the 2017 season, though, and he has struggled in terms of productivity ever since. In 13 games last season, Johnson carried the ball 94 times for 345 yards and a pair of touchdowns.
Earlier on Monday, the Cardinals placed the transition tag on running back Kenyan Drake. That means Arizona will retain the right to match any offer Drake receives on the free agent market. Drake was acquired in a trade from the Miami Dolphins last season, and he quickly became Arizona's No. 1 running back.
Super Bowl 55 Odds Impacted
The shocking trade has helped improve the Cardinals' chances of making the playoffs next season. With Hopkins in the fold, Arizona has seen their odds to make the playoffs next season improve to 2/1. The odds were also enhanced when the players voted to ratify the new collective bargaining agreement, which will expand the playoff field by 2 teams in each conference starting next season.
The Cardinals went 5-10-1 last season in Murray's rookie campaign, which was good for last place in the top-heavy NFC West.
The Texans are still among the odds-on favorites to claim the AFC South title, but it remains to be seen how they plan on replacing Hopkins. Will Fuller has shown flashes of brilliance, but he has struggled to stay healthy. Fuller has never played more than 14 games in any of his 4 NFL seasons, and he has yet to play more than 11 in any of the last 3 years. The Texans acquired Kenny Stills from the Dolphins in another trade prior to the beginning of last season, but Stills has never been a No. 1 pass-catcher at the NFL level.
Caesars Sportsbook moved the Cardinals' odds of winning Super Bowl 55 from 70-1 to 50-1 immediately after the trade announcement. The Texans, meanwhile, slipped from 35-1 to 50-1. Considering how many moves we have already seen take place, it's safe to assume the odds will continue to shift quite a bit between now and the beginning of the 2020 regular season later this year.