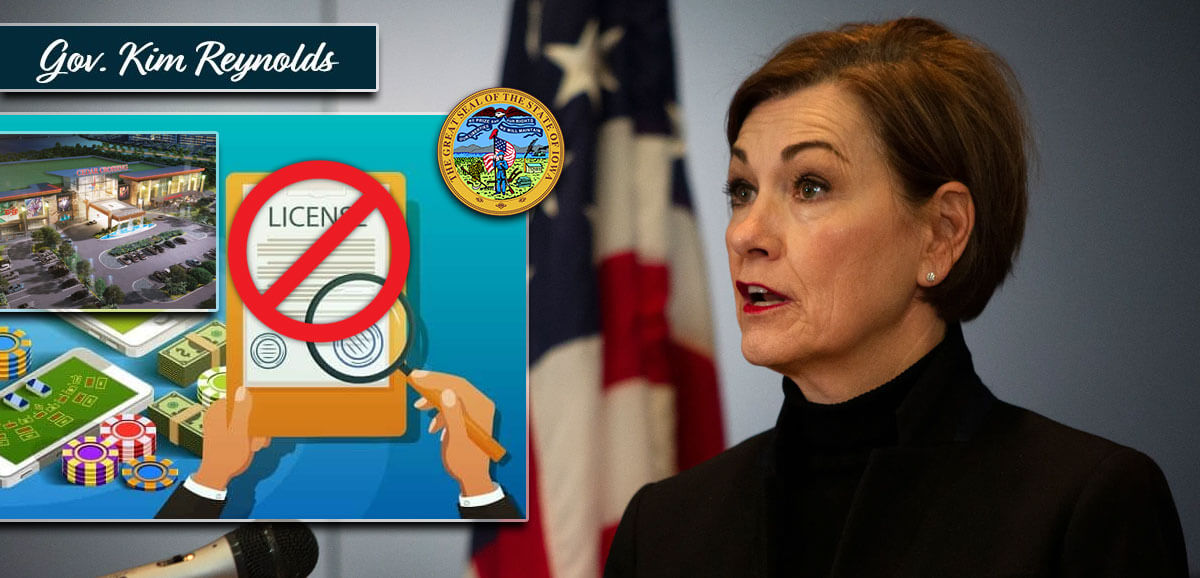 Iowa Gov. Kim Reynolds signed into a law House File 2497 on Friday.
Inserted in the bill was a two-yea moratorium on the issuance of casino licenses in the state.
That means that the proposed Cedar Crossing Casino will be delayed for at least two years.
The Cedar Crossing Casino which is planned for the old Copper Mill's site in Cedar Rapids will be delayed for at least two years after Governor Kim Reynolds signed a law that bans the issuance of new casino licenses in Iowa for the next two years.
No Cedar Rapids-area casino for at least 2 years, now that #iagov Reynolds signed into law an #ialegis-passed 2-year moratorium on new casino licenses in Iowa. Just announced.

— Erin Murphy (@ErinDMurphy) June 17, 2022
Iowa's Republican-led legislature approved the two-year moratorium which was inserted into House File 2497, a larger bill about state gambling regulations. The house cited "gambling fatigue" for passing the moratorium. The bill was signed into law by Gov. Reynolds last Friday.
Cedar Crossing Casino Proposal
ICYM the scoop from @marissajpayne: Officials have unveiled the Cedar Crossing casino proposal, a $250 million, 160,000 square-foot entertainment and cultural arts complex near downtown Cedar Rapids.

Details: https://t.co/3fyX6QEREn

— Michaela Ramm (@Michaela_Ramm) May 31, 2022
The $250 million 160,000 square-foot Ceda Casino proposal was presented by a group involving Linn Gaming Association, Peninsula Pacific Entertainment, and Cedar Rapids Development Group. It called for bars, restaurants, a 1,500-capacity entertainment center, and other venues on F Avenue NW along the west side of the Cedar River.
The proposed property would also have a "foodertainment" venue that would carry the name of local golfer and two-time major golf tournament winner Zach Johnson. The proponents said that the project would create lots of new jobs and revenue, estimating that at a tax rate of 8% of gaming revenue, they would be able to contribute between $5 million to $7 million annually to the local government.
Not the First Casino Proposal in Linn County
Year in review: Another year, another Cedar Rapids casino fail The Gazette: Eastern Iowa Breaking News and Headlines The three Cedar Rapids casino proposals rejected by state regulators were (from left) Cedar Crossing Central, Cedar… https://t.co/8dKmwOF8Tt #CedarRapids #Iowa

— Cedar Rapids Iowa (@CedarRapidsIow) December 30, 2017
This is not the first time that there is a move to push for a casino in Cedar Rapids. Proposals to bring a gambling destination to Linn County came up short and were rejected in 2014 and 2017 by the State Gaming Commission as it would "cannibalize" revenues from the state's other casinos, particularly the Riverside Casino & Golf Course in Washington County.
Despite that, a big portion of Linn County residents supports the proposal to bring a casino to them. During the November 2021 referendum, 55% of the total votes were in favor of a casino. The vote, however, did not favor a particular project, meaning that the Cedar Rapids Group would have to present its plan before the Iowa Racing and Gaming Commission.