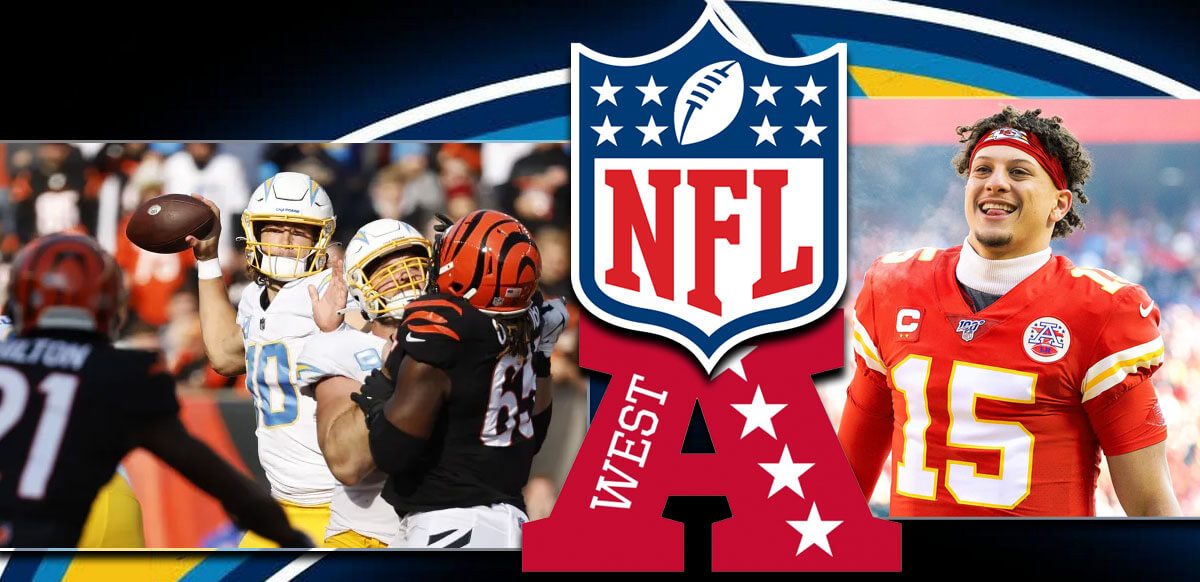 Sportsbooks maintain Chiefs as winning streak grows to five
Chargers's win over Bengals keeps them in AFC West conversation
Have Raiders made the ultimate fade?
The Kansas City Chiefs won their fifth game in a row on Sunday Night in halting the Denver Broncos, 22-9, at Arrowhead Stadium.
SUNDAY NIGHT DUBS ? pic.twitter.com/tfzxCfYS7Z

— Kansas City Chiefs (@Chiefs) December 6, 2021
The Chiefs are now steady favorites to win the AFC West as they are giving (-220) odds with the Los Angeles Chargers posting (+190) after an impressive 41-22 win against the Bengals in Cincinnati.
Last week, Kansas City stood at (-225) while the Chargers were posted at (+350) after Los Angeles dropped a 28-13 decision in Denver.
— Los Angeles Chargers (@chargers) November 29, 2021
The Broncos fell from (+800) to (+1800) while no one can figure out the Las Vegas Raiders, who joined the Broncos at 6-6 in the AFC West after they lost to the Washington Football Team, 17-15, at Allegiant Field.
Las Vegas took a major fade as the Raiders went from (+1800) last week to their current status at (+3500).
Uprising in Kansas City
Andy Reid has been known as one of the best offensive play callers in NFL history, but for now, Kansas City is making a living on a defense that was one of the worst in the NFL at the beginning of the season as it was giving up over 400 yards per game.
Move those chains @darrelwilliams_!!! ⛓ #ProBowlVote

?: #DENvsKC on @SNFonNBC pic.twitter.com/585Ac9kkCC

— Kansas City Chiefs (@Chiefs) December 6, 2021
Kansas City is capitalizing on turnovers as the Chiefs turned the Broncos over three times last night in totaling 11 in the five-game winning streak. In addition, the Chiefs have now allowed over 250 yards passing in any of those five games.
In addition, Kansas City has a surging pass rush that has tallied 12 sacks in those five games as Chris Jones has 6.5 for the season and Michael Danna is second with 3.0.
PICKED IT ? @juan_thornhill + #ProBowlVote

?: #DENvsKC on @SNFonNBC pic.twitter.com/SIc2nFpEMM

— Kansas City Chiefs (@Chiefs) December 6, 2021
Analysts give the Chiefs a 90 percent chance to make it to the playoffs through 13 weeks and they have a 60 percent chance to win the AFC West.
Oddsmakers concur with Kansas City at (-1400) to make it to the second season and a (+700) to not make the tournament.
Kansas City is now favored to win the AFC with (+300) odds as Buffalo, idle in Week 13, sits on the tips of the Chiefs' heels at (+350). New England (+450) and Baltimore (+700) are still close.
? IT'S VICTORY MONDAY!!! pic.twitter.com/yyDsTrRRZF

— Kansas City Chiefs (@Chiefs) December 6, 2021
Chiefs quarterback Patrick Mahomes hasn't thrown a touchdown pass in two weeks, but he is showing he is a game manager as well as a gunslinger in completing only 38-of-66 passes in those two games.
His odds to win the NFL MVP are still sixth at (+1400) while he has a (+2000) to throw for the most years this season.
.@PatrickMahomes gets us on the board early!#DENvsKC | @StateFarm pic.twitter.com/tSPkbo22wl

— Kansas City Chiefs (@Chiefs) December 6, 2021
Even at that, Kansas City's Super Bowl odds are back to second in the NFL at (+650) as Tampa Bay, with it's 30-17 win in Atlanta, leads at (+550). Green Bay (+700), the Bills (+750) and the Arizona Cardinals (+800) make up the Top 5.
Electric Company
We will steal the monicker for the Buffalo Bills of the 1970s since here is an effort to show how the Chargers have bolted back into reasonable odds across the boards.
Quarterback Justin Herbert threw three first-half touchdown passes to give Los Angeles a 24-0 lead midway through the second quarter. Herbert threw for 317 yards on the afternoon as the Chargers answered 22 consecutive points by the Bengals before taking a 41-22 win.
who dey say gonna beat dem bengals? pic.twitter.com/n5opeKPgqM

— Los Angeles Chargers (@chargers) December 5, 2021
It's been a roller coaster ride of last as the Chargers are 3-3 in the last six-game in winning every other week. Analysts post the Chargers with 77 percent probability to make it to the playoffs but they are only 35 percent likely to win the AFC West.
Los Angeles picks up a favorable (-280) from some online sportsbooks to make the playoffs for only the second time in the last nine years. They also are catching (+225) to be at home in January.
DUB. pic.twitter.com/MatTR4fqaT

— Los Angeles Chargers (@chargers) December 5, 2021
The Chargers are tied with the Titans at (+1000) odds to win the AFC and they also are tenth at (+2000) to win the Super Bowl.
Herbert has the ninth-best odds to win the MVP at (+1800) while gathering (+400) behind Brady (-110) to throw for the most yards this season. Herbert is averaging 295.6 yards per game and has passed 300 yards in his last three games.
The @Chargers' QB1 was letting it fly today. ? #HaveADay#BoltUp pic.twitter.com/qBkICHbGfZ

— NFL (@NFL) December 5, 2021
Bucking Recent Tradition
Denver hasn't made it to the playoffs since Payton Manning and the Broncos defeated the Carolina Panthers and Cam Newton in Super Bowl L back in 2015.
"We've just got to be more consistent."

1-on-1 with Javonte Williams » https://t.co/cvdeBcJDqO pic.twitter.com/SGyaDanYdJ

— Denver Broncos (@Broncos) December 6, 2021
The five-year drought is likely to become six as oddsmakers only give Denver a 17 percent chance to make it to the post-season and a 4.0 percent opportunity to win the AFC West.
Coach Vic Fangio is known for the defensive side of the football as he and defensive coordinator Ed Donatell capture the No. 8 defense in the league as it gives up only 325.5 yards per game with a (+6) turnover margin.
"It's on us to make sure that we capitalize on opportunities when they come."

Broncos unable to make critical plays in loss » https://t.co/RvkYCYVGSy pic.twitter.com/TS8n6lJvSW

— Denver Broncos (@Broncos) December 6, 2021
Denver is a long shot to win the AFC as the Broncos are set at (+5000) with Super Bowl odds at (+9000).
Quarterback Teddy Bridgewater is still on the NFL MVP odds board with  (+2000) odds. He threw two interceptions last night, but it was the first time he had been picked off in five games.
Rollicking Raiders Need Stability
The Raiders were involved in a defensive struggle with Washington yesterday in taking a 17-15 home loss as it was their fourth in the last five games and left them on the fence for a playoff berth.
— Las Vegas Raiders (@Raiders) December 6, 2021
According to analysts, the Raiders had a 20 percent chance to make the playoffs entering Sunday's game against WFT, but that faded back to 9.0 percent.
Las Vegas now checks in at (+8000) to win the AFC and (+15000) to win the Super Bowl.
??? @iAM_JoshJacobs #RaiderNation

?: #WASvsLV on FOX
?: NFL app pic.twitter.com/s7GbRpGRVb

— NFL (@NFL) December 5, 2021
Quarterback Derek Carr seemingly found his groove again in last week's 36-33 win over the Cowboys. However, Sunday, he completed 28-of-38 passes for 249 yards, but no touchdowns. Las Vegas was only 2-of-8 on third down as the Raiders were held to field goals on two second-half drives where touchdowns would have put the game away.
Carr is at (+10000) to win the NFL's MVP and has the same (+10000) for win the Offensive Player of the Year. Carr still posts at (+550), fourth in the NFL, for most passing years during the regular season.