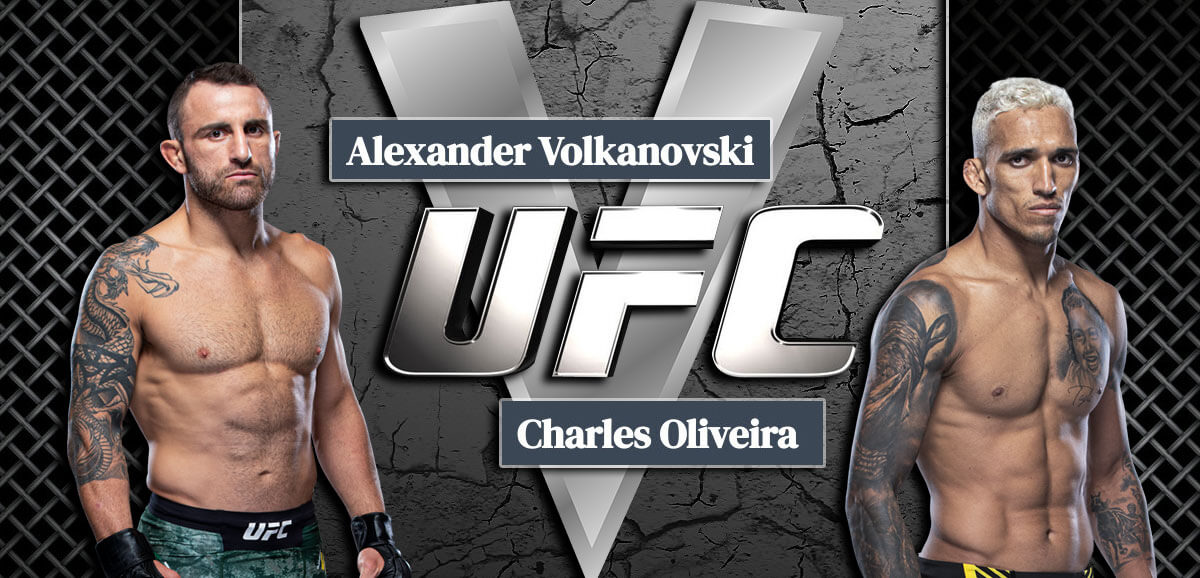 Alex Volkanovski has opened as a slight +110 underdog in a potential super fight with Charles Oliveira for the undisputed UFC lightweight title.
Oliveira is just a -130 favorite to beat Volkanovski despite winning 11 in a row, including 10 via stoppage.
Do Bronx has been linked to a showdown with no 4 lightweight Islam Makhachev but the Brazilian keeps on saying he wants a piece of Conor McGregor.
Alex Volkanovski was so dominant at UFC 276 that the top UFC betting sites are already matching him against former lightweight champion Charles Oliveira.
We just posted odds on a potential Volk-Oliveira matchup 👀

Alexander Volkanovski +110
Charles Oliveira -130

👉 https://t.co/OSUHnDyUWR pic.twitter.com/E1Ta1EVMBL

— BetOnline.ag (@betonline_ag) July 3, 2022
According to the online sportsbook BetOnline, Volkanovski would be the slight +110 bottom dog in a potential fight with Oliveira. Do Bronx meanwhile is the -130 favorite to beat the UFC featherweight king in a fight for the undisputed UFC lightweight championship.
Oliveira is No. 1 lightweight Contender
Per the UFC, "If Charles Oliveira wins, he will be the No. 1 contender for the vacant Lightweight Championship and will fight the next challenger for the undisputed title belt at a time and place to be determined." #UFC274

— Shaheen Al-Shatti (@shaunalshatti) May 6, 2022
The UFC lightweight belt is currently vacant after Oliveira was stripped of the title before his UFC 274 bout against Justin Gaethje. But with Do Bronx defeating Gaethje, the UFC will have to make good on its promise to make him the no. 1 contender and fight the next challenger at a to-be-determined event. But who would that be?
If you look at the current lightweight rankings, the logical next contender would be 4th ranked Islam Makhachev with Oliveira already defeating no. 2 Dustin Poirier and no. 3 ranked Gaethje in his previous two bouts. But if you ask Oliveira, the Brazilian has kept on saying that he wants to fight Conor McGregor next.
Presumably, he wants that fight because of the money that goes with it. If there is one fighter in the UFC deserving of a massive payday, it's Oliveira. But while McGregor has talked about fighting Oliveira in the past, he's looked huge in recent photos and has also hinted at fighting at a bigger weight class. That brings us back to Makhachev or Beneil Dariush who is 6th behind Michael Chandler whom Oliveira also has beaten. But what about Alexander Volkanovski?
Voklanovski Wants to be Champ-Champ
Alex Volkanovski is looking to join the exclusive UFC champ-champ club … the featherweight champ tells us he wants to fight the winner of Justin Gaethje and Charles Oliveira for the lightweight title. https://t.co/oMk4IIKXIm

— TMZ (@TMZ) April 12, 2022
Last April, Volkanovski expressed his desire to fight the winner of Oliveira vs Gaethje as he wants to join the elite champ-champ club in the UFC. Of course, it would be unfair to Makhachev or Dariush if Volkanovski skipped the line and face Oliveira next. But if there's a champion in the UFC that deserves a shot at becoming a double-champion, it's Volkanovski who may be the no.1 pound-for-pound fighter in the UFC right now.
At 5-6, some would say Volkanovski may be too short to beat the 5-10 Oliveira. But don't forget that Holloway is 5-11 and Volkanovski beat him three times, or twice if you think the judges got the second fight wrong. Oliveira may be a different beast from Holloway as he has one of the best submission games in the UFC. However, Volkanovski is no joke on the ground either as he has a black belt in Brazilian Jiu-Jitsu.
Interestingly, Makhachev has opened as a betting favorite in potential bouts with Gaethje (-600) and Oliveira (-300). Oliveira meanwhile is just slightly favored against Volkanovski (-130) and is an underdog against Makhachev (+250). Meanwhile, McGregor is a +525 against Kamaru Usman, a +135 against Michael Chandler, and a – 300 against Tony Ferguson. If you listen to the oddsmakers, Oliveira's next fight could be against Makhachev or Volkanovski. The Volkanovski fight would probably sell better though, considering it would be a super fight between champions.