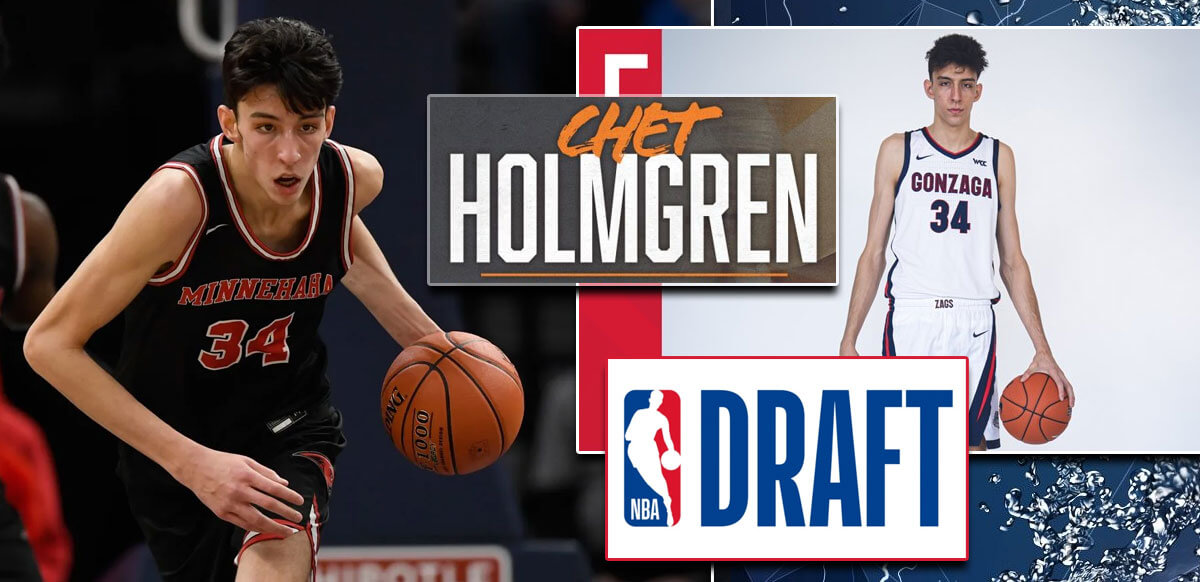 Chet Holmgren balled out in his OKC Thunder Summer League debut on Tuesday.
The no. 2 pick of the 2022 NBA Draft had 23 points, 7 rebounds, 4 assists, 1 steal and six blocked shots in his first-ever NBA game.
Holmgren moved from +500 to +360 and has overtaken Paolo Banchero as Rookie of the Year favorite at many sportsbooks.
There were many skepticisms about Chet Holmgren playing in the NBA because of his reed-thin frame. Many laughed when he said he would be the best player in the league after two months. Maybe has was just trying to exaggerate. But then maybe he was not.
Holmgren played his first NBA game on Tuesday, debuting for the Thunder in the Salt Lake City Summer League games. To say the least, he passed his first test with flying colors.
Chet Holmgren' Summer League Debut
Chet Holmgren's Summer League debut 🔥

23 Points
7/9 Shooting
7 Rebounds
6 Blocks
4 Assists
4 Threes
23 Minutes

— Ballislife.com (@Ballislife) July 6, 2022
The no. 2 pick of the 2022 NBA Draft made an immediate impact, scoring 13 points after just one quarter. But he was not yet done. At the end of the first half, Holmgren already had 18 points on 6-7 field goal shooting, including 4-5 from the three-point distance with three blocked shots and seven shots affected/deterred.
By the time the game was over, Holmgren had 23 points while shooting 4-6 from the three-point distance. He also pulled down 7 rebounds, issued 4 assists, made one steal, and blocked a Summer League record six shots. During his post-game interview, Holmgren didn't sound contented with his six blocks and said he'll break that record again.
Whether Holmgren was that good or he sold himself during the interview, his performance on Tuesday significantly moved his Rookie of the Year odds, whether putting him closer to Banchero in the Rookie of the Year odds boards or enabling him to overtake the top pick of the 2022 NBA Draft as the 2023 Rookie of the Year odds on favorite.
Holmgren Now Favorite to Win Rookie of the Year
Chet Holmgren is now the favorite to win Rookie of the Year at +360 📈

Entering tonight he was +500

(via @FDSportsbook) pic.twitter.com/jWqp6t3Cqp

— NBABet (@nbabet) July 6, 2022
FanDuel has Holmgren as its new favorite, moving him from +500 to +360 and overtaking Banchero who is at +440. Bet365 USA also has Holmgren on top now at +350 with Banchero the second favorite at +400 odds. At BetOnline, Holmgren has his shortest odds of +300 with Banchero dropping to +450 and Smith coming in at third with his +600 odds.
BetMGM also moved Holmgren's odds from +475 to +450 after just one quarter of play in his Summer League debut. The said online betting site further shortened his odds to +400 after the game. He is now closer to Banchero who dropped from +300 to +350 on Tuesday.
Caesars Sportsbook also has Banchero as the +350 betting favorite but with Holmgren closing in at +375 odds. The Thunder rookie also improved from +500 to +400 at BetRivers and Tipico. He is also priced at +400 via Barstool Sportsbook with Banchero hanging on to the top spot at +350 odds. PointsBet USA has the best odds for Banchero at +325 with Holmgren pegged at +400.