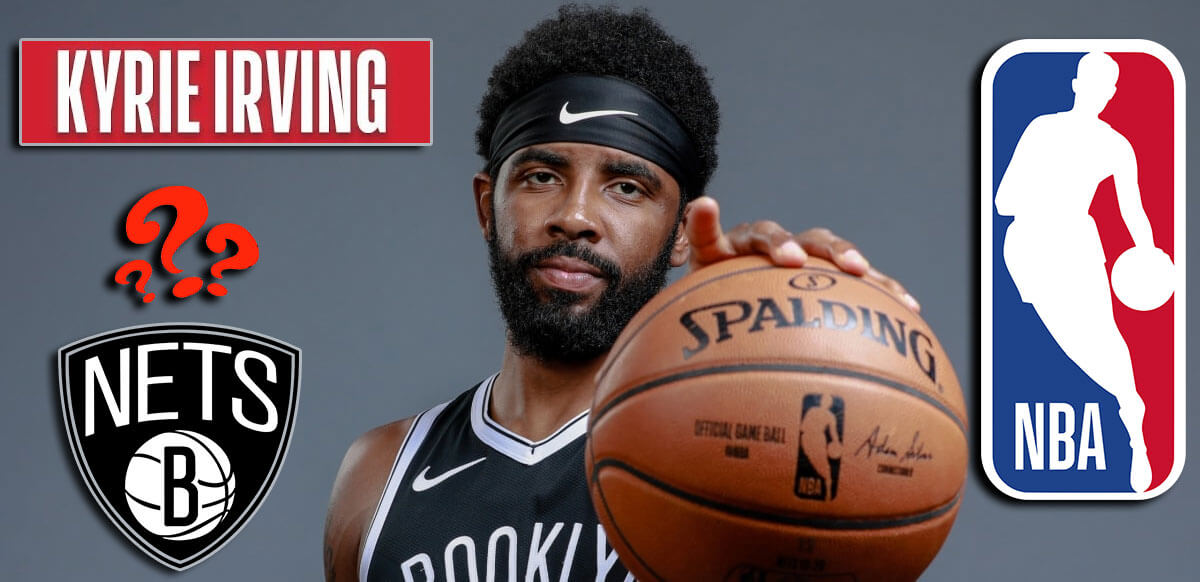 The L.A. Clippers are the top non-Nets destination for Kyrie Irving at +250.
Irving is expected to decline his $36.5 million player option for the 2022-23 season to seek a longer and bigger deal.
Kyrie says he wants to stay in Brooklyn but after the team failed to win a championship in his two seasons there could change the franchise's future plans.
Kyrie Irving is expected to opt-out of his $36.5 million player option for the 2022-23 season with the intention of signing a longer and bigger deal.
The Brooklyn Nets are eligible to offer Irving a five-year max contract worth $246 million which would lock him up until the 2026-27 season and match Kevin Durant's timeline with the team. However, the duo's inability to lead the team to an NBA title during the past two seasons and Irving's indirect hand in those failures could ultimately lead them to move on from their superstar points guard.
Kyrie Says He Wants to Stay in Brooklyn
Kyrie Irving planning to stay in Brooklyn with the Nets

h/t @DavidEarly pic.twitter.com/r1GCM2mjC7

— Sports On DIRECTV (@SportsOnDIRECTV) April 26, 2022
Irving recently said that he doesn't plan on going anywhere. But just because Irving wants to stay doesn't guarantee that he will be a Net next season. There is no question that Irving is one of the most gifted players in the NBA and is a proven winner. However, his personal decisions may give the Nets a reason not to move forward with him.
Kyrie's stand on the COVID-19 vaccine prevented him from playing most of the early part of the season. Because of New York's vaccination mandates, he was not allowed to play in most of the team's home games. Of course, that stand changed later on but the fact that Brooklyn disallowed him to join the team at the start of the season because they didn't want him to be a part-time player is proof that the Nets are willing to take a hard stand against Irving.
Irving also has a reputation for sitting out games when he wants to, even if he doesn't have any injury. In the past, Irving has missed games due to personal reasons which are not the usual. Although the Nets have let him be himself during his tenure with the team, their failure to produce results since he and KD came to town may become a reason why management may want to move in another direction. Also, the arrival of Ben Simmons gives the Nets another superstar. And if Simmons can get his act together, the Nets may want to explore dealing Irving.
Clippers Favored as Kyrie's Non-Nets Destination
Where will #KyrieIrving play game 1 of next season if it's not with #NetsLevel?

Clippers +150
Rockets +275
Mavericks +300
Bulls +500
Lakers +700
Heat +750
Knicks +1200@betonline_ag

— Odds Shark (@OddsShark) April 29, 2022
According to the online sportsbook BetOnline, the L.A. Clippers are the top non-Nets destination for Irving at +150. Although the Clippers have not expressly said that they want to get Irving, L.A. was reportedly one of the teams that tried to swing a deal for James Harden before he got traded to the Sixers. L.A. has the trade assets and salaries needed to make a deal happen, just as it was with Harden.
The Houston Rockets are next on the odds board at +275. Houston still has John Wall and his salary plus a boatload of young talent which may be appealing to Brooklyn. Third, are the Dallas Mavericks at +300 who may lose Jalen Brunson who will be an unrestricted free agent this summer. The Chicago Bulls are listed at +500 perhaps because Irving was interested in going to Chicago before they traded for Zach LaVine.
Kyrie going to the Lakers is listed at +700 but it's doubtful that he wants to play with LeBron again. But the Lakers have Russell Westbrook who used to be KD's partner in OKC so never say never. Then it's the Miami Heat at +750. Miami has young talents to dangle in a trade but unless they're not happy with Kyle Lowry, it's a longshot. The Knicks complete the odds board at +1200 as they are just Brooklyn's neighbor, and Irving came to the Nets because grew up in New Jersey.