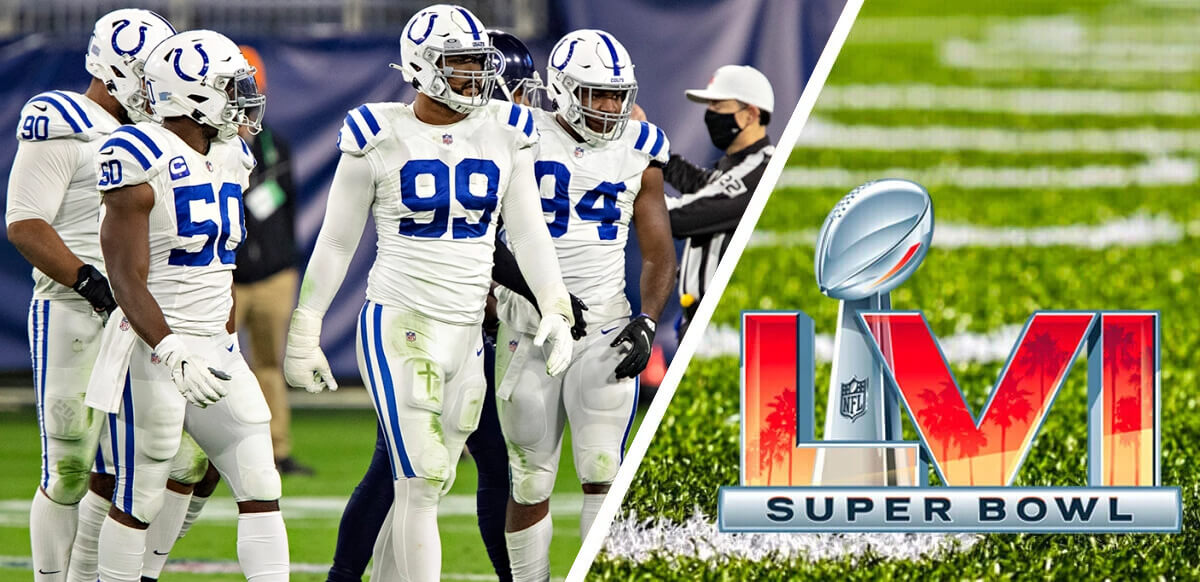 The Indianapolis Colts' Super Bowl Odds went from +5000 to +3300 after a huge first half against the Buffalo Bills on Sunday.
Indianapolis' Super Bowl LVI odds closed at +25000 at PointsBet USA after completing the 41-15 upset of the Bills.
Jonathan Taylor led the Colts with 185 rushing yards with four rushing TDs and 19 receiving yards with one TD grab.
The Indianapolis Colts saw their Super Bowl Odds move up after a stunning performance against the erstwhile Super Bowl favorites Buffalo Bills on Sunday. Indianapolis entered the game as +7 points and +245 Moneyline underdog but walked out of Buffalo with a 41-15 blowout win over the Bills.
Colts Moved From +5000 to +3300
The Colts have moved from +5000 to +3300 to win the title today?pic.twitter.com/9achhbJgIp

— PointsBet Sportsbook (@PointsBetUSA) November 21, 2021
Even before the first half was over, online sportsbook PointsBet already moved the Colts' Super Bowl odds up from +5000 to +3300 as they took a big halftime lead behind Jonathan Taylor's massive first-half performance. Taylor rushed for 79 yards with two rushing touchdowns and caught 19 yards including a TD grab as the colts went three scores up on the Bills 24-7.
The blowout continued in the second half as Indianapolis would outscore Buffalo 17-8 in the final two quarters to complete the upset. Taylor would add two more rushing touchdowns in the third quarter to put the Super Bowl favorites away for good with still one quarter left to play. After the game, PointsBet even shortened the Colts' odds down to +2500.
At BetMGM, the Colts' Super Bowl Odds have significantly improved to +3500 after it was +8000 before week 11. Those odds went as high as +10000 after Indianapolis lost to the Baltimore Ravens 31-25 and dropped to 1-4 on the season. The Colts battled back with back-to-back wins over the Texans and 49ers to bring their odds back to +8000. Following a close 34-31 loss to the Tennessee Titans in Week 8, the Colts are now above the .500 mark for the first time this season.
NFL's Top-Ranked Defense Meets Jonathan Taylor
Top ranked defense, meet Jonathan Taylor. pic.twitter.com/nUXpYEfgjN

— Indianapolis Colts (@Colts) November 21, 2021
The Bills entered the game ranked 1st in the league in total yards allowed at 274.1, points per game allowed at 15.0 PPG, and 3rd overall in rushing defense at 83.9 rushing yards per game allowed. On Sunday, the Bills' defense met Jonathan Taylor and he made them look like amateurs while becoming the first player to rush for 1,000 yards this season.
Taylor rushed for 185 yards on 32 carries while catching 3 passes for 19 receiving yards. He finished the game with 4 rushing touchdowns and the Colts' lone TD grab of the game. Indianapolis racked up 370 total yards, including 264 on the ground while scoring 41 points, the most that the Buffalo defense has allowed since last season's AFC title game where they gave up 45 to the Kansas City Chiefs.
To illustrate how big a game Taylor played on Sunday, the Colts RB was a +1400 to score 3+ touchdowns at Caesars Sportsbook. He cashed in that prop bet at the half and went over it by two touchdowns. Taylor entered the game having scored a touchdown in seven straight games. That count is now up to 8 and after finishing with five today, he now has four multi-TD games this season.
In his last 8 games played, Taylor has 13 rushing scores and 2 receiving TDs while averaging 146 yards from scrimmage per game. He has five over his total yards prop in all of those game games played and is also an 8-0 as an Any Time TD scorer. Despite those, Taylor entered Sunday's game as a +15000 to win the MVP.
Jonathan Taylor's MVP odds were +15000 entering the weekend.

Where do you think he should be now?pic.twitter.com/iBO6trloct

— Caesars Sportsbook (@CaesarsSports) November 21, 2021
Now the biggest question is how far up he will jump when the best NFL sportsbooks put back their MVP betting boards after Sunday's games.