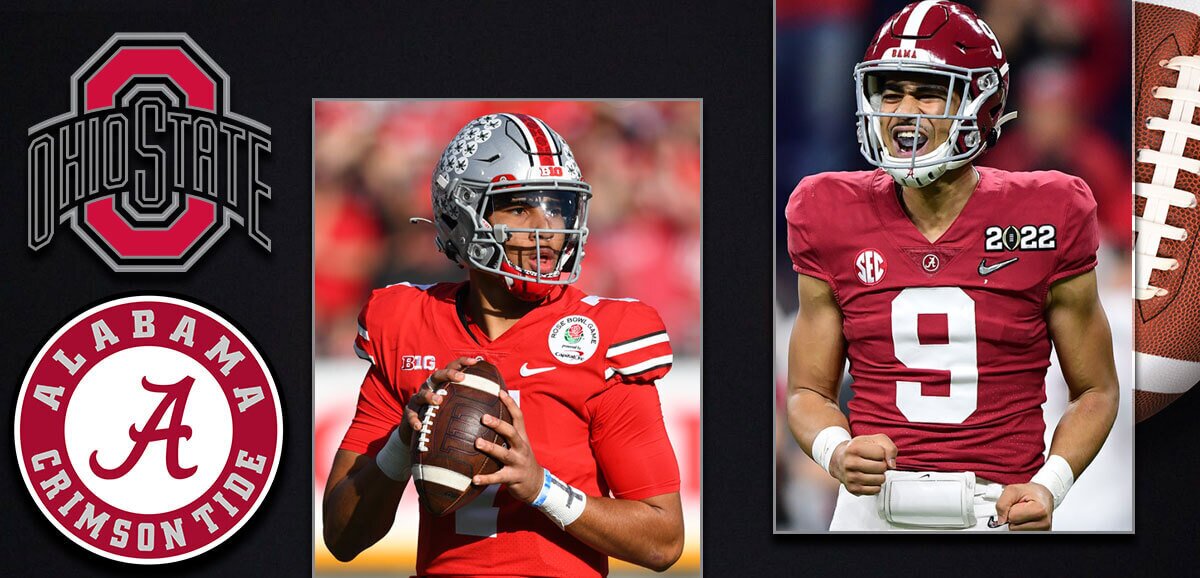 Stroud, Young attracting most early Heisman Trophy betting interest
Young looking to become second two-time Heisman winner
Smith-Njigba, Anderson drawing some Heisman betting buzz
Going through the early Heisman Trophy favorites in college football might allow us to differentiate between Ohio State quarterback CJ Strong and Alabama quarterback Bryce Young, who is the leading returning Heisman winner.
Stroud seems to have a more sturdy Heisman Trophy posture as he started at (+400) and now is at (+200) while Young fell back to (+350) after sitting at (+250) beginning. It feels like the two have separated themselves from what would be the consensus of challengers on Heisman Trophy odds boards throughout the country. Young's odds have fallen as far as (+500) this summer, but he has pushed closer to Stroud, who amassed unbelievable numbers at Ohio State in 2021.
Stroud threw for 4,435 yards while completing 72 percent of his passes with 44 touchdown tosses against only six interceptions. No one has won back-to-back Heisman Trophies since Archie Griffin in 1974 and 1975, so Young will have that opportunity in front of him this fall.
Griffin was a Buckeye as is Stroud, the favorite, and Griffin won back-to-back as Young looks to do this season. Stroud has amassed 14 percent of the highest ticket percentage and the culture of his numbers from a year ago plus a much easier schedule give him the inside track over Young.
The Alabama quarterback is tied with USC's Caleb Williams as both have ascertained 10.0 percent of the highest ticket percentage.
Williams moved to Los Angeles after his then-Sooners coach Lincoln Riley moved to USC in late January.
Williams compiled 64.5 percent of his passes with 21 touchdown throws and only four interceptions before he was out due to a hand injury. Williams became set to overtake then-Oklahoma quarterback Spencer Rattler last season before the injury. Rattler's odds fell from (+450) to (+350) as he was the early favorite and 17 percent of the Heisman bets were in his corner.
More balance on the Ohio State offense and then the Young won the Heisman last season might keep either of the two quarterbacks from nailing the Heisman Trophy.
Stroud, Young Share Other Preseason Likenesses
Stroud has manifested a 24.6 percent handle percentage where he has a huge majority of the bets cast in his favor. Last season, he finished fourth in the Heisman voting when he posted 456 Heisman votes with 12 first-place tallies.
Young has notched 13.1 percent of the bets while Williams has gathered 8.6 percent of the wagers. He has two Crimson Tide teammates in the mix as linebacker Willie Anderson, Jr. has posted a 6.9 percent liability while running back Jahmyr Gibbs, who transferred to Alabama from Georgia Tech, has a 5.8 percentage. Stroud also is rated as one of the three biggest liabilities. If he is a popular bet and loses, there will be a plethora of money lost on him and his potential of carrying Ohio State.
This is a quarterback's stage, though, as Alabama wide receiver DeVonta Smith (2020) and Tide running back Derrick Henry (2015) are the only two players other than quarterbacks to win the Heisman Trophy in the last 12 seasons.
OSU's Smith-Njigha and Tide's Anderson Inside Heisman Convo
Outside of the quarterback position, OSU wide receiver Jaxson Smith-Njigha is in the mix to become the biggest liability besides Stroud as his ticket percentage is fourth at 7.8 percent.
He caught 95 balls for 1,606 yards and nine touchdowns last season as he had more receiving yards than Garrett Wilson and Chris Olave, who both left Ohio State for the NFL. Smith-Njigha highlighted his name when he caught 15 balls for 347 yards and three touchdowns in Ohio State's 48-45 Rose Bowl win over Utah. He was clearly the go-to man with Wilson and Olave sitting out the game to ready themselves for the NFL Draft.
He also has the fourth highest Heisman Trophy Handle Percentage which nets a 6.1 percentage.
Alabama's Anderson, Jr., has the fifth best ticket percentage at 6.4 percent although he is a long shot at best because he is a defensive stalwart at linebacker. There has only been one defensive player to win the Heisman Trophy and that was Michigan defensive back Charles Woodson in 1997. Anderson was the nation's leader in sacks a year ago with 17.5 while he amassed 34.5 tackles for loss. Given his activity and the statistics, therein, most pundits think that he will go in the top five of next April's NFL Draft.
He also has the seventh-rated Handle Percentage which is currently 2.2 percent.
Ohio State Buckeyes CJ Stroud, Jaxon Smith-Njigba, and Ronnie Hickman sound off on the true impact of NIL for student-athletes.

Story: https://t.co/Rz1RfoMfgv pic.twitter.com/XWUf4HsuCH

— On3 NIL (@On3NIL) July 27, 2022