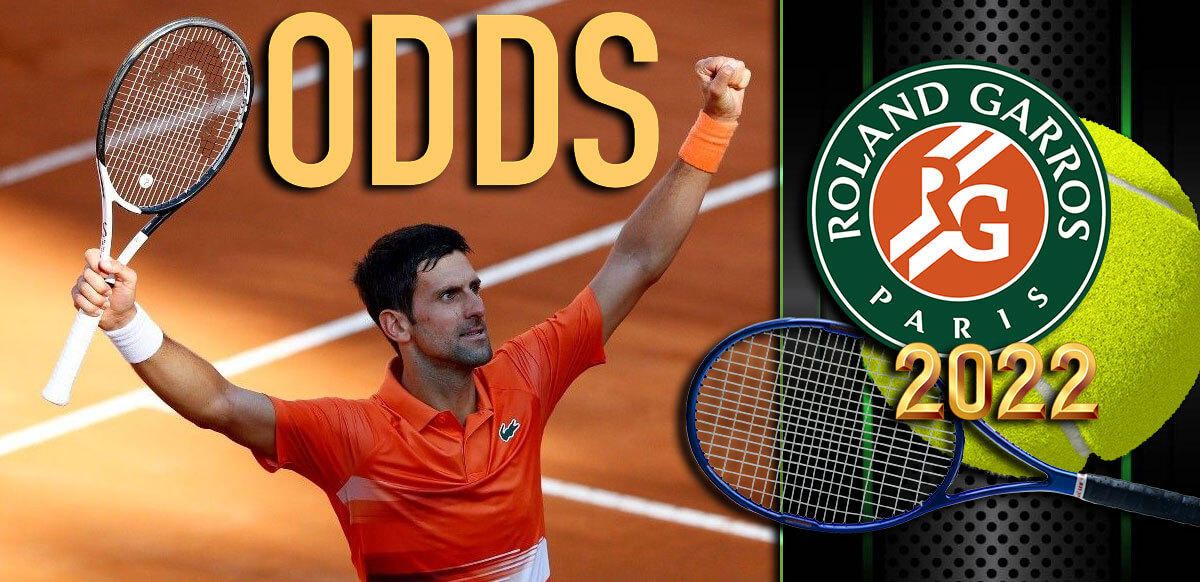 Novak Djokovic is the +160 odds on favorite to win the 2022 French Open men's singles tournament.
Djokovic, second favorite Carlos Alcaraz and third favorite Rafael Nadal were drawn to the same half of the tournament.
2021 runner-up Stefanos Tsitsipas was listed at +1000 but after a favorable draw, he is now at +500 odds to win at Roland Garros.
The French Open draw was revealed on Thursday and the best tennis betting sites have adjusted their futures odds boards to reflect the results.
Online sportsbook BetOnline was one of the first to go live with its post-draw odds and according to the said sportsbook, only four players have shorter than +1000 odds to win the tournament.
Who Wins Roland Garros?
The draw is out. Now, who wins #RolandGarros?

Djokovic +160
Alcaraz +175
Nadal +325
Tsitsipas +550

More: https://t.co/ermm0r1ed2 pic.twitter.com/xJt3r7aDKj

— BetOnline.ag (@betonline_ag) May 19, 2022
Interestingly, the Top 3 betting favorites are in the same half of the draw, meaning only one of them will make it to the final, if at all. This makes the future betting for the French Open men's singles title an interesting one.
World no. 1 Novak Djokovic, who will be playing in his first major tournament since last year's U.S. Open after he was barred from defending his Australian Open title in Sydney due to COVID-19 vaccine mandates, is the odds on favorite at +160. However, he will face 13-time winner Rafael Nadal in the quarterfinals if both make it that far. Nadal has the third shortest odds to win at +325.
As if facing Nadal isn't tough enough, Djokovic's semifinal opponent could be no. 6 seed Alcaraz who is the second favorite at +175 after his recent win in the Madrid Open on clay The 19-year old Spaniard became the youngest player to break into the Top 10 in the ATP rankings since Nadal in 2005. Alcaraz though will have to get past no. 3 Alexander Zverev in the quarterfinals if he is to play either Djokovic or Nadal in the penultimate round. Zverev is listed at +1800 to win the tournament.
Medvedev Says He Can Be Dangerous
"If I can find my level again, I can be dangerous," says @DaniilMedwed ahead of #RolandGarros https://t.co/fEOkr8P6qH

— TENNIS (@Tennis) May 20, 2022
World no. 2 Daniil Medvedev dropped to 16-6 on the year after losing to Richard Gasquet in Geneva this week in his first tournament since having hernia surgery a couple of weeks back. But despite his current struggles, Medvedev says he can be dangerous at Roland Garros even if playing on grass isn't his forte because he feels that his body "feels good".
Medvedev is a long shot +4800 to win the tournament and his possible quarterfinals opponent could be fellow Russian and no. 7 Andrey Rublev who is listed at +5500 odds. Both Medvedev and Rublev will not be allowed to play at Wimbledon at the All-England Club due to Russia's invasion of Ukraine.
Meanwhile, 2021 runner-up Stefanos Tsitsipas who is the 4th favorite behind Djokovic, Alcaraz, and Nadal at +500 could meet no. 8, Casper Rudd, in the quarterfinals. Rudd is currently pegged at +2300 odds to win the tournament. Tsitsipas was listed at +1000 before the draw but his placement gives him a good chance of going all the way this year.