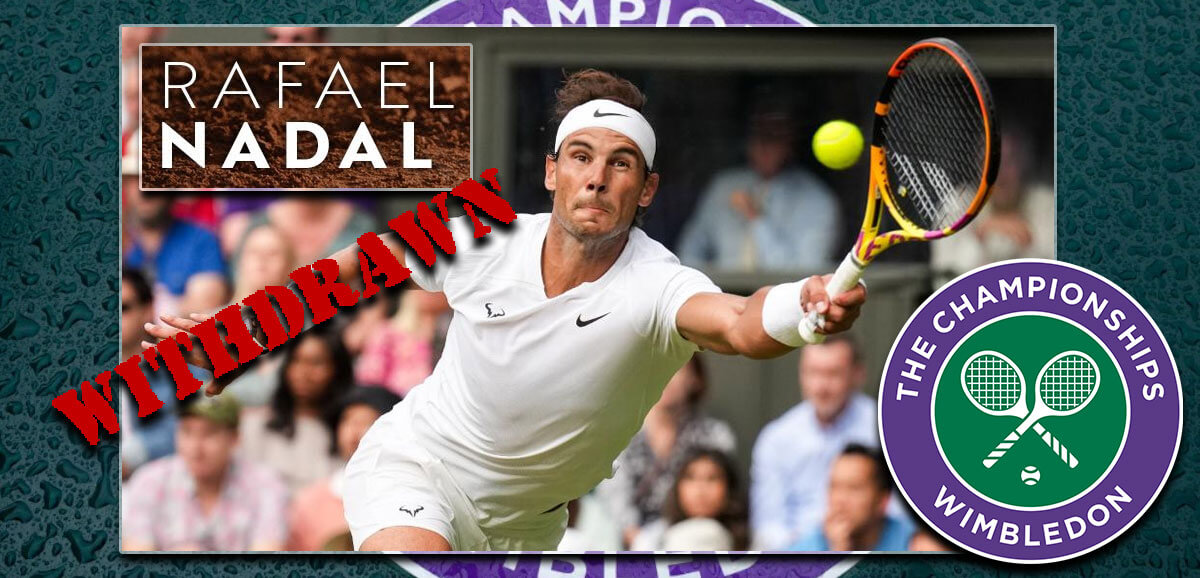 Rafael Nadal has withdrawn from his semifinal match against Nick Kyrgios at Wimbledon.
Nadal opened at +125 against Kyrgios and now we know why.
The 22-time Grand Slam winner suffered a 7 mm abdominal muscle tear during his quarterfinals match against Taylor Fritz.
One day after he displayed otherworldly fighting spirit in pulling off a comeback win against Taylor Fritz in the quarterfinals of the 2022 Wimbledon men's singles tournament, Rafael Nadal withdrew from his semifinal match against Nick Kyrgios due to injury.
And just like that, Novak Djokovic is now a heavy -400 betting favorite to win the tournament for the 4th consecutive time.
Now We Know Why
Oddsmakers at @WynnBET had Rafael Nadal listed as a +125 underdog vs. Nick Kyrgios (-155) heading into the Wimbledon semis. Now we know why.

Nadal has withdrawn due to an abdominal tear, putting Kyrgios in the Finals. https://t.co/qscIAVp13N

— BetSided (@BetSided) July 7, 2022
Nadal opened with the third-best odds to win the 2022 edition of the spot's grass grand slam at +700, behind Djokovic who was listed at -125 odds, and teen sensation Carlos Alcaraz at +450 odds. But after Alcaraz was upset by Italy's Jannik Sinner, Nadal was considered Djokovic's chief rival for the title. But after a dramatic win over Taylor Fritz in the quarterfinals, the 22-time Grand Slam winner opened as the +125 underdog against Nick Kyrgios in the semifinals. At first, that looked like a surprise. But now we know why.
The Spaniard battled through an abdominal injury during his match against Fritz. The injury forced Nadal to lose the first two sets of the match and even prompted his father, who was in the audience, to urge his son to retire from the match. But Nadal fought on and rallied to beat Spitz in one of the most unreal comebacks in Wimbledon history.
It turned out that Nadal suffered a 7 mm abdominal tear during the Spitz match. The injury was confirmed after the Spaniard underwent tests on Thursday. Later that day, he practiced for 45 minutes and looked like he would play through the pain once again. But ultimately, Nadal said he withdrew because he knew he wouldn't be at his best playing with the injury.
Updated Odds After Nadal Withdrawal
Updated Wimbledon Odds after the Nadal withdraw 📊

• Djokovic: -400
• Kyrgios: +300
• Norrie: +2500

— BetMGM 🦁 (@BetMGM) July 7, 2022
Djokovic entered the tournament as the -125 betting favorite to win. His odds shortened to -225 before his semifinals match against Sinner but fell to +200 after he lost the first two sets of that match. Djokovic's odds went up to -300 after beating Sinner and now that his biggest challenge has withdrawn, the Serb is now a heavy -400 to win a fourth straight title at the All-England Club.
Meanwhile, Kyrgios was listed as +450 to win the tournament at BetMGM prior to Nadal's withdrawal. He is now listed at +300 odds at the said sportsbook. Kyrgios was also listed at +850 to win Wimbledon via PointsBet USA before Nadal's announcement. He is now priced at +400 there. Meanwhile, Cameron Norrie has the longest odds at +2500 at most sportsbooks.
But while Kyrgios got a free pass to his first-ever appearance in a Grand Slam final, Djokovic will still have to beat Norrie in their semifinal match on Friday. According to Bet365 USA, Djokovic is the heavy -1400 favorite to beat Norrie who is listed at +800. The same sportsbook is also picking the six-time winner to beat Norrie in straight sets, at -188 odds.