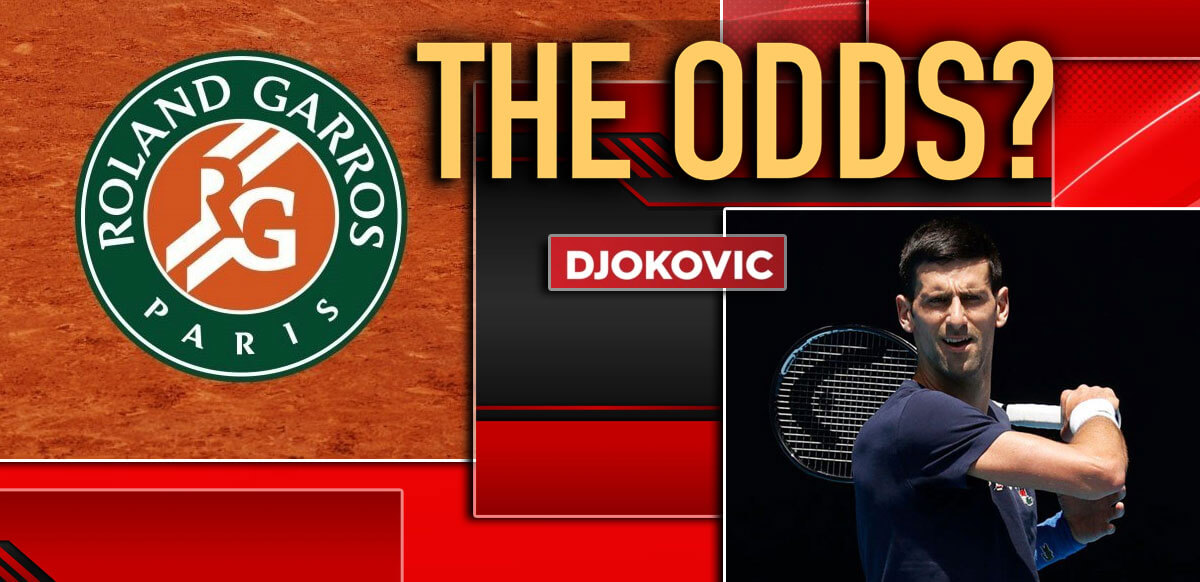 Novak Djokovic is still second in the latest BetOnline French Open futures boards despite the uncertainty surrounding his participation at Roland Garros..
The French Sports Ministry said on Monday that it will not allow unvaccinated individuals to play in May's 2022 French Open at Roland Garros.
Rafael Nadal is the current +150 to win the 2022 French Open title.
Novak Djokovic will not be able to defend his Australian Open title after his visa appeal was rejected by the Australian Federal Court, forcing the world's no. 1 tennis player to be deported prior to the start of the tournament.
It can be recalled that Djokovic was detained by the Australian Border Force upon his arrival from Dubai because he was unvaccinated. After spending four nights in detention, Djokovic took the matter to court and a Federal Circuit court decided in his favor. But just when we thought that Novak would be able to play in the Melbourne tournament, the Australian government didn't stop there.
Immigration Minister Alex Hawke used his ministerial powers to personally cancel Djokovic's for the second time. Once again, Djokovic was detained but he challenged the decision again with an appeal to the Federal Court. This time around, the Aussie government won and Djokovic was sent home.
Unfortunately for Djokovic, the Australian Open might not be the first time that he will be banned from a grand slam if he remains unvaccinated.
No Vaccine, No French Open
No vaccine, no French Open for Djokovic, says French Sports ministry https://t.co/JBNqSQSnr6 pic.twitter.com/QlgAXDHsdd

— Reuters (@Reuters) January 17, 2022
The French Sports Ministry said on Monday that no player will not be given a special exemption from a vaccine pass law approved last Sunday to play at the 2022 French Open. The law requires persons to have vaccination cards when they enter public places such as restaurants, cafes, and cinemas. Roland Garros isn't an exception.
The French Open however will not happen until May and there is still a possibility that the rules will be revised if the COVID-19 cases decrease. But as of now, the French government is firm with its decision to disallow unvaccinated players to compete at Roland Garros.
Despite that, Djokovic is still listed as the second favorite in the latest French Open futures odds at online sportsbook BetOnline. According to the said betting site, Djokovic is a +225 to win a third French Open title. The odds boards could change though but as of now, the best tennis betting sites aren't ruling out Novak competing in the second Grand Slam of the year.
Healthy Rafael Nadal Wins French Open
https://t.co/LnzKGO7KJL Martina Navratilova: If healthy, I think Rafael Nadal will win French Open: Nadal was beaten in the French Open semifinal last year. https://t.co/YaCXD9Xpnt pic.twitter.com/dmBSco1YKI

— tenniscoaching.com (@_TennisCoaching) January 9, 2022
Women's tennis great Martina Navratilova recently said that a healthy Rafael Nadal will win the French Open again this season. The best tennis sportsbooks agree. At the BetOnline App, Nadal is the +150 betting favorite to win at Roland Garros this year, even if Djokovic will be there to defend his title.
Third on the BetOnline odds board at +400 is current world no. 4 Stefanos Tsitsipas who lost to Djokovic in last year's final. He is followed by no. 16 ranked Dominic Thiem at +700. Thiem was a finalist at Roland Garros in 2018 and 2019. After Thiem is world no. 3 Alex Zverev at +1200 who was the losing semifinalist at the 2021 French Open against Tsitsipas.
World number 2 Daniil Medvedev who is the current odds on favorite to win the Australian Open is listed at +1800. Medvedev won the 2021 U.S. Open, his first grand slam title. At the 2021 French Open, Medvedev made it all the way to the quarterfinals