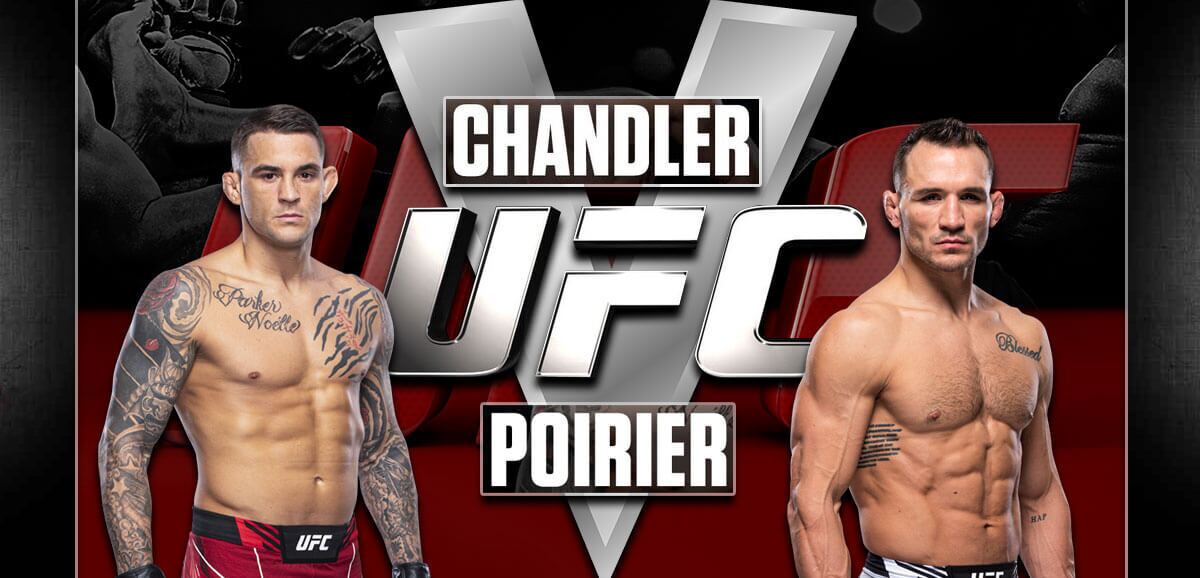 Dustin Poirier has re-opened as the -150 betting favorite against Michael Chandler (+130).
Poirier opened as the -200 favorite when the bout was first proposed in January 2021.
The bout between Poirier and Chandler is reportedly being finalized for UFC 281 on November 12th in New York.
The betting odds for the highly-anticipated welterweight showdown between Dustin Poirier and Michael Chandler have re-opened.
According to online sportsbook BetOnline, the Diamond is favored to beat Chandler at UFC 281:
Here are the opening odds for Dustin Poirier vs. Michael Chandler:

Dustin Poirier -150 (2/3)
Michael Chandler +130 (13/10)

(odds via @betonline_ag) 👀 #UFC281 pic.twitter.com/qWfZddWyKh

— Chamatkar Sandhu (@SandhuMMA) August 3, 2022
Poirier and Chandler are reportedly close to finalizing a showdown at UFC 281 on November 12th at the fabled Madison Square Garden in New York.
Poirier Opened at -200 Versus Chandler
Dustin Poirier opens up as a favorite in potential fights against both Michael Chandler and Charles Oliveira:

Michael Chandler +170 (17/10)
Dustin Poirier -200 (1/2)

Charles Oliveira +140 (7/5)
Dustin Poirier -160 (5/8)

(odds via @betonline_ag) pic.twitter.com/ZwjEOWqSJI

— Chamatkar Sandhu (@SandhuMMA) January 26, 2021
It can be recalled that Poirier opened as the -200 betting favorite in a potential Chandler bout. But that was way back in January 2021, days after his second-round TKO win over Conor McGregor at UFC 257. In the same event, Chandler made his UFC debut and knocked out Dan Hooker inside one round. A lot has changed since then though.
Chandler went on to challenge Charles Oliveira for the vacant UFC lightweight title as a +120 underdog at UFC 262. Oliveira sensationally knocked out Chandler to win the belt. The former Bellator lightweight king returned at UFC 268 as the +180 bottom dog against Justin Gaethje. Gaethje won the bout in the 2021 Fight of the Year.
Meanwhile, Poirier fought McGregor in a second consecutive bout at UFC 264, closing as the -160 favorite in that bout. The Diamond defeated the Notorious for the second straight bout, this time via doctor stoppage after McGregor broke his tibia and was unable to continue. One fight later, Poirier lost to Oliveira as the -130 betting favorite at UFC 269 for the UFC lightweight belt.
Chandler Throws Shade at Poirier's Performance
I would never ever quit…I went out on my shield after being separated from consciousness, congrats to Oliveira… #ufc269

— Michael Chandler (@MikeChandlerMMA) December 12, 2021
After UFC 269, Chandler threw shade at Poirier's performance against Oliveira by saying that he would never quit in a fight. In his Twitter post, Chandler said he "went out on his shield after being separated from his consciousness" during his loss to Oliveira. Poirier quickly tapped out after Oliveira locked in a rear-naked choke.
Chandler was pegged as the -200 favorite to become Poirier's next opponent. But the Diamond was looking to book a fight against Nate Diaz and even opened as the -350 favorite to beat the TUF 5 winner. The two appeared to have agreed to a fight on social media but that bout never went to fruition and Diaz ended up signing to fight Khamzat Chimaev in the UFC 279 main event.
Poirier and Chandler nearly clashed behind the scenes at UFC 276 and had to be separated as they almost came to blows. According to UFC light heavyweight champion Jiri Prochazka who was also at cage-side when the altercation happened, it was Poirier who started the confrontation. Poirier later told Daniel Cormier that the incident was something he needed to get off his chest. Rather than tweet about it, Poirier said he said what he had to say in front of Chandler. At UFC 281, Poirier and Chandler will finally get their opportunity to settle their differences inside the cage.