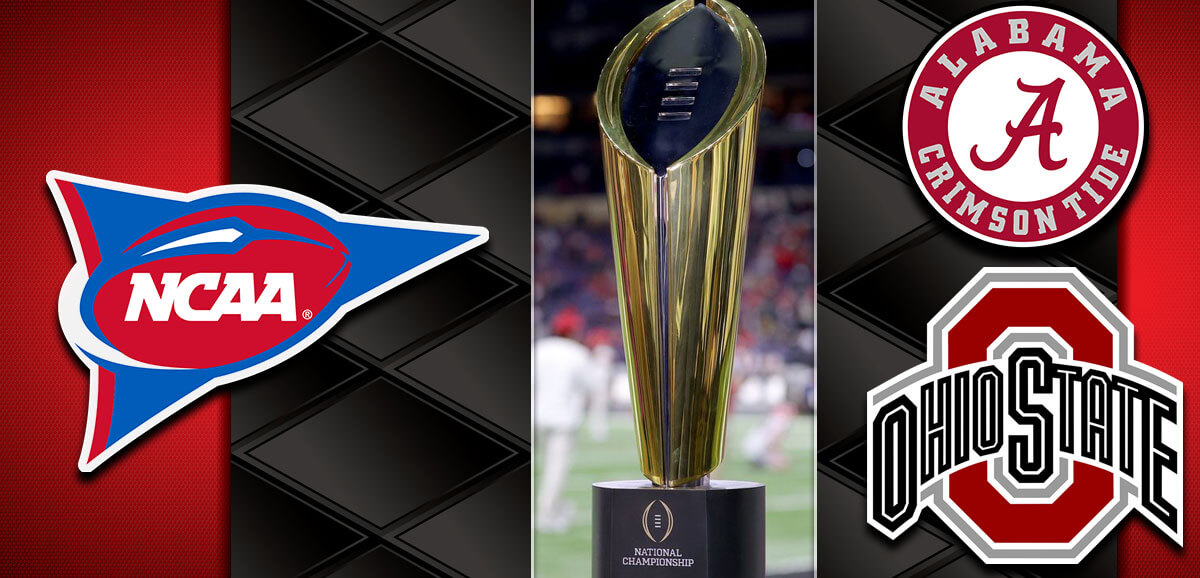 Alabama, Ohio State have early look of college football favorites once again
OSU's Stroud, Alabama's Young ready for a Heisman race
Clemson, Texas A&M, USC Follow Alabama, Ohio State in $1K bets
Dominant Teams Eyed For $1K Bets on National Title
As Alabama (-140) and Ohio State (+300) are the current favorites to win the national championship, the Crimson Tide and the Buckeyes are being cast as large favorites in $1K national title bets which have currently been posted.
Alabama has nailed 27 of those bets which were at least 1K while Ohio State absorbed 26 of them. The other 24 that have been accepted have been placed on 11 other teams as these two squads have become two favorites to win the national championship every season since the four-team playoff occurred for the first time in 2014.
Currently, Georgia (+350) and Clemson (+800) have the closest odds to win the national championship.
Tide, Buckeyes Also Support Top Heisman Favorites Again
Ohio State quarterback CJ Stroud sat at (+350) with Young (-200) as the favorite going into Heisman weekend a year ago when Young came out on top.
Young came out as the Heisman winner and could be set again this season if he can outduel Stroud.
Currently, new USC quarterback Caleb Williams (+800), Texas running back Bijan Robinson (+2000), and Clemson QB D.J. Uiagalelei (+2500) round out the top five.
Williams threw for 4,872 yards with 47 touchdown passes against only seven interceptions. Meanwhile, Stroud enjoyed throwing for 4,435 yards with 44 touchdown throws and six picks. The duo is neck-and-neck for the Heisman Trophy with regard to stats as the numbers that the third, fourth, and fifth players have accrued. Williams, who suffered a hand injury, threw for 1,921 yards with 21 touchdowns and four picks at mid-season in becoming the seventh most likely Heisman winner (+2500), according to the odds.
Robinson had a dislocated elbow injury as he netted 1,127 yards on 195 carries with 11 touchdowns and he missed two games in the process.
Robinson was closest to the Heisman Trophy last season when he went from (+2500) to (+1800) after rushing for 137 yards on 20 carries when the Longhorns fell to Oklahoma. Meanwhile, Uiagalelei also had an injury setback when he had a PCL knee sprain as the Clemson Tigers' injuries ended their national title dreams in an early format.
Uiagalelei started last season with higher odds (+700) than Young (+900) or Stroud (+1400).
Clemson, Texas A&M, USC Receive Multiple Early Bets
As Clemson looks to rebound off last season where it fell out of the ACC Playoff race early, the Tigers are back on bettors' minds as they have six of those bets where at least $1K was placed on them winning the national championship.
The Tigers (-125) once again are resting with a supreme advantage in odds to win the ACC. Miami (+600) and Pitt (+600) are tied with the second-best odds as the Hurricanes and Panthers are just ahead of NC State (+900) and Wake Forest (+1000). Meanwhile, Texas A&M saw four bets of $1K or more while the Aggies look like potentially the most opportunistic to be able to nail Alabama or Georgia and contend for the SEC championship.
The Aggies (+1600) sit way off the pace of the Crimson Tide (-140) and the Bulldogs (+120) after coach Jimbo Fisher has now put together two No.1 recruiting classes in each of the last two years.
USC and Utah State both have three $1K or more bets as the Trojans and Utah have the best odds (+200) in the Pac-12 and those odds have moved to (+1600) for Lincoln Riley to lead USC to the national championship in his first season.
Utah State (+900) is not favored in the Mountain West as they are at a paltry (+100000) to win the national championship.
$1K+ title bets on Alabama and Ohio State: 53

$1K+ title bets on every other college football team: 24@TheMaxMeyer dives into the National Title trends for this upcoming season ⬇️

— Caesars Sportsbook (@CaesarsSports) July 21, 2022