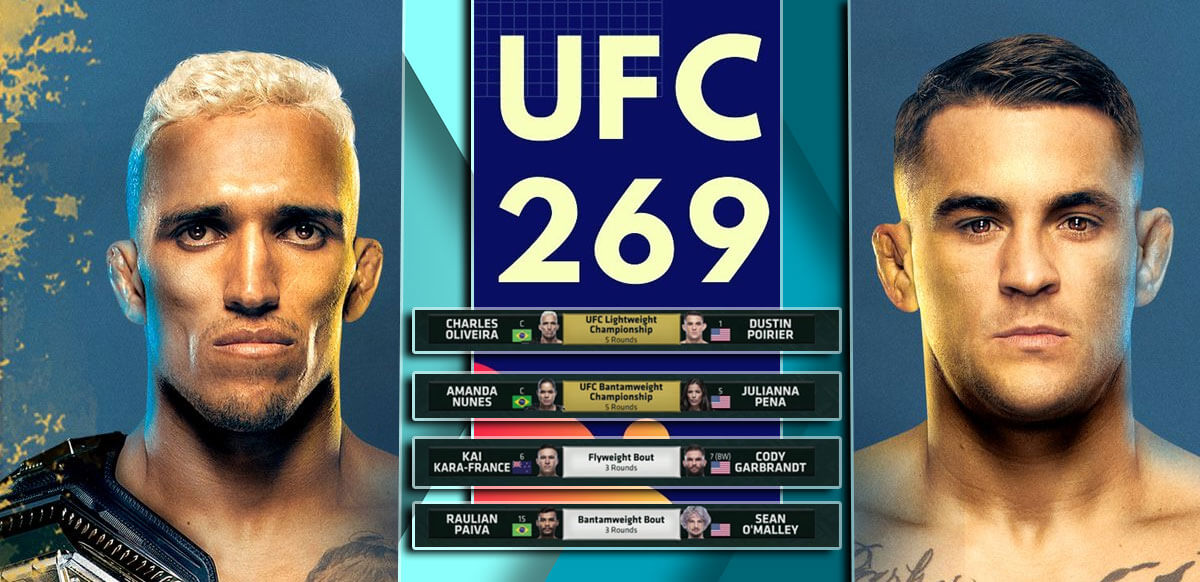 Julianna Pena is the only underdog in the UFC 269 main card to have more than 50% of the total bets.
Santiago Ponzinibbio has the highest percentage of bet count among all UFC 269 main card fighters.
The main event between Dustin Poirier and Charles Oliveira is a close call with Poirier having the slight edge at 52% of the early bet count.
UFC 269 is just days away and with the betting odds for the main card released more than a month to go, betting action has been underway for weeks, even months.
According to online sportsbook BetOnline, 52% of the early bets have been placed on challenger Dustin Poirier at -172 odds against champion Charles Oliveira who is currently listed at +147. The undercard bout between former bantamweight champion Cody Garbrandt and Kai Kara-France is also a close call with 53% of the total slips going to Garbrandt at -133 odds while 47% of the early tickets going to Kara-France at +113.
The other three bouts in the UFC 269 main card have interesting betting stories to tell.
'Clown' Julianna Pena Only Underdog Winning the Bet Count
Amanda Nunes says 'clown' Julianna Pena will pay for talk at #UFC269: 'She's delusional' https://t.co/jmIOhMTpCq

— MMA Junkie (@MMAjunkie) December 8, 2021
UFC women's bantamweight ( and featherweight champion ) Amanda Nunes didn't mince her words in the UFC 269 presser today as she called challenger Julianna Pena delusional while also labeling her a 'clown'. According to Nunes, December is her month and Saturday will be her day and no one, not Pena especially, will take it away from her. BetOnline bettors, however, are giving Pena a shot.
At +550, Pena has the longest odds among the fighters in the UFC 269 main card and the public is pouncing on the plus money. According to BetOnline's Dave Mason, Pena is the only underdog in the UFC 269 main card winning the early bet count with 56% of the total betting tickets written for her.
Nunes is currently listed at -900 which marks her second-shortest odds ever in the UFC, behind only the -1000 odds she was priced one fight ago against Megan Anderson. But while Pena is a heavy underdog, she isn't buying into the script that Nunes will run through her like the Lioness did her previous opponents. That mindset could be the difference in the fight, at least that's what Chael Sonnen thinks.
Geoff Neal Spent Thanksgiving in Jail
Geoff Neal spent about 16 hours in a Texas jail on Thanksgiving day. Spoke to a UFC official earlier today but no official comment. I would expect Neal's fight with Santiago Ponzinnibio to go on as scheduled next week. #UFC269 https://t.co/YfXKZg6OUE

— Simon Samano (@SJSamano) December 2, 2021
A few days ago, it was reported that Geoff Neal spent 16 hours in a Texas jail on Thanksgiving Day. Neal was arrested for driving while intoxicated and unlawful carrying of a firearm early Thanksgiving morning. He is currently awaiting the result of a blood test to determine his blood-alcohol level as his lawyers contend that he was not legally intoxicated when arrested.
The legal issues hanging over Neal's head could be one of the reasons why the public is pouncing on his opponent Santiago Ponzinibbio's betting odds. Ponzinnibio has taken 75% of the early betting tickets for their fight at -130 odds. But then again, Ponzinbbio also has the longest odds among favorites, so maybe bettors are just taking the best-priced favorite.
It's no surprise why Sean O'Malley is the second most heavily bet favorite of UFC 269. With 64% of the total betting slips at -300 for his bout against Raulian Paiva, O'Malley recently declined fights with ranked opponents, saying he isn't fighting someone with a contender number beside his name unless he gets contender money too. Paiva, of course, is unranked and there's good reason to place a bet on O'Malley here.