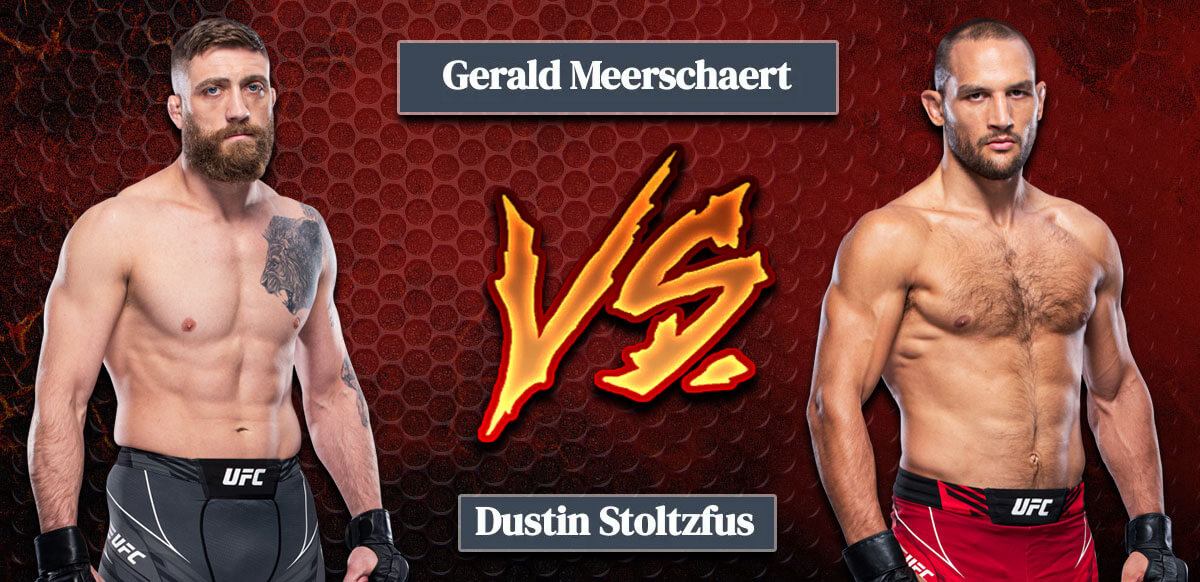 Gerald Meershchaert is the -255 betting favorite to beat Dustin Stolzfus at UFC Fight Night 199.
This marks the first time in 12 bouts where GM3 has been favored in a UFC bout.
Stolzfus was betting underdog in his first two UFC appearances, both losses.
Gerald Meerschaert has found himself as the betting favorite in a UFC bout for the first time in 12 bouts after changes have hit the UFC Fight Night 199 lineup.
A.Magomedov & C.Borralho out. Gerald Meerschaert & Dustin Stoltzfus will now fight each other at #UFCVegas45 on December 18th. (per Stoltzfus IG) #UFC #MMA #UFCESPN pic.twitter.com/IKZJlkeRD9

— Marcel Dorff ???? (@BigMarcel24) December 3, 2021
GM3 was supposed to fight Abusupiyan Magomedov but the latter withdrew due to undisclosed reasons. Now, Meerschaert has gone from a +120 underdog to the -255 betting favorite against Dustin Stolzfus:
UFC Fight Night: Lewis vs. Daukaus:
Dustin Stoltzfus (+215)
Gerald Meerschaert (-255)https://t.co/j8sSXmtLUE @The_Real_GM3

— BestFightOdds (@BestFightOdds) December 6, 2021
Meerschaert Upsets Muradov
UFC Vegas 35 video: Gerald Meerschaert storms back to pull off upset and choke out Makhmud Muradov (@DamonMartin) https://t.co/F2RJ1AOcQB pic.twitter.com/RKQbnYe2ko

— MMAFighting.com (@MMAFighting) August 29, 2021
Meerschaert is coming off an upset win over Makhmud Muradov at UFC Vegas 35 last August 28th. GM3 entered the fight as a +400 betting underdog, the biggest underdog in the entire fight card, against an opponent who had won 14 in a row including three in the UFC. But after getting dominated on the feet in the early stages of the fight, Meerchaert came back to submit Muradov in the second round.
The win was the second straight for Meerschaert who prior to the start of 2021, had lost five out of his last seven bouts. It was also his second consecutive Performance of the Night effort after his first-round guillotine choke of Bartosz Fabinski at UFC Vegas 24 last April 17th. The 33-year old has opened and closed as the betting underdog in each of his last 11 bouts so being a favorite in this fight is something new to Meerschaert.
GM3 is a former Combat USA middleweight champion and RFA middleweight champion. After 33 bouts and 10 years of fighting, he was signed by the UFC in 2016. Meerschaert has posted an 8-5 Octagon record. Overall, he is 33-14 with six knockouts and 25 wins via submission. He holds the UFC middleweight record with seven submission victories.
Vieira Submits Stolzfus
#UFCVegas31 OFFICIAL RESULTS: Rodolfo Viera defeated Dustin Stolzfus via submission (rear-naked choke), Round 3 – 1:54https://t.co/TNy1q270p1

— Amy Kaplan (@PhotoAmy33) July 18, 2021
Stolzfus is coming off a third-round submission loss against Rodolfo Vieira at UFC on ESPN 26 last July 17th. That defeat was his second in as many UFC bouts. Stolzfus dropped a unanimous decision against Kyle Daukaus at UFC 255 last November 21, 2020. The 30-year old from Lancaster, Pennsylvania was the underdog in both bouts, going at +250 against Daukaus and +195 against Vieira.
A veteran of the German promotion We Love MMA where he has reigned as middleweight champion, Stolzfus won 10 straight bouts from July 2015 to August 2020. The last of those bouts was an appearance in Week 2 of the Contender Series 20 in August of last year where he recorded a TKO win over Joseph Pyfer as the -260 betting favorite at BetOnline. Stolzfus earned his UFC contract in that victory.
Overall, Stolzfus has a record of 13-3 with two knockout victories and five wins by way of submission. He was supposed to fight Anthony Hernandez on December 18th but the latter suffered an injury while training. Borralho agreed to step in on short notice and fight Stolzfus but he too ran into visa issues and could not travel.