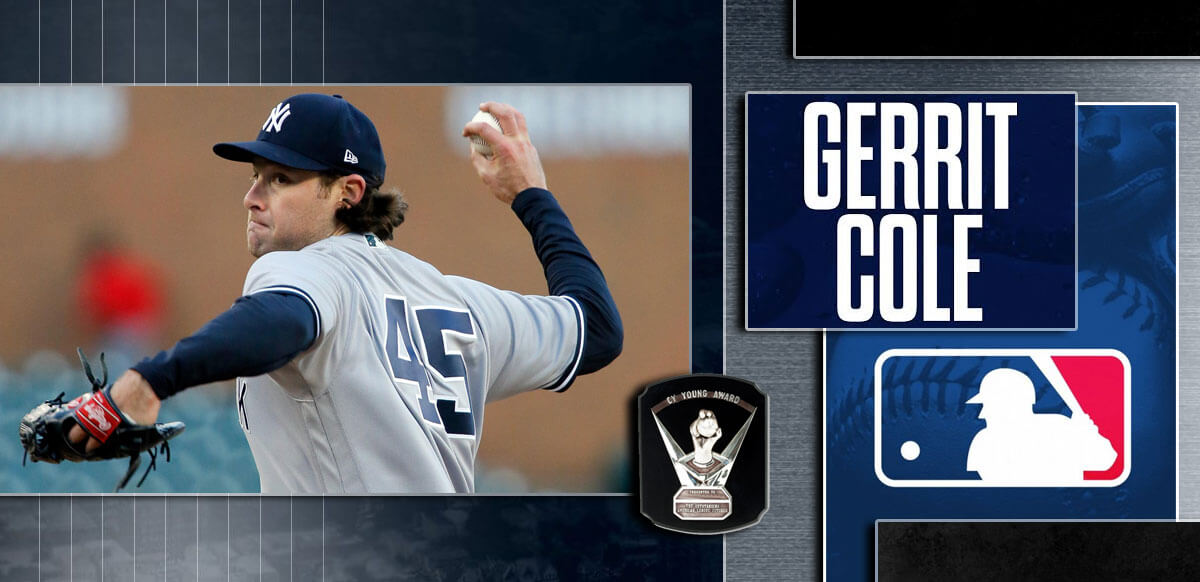 Gerritt Cole lasted only 1.2 innings against the Detroit Tigers on Tuesday, adding another bad outing to his disastrous 2022 season start.
In three starts fo far, Cole has pitched in 11.1 innings and has an ERA of 6.35.
His poor start has caused his AL Cy Young odds to fade to a current +750 at Online sportsbook BetOnline.
Gerritt Cole's early-season struggles continued on Tuesday when the Yankees' ace got yanked in the second inning against the Detroit Tigers.
Luckily for the Yankees, their bullpen pitched 7 ⅓ scoreless innings to bail out Cole and lead the team to a 4-2 win. Cole wasn't as lucky though as his latest rocky outing saw his AL Cy Young odds fade once again.
Cole's Cy Young Odds Fade to +750
Gerrit Cole's Cy Young odds movement ?

Going into his start: +650
Current: +750 pic.twitter.com/8kKVYQKuQr

— Caesars Sportsbook (@CaesarsSports) April 20, 2022
Going into Tuesday's start, Cole was listed as the +650 early betting favorite to win the 2022 AL Cy Young Award despite having allowed six earned runs in 9 ⅔ innings of work in two starts against the Boston Red Sox and Toronto Blue Jays.
After he was pulled from the game, his odds faded to +750, with Shane Bieber supplanting him at the top of the Caesars Sportsbook betting board with his +600 odds. At PointsBet USA, Cole was listed at +475 two days ago. He is now listed at +500 there, with Bieber as the new betting favorite at +400.
Cole was the +425 odds on favorite to win the AL Cy Young award heading to the opening day of the 2022 MLB season. Bieber was second with his +700 odds while last season's winner Robbie Ray was third at +900 . But just one week after the start of the season, Cole saw his odds drop to +450 at the BetOnline App. One week later, his odds faded to +475. Now, it's even longer. And Bieber is the new odds on favorite.
Shortest Start of Big-League Career
Yankees' Gerrit Cole records shortest start of big-league career vs. Tigers as early season struggles continue https://t.co/n7Ows0VPaZ

— CBS Sports MLB (@CBSSportsMLB) April 20, 2022
Gerritt Cole's 2022 season has been nothing short of disastrous. In three starts so far, he's pitched just 11.1 innings and has an ERA of 6.35 with 12 strikeouts and seven walks. On Tuesday, Cole didn't allow a first-inning home run for the first time this season. But that was as good as his outing would get.
Handed a 3-0 lead when the Yankees scored twice in the first inning and once in the second, Cole struck out three out of the first four hitters he faced in the opening inning before completely falling apart in the second. After allowing a leadoff single to Miguel Cabrera, Cole got Spencer Torkelson on a liner to third. Cole then walked the Tigers'
7th to 9th hitters.
The third walk, to Willi Castro, forced in a run to make it a 3-1 game. Robbie Grosman then hit a sacrifice fly on a full count to make the score 3-2. Cole then walked Austin Meadows, also on a full count, to load the bases. It was at that point that Cole was pulled from the game.