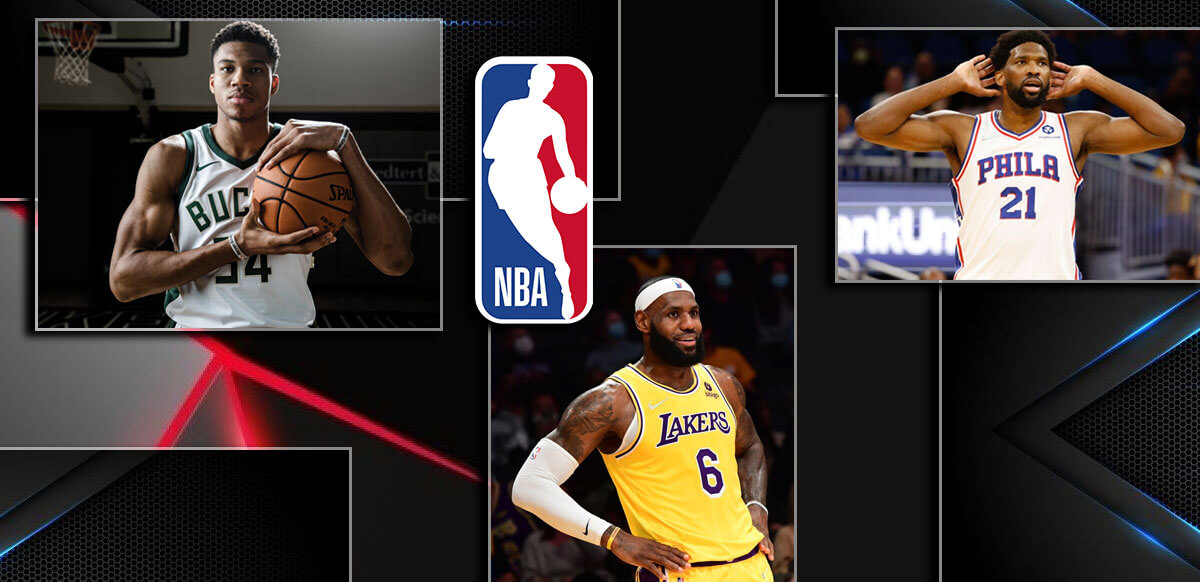 Milwaukee's Giannis Antetokounmpo is the odds on favorite to be this year's scoring champion at +190 via Bovada.
The current scoring leader at the break, Joel Embiid of the Sixers, is a close second with his +210 odds.
37-year old LeBron James of the Los Angeles Lakers has the third-best odds at +310.
Milwaukee's Giannis Antetokounmpo is the betting favorite to win this year's NBA scoring title. The reigning NBA Finals MVP is a +190 at Bovada to lead the NBA in scoring this season. Meanwhile, MVP betting favorite Joel Embiid is second on the odds board at +210 while the Los Angeles Lakers superstar LeBron James is third at +310.
Embiid on a Different Level Right Now
The league leader in Points Per Game just enjoyed another scoring outburst today ?@JoelEmbiid is on a different level right now ?#NBA75 pic.twitter.com/GfzVebgyaG

— NBAIndia (@NBAIndia) February 18, 2022
Antetokounmpo became the NBA's scoring leader after scoring 50 points against the Indiana Pacers last February 16th. But two days later, Embiid reclaimed the top spot on the league scoring list by dropping 42 on Giannis and the Bucks in a 123-120 win over the defending NBA champions. As it stands right now at the All-Star break, Embiid is the NBA's scoring leader at 29.6 points per game while Antetokounmpo is second at 29.4 points per game.
James is third in the leaderboard as the only other player this season to average at least 29 PPG at 29.1. The 37-year old James has scored at least 25 points in 23 consecutive games, the longest such streak of his NBA career. It puts him in a tie with Elgin Baylor for the longest 25-point streak in Lakers history and at par with Embiid for the longest 25-point game streak this season. With Anthony Davis out for at least two weeks, expect James to continue to carry the Lakers in the coming weeks.
A distant fourth in the Bovada odds board is the Dallas Mavericks' Luka Doncic at +750. Doncic is currently 6th in the NBA in scoring at 27.5 points per game but has been putting up a 35.4 point scoring average in his last 10 games played. Meanwhile, Chicago Bulls closer DeMar DeRozan is next at +900 and is the last player with odds shorter than +1000. DeRozan is 4th on the current scoring list at 28.1 points per game this season.
50 Points, 16 Threes for Curry
50 points. 16 threes.@StephenCurry30 || #NBAAllStar pic.twitter.com/LIm6wShlkO

— Golden State Warriors (@warriors) February 21, 2022
At a longshot +7500, Steph Curry was the early scoring leader as he started like a house on fire this season. But since breaking Ray Allen's three-point mark, Curry has had his share of shooting struggles, even if he is the best shooter in the history of the game. Curry's season shooting percentage is just 42.7% while his season three-point shooting is just 37.9%, both of which are far off his career marks of 47.3% and 42.8%, respectively. But as we saw last Sunday, Steph can heat up in a hurry. However, at 25.8 PPG this season, he needs to close out strong.
Three spots ahead of Curry and right behind DeRozan is Atlanta's Trae Young who is currently listed at +1900. Young is 5th in the league in scoring at the break with his 27.8 PPG season scoring average. After Young is Memphis' Ja Morant at +3400. Morant is the leader of the surprising Grizzlies who are currently in third place in the Western Conference team standings. Morant is the 7th top scorer this season at 26.8 points per game.
Reigning NBA MVP Nikola Jookic of the Denver Nuggets is next at +6000. The Joker is averaging a shade over his career-best scoring mark at 26.0 PPG this season, 8th in the current scoring list. With Jamal Murray and Michael Porter Jr. out with injuries, Jokic has taken a huge chunk of the scoring load in Denver. Boston's Jayson Tatum, Phoenix's Devin Booker, and Utah's Donovan Mitchell complete the Bovada odds board at +10000 apiece.