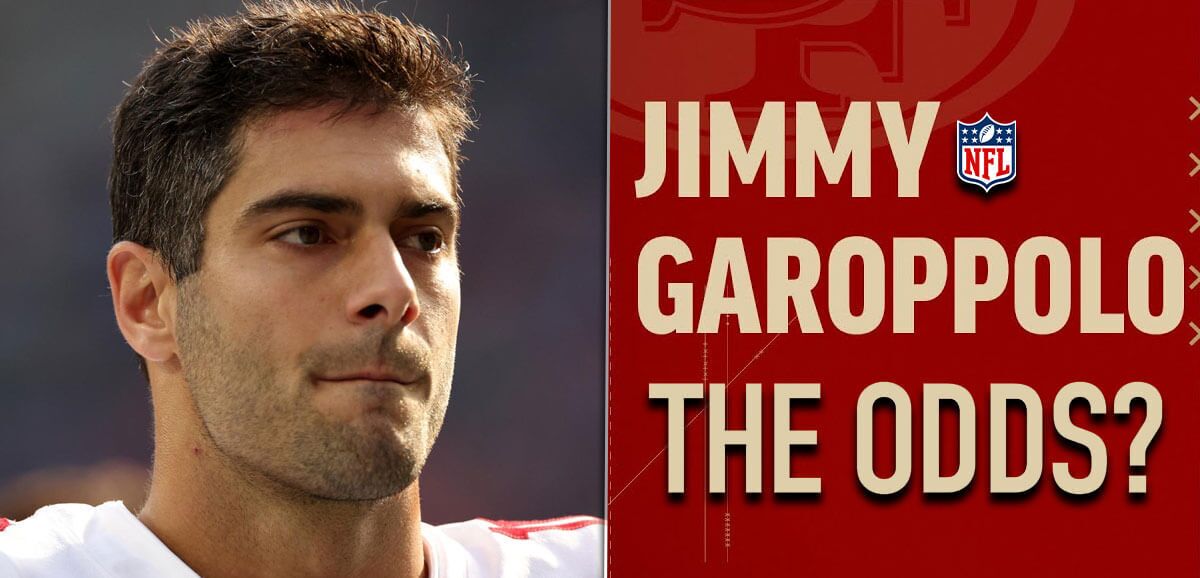 The New York Giants have moved from +350 to the +200 betting favorites to land Jimmy Garoppolo in a trade.
Last week, Jimmy G. was a -200 to go to the Cleveland Browns.
The 49ers have given Garoppolo permission to seek a trade after announcing that Trey Lance would be their starting moving forward.
The Jimmy Garoppolo trade market is alive and well.
With the 49ers quarterback given the green light to seek a move to another team, several names have been linked to Garoppolo since the announcement. In the past seven days, two teams have traded spots on top of the Jimmy G. betting board at online sportsbook BetOnline.
New Favorite in Town
Last week, the Browns were -200 to land Jimmy G, but there's a new favorite in town

Jimmy Garoppolo's Next Team
Giants +200 (+350 last week)
Browns +225
Seahawks +350
Texans +500
Lions +600
Bears +1400
Jets +2000
Saints +2200 pic.twitter.com/ZDRTVajQy8

— BetOnline.ag (@betonline_ag) July 27, 2022
Just last week, the Cleveland Browns were the -200 betting favorite to land Jimmy G. The Browns traded Baker Mayfield and have Deshaun Watson in their lineup. But with the team waiting on a likely suspension, they were the team that had the most need for an immediate starter and among those available, Garoppolo is the best one out there, if healthy.
Since 2016, Jimmy G. ranks 4th among current starting quarterbacks in winning percentage ( minimum of 50 games played, including the playoffs). Garoppolo's .698 win percentage is only behind Patrick Mahomes (.784), Tom Brady (.777), and Lamar Jackson (.717) while ranking one spot higher than Aaron Rodgers (.668).
But recent talks have linked Jimmy G. to the New York Giants, causing them to move from +350 last week to the +200 favorite on Wednesday. The Browns have moved to second favorites at +225 while the Seattle Seahawks are third at +350. Meanwhile, the Houston Texans (+500) and the Detroit Lions (+600) are the only other teams with better than +1000 odds to land Garoppolo in a trade.
49ers Have Given Garropolo's Permission to Seek a Trade
The #49ers have been trying to find a trade partner for Jimmy Garoppolo since the end of the season. John Lynch said In March they'd given permission for him to seek a trade and they never received a firm trade offer. Flashback —-> https://t.co/XVuGbl3Frh

— Matt Maiocco (@MaioccoNBCS) July 20, 2022
Last week, it was reported that the 49ers had already given Jimmy G. permission to seek a trade. But long before that, it was widely believed that the Niners were moving on from the oft-injured Garoppolo. The main thing holding them back was his $7.5 million injury guarantee. But now that he's passed his physical and is cleared to return to practice, the 49ers made it official that they are going with Trey Lance as their starter moving forward.
Garoppolo is coming off a shoulder injury last March but he is only 30 years old and if he can get back to 100% strength and stay healthy, there's no question he still has plenty of years left in the tank. And given his ability to lead his teams to victory, regular season, or playoffs, he won't be lacking in suitors.
Jimmy played in 15 games last season, throwing for 3,810 passing yards with 20 TDs and 12 interceptions. Sure it wasn't his best season but coming off a campaign where he only played six games due to a high ankle injury, it was still a very productive year for him and the 49ers who made it all the way to the NFC title game where they narrowly lost to the eventual champions L.A. Rams 20-17.