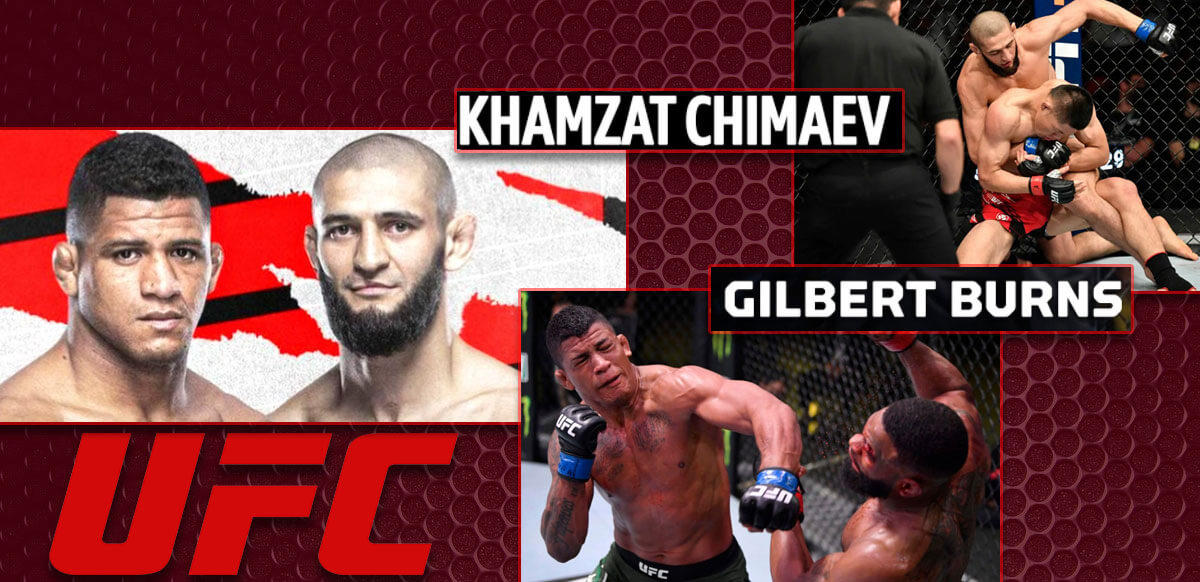 Gilbert Burns vs Khamzat Chimaev has opened as a pick'em fight.
The odds went live after reports surfaced that a fight between the two is in the works for January 2022.
Chimaev just beat Li Jingliang at UFC 267 last October 30th while Burns defeated Stephen Thompson back in July.
A spectacular welterweight showdown between no. 2 ranked Gilbert Burns and no. 9 Khamzat Chimaev would be a pick 'em fight in the eyes of the bookmakers.
According to the best UFC sportsbooks, both Burns and Chimaev would enter the Octagon at -110 odds.
Future Events:
Gilbert Burns (-110)
Khamzat Chimaev (-110)https://t.co/VO30HT1Mz6 @GilbertDurinho @KChimaev

— BestFightOdds (@BestFightOdds) November 15, 2021
Both fighters are still unbooked with Chimaev fighting as recently as UFC 267 last October 30th and Burns coming off a July win over Stephen Thompson.
Chimaev vs Burns in the Works for January?
?FIGHT NEWS ?

A welterweight showdown between Khamzat Chimaev and Gilbert Burns is in the works.

Huge, huge fight for both men and one that could have serious implications for Kamaru Usman's next title defence.

Shoutout to @FrontkickOnline for first reporting the news. pic.twitter.com/8fvgIXTNxK

— Chisanga Malata (@Chisanga_Malata) November 14, 2021
The odds opened as a reaction to a report from FrontkickOnline that said that the UFC is currently working to book a fight between Chimaev and Burns for January 2022. According to the Swedish MMA media source, the bout is not yet set in stone but it has intel that it is currently being discussed and is likely to happen.
Chimaev recently broke into the Top 10 in the UFC's welterweight rankings at no. 9 following his first-round submission of Li Jingliang in his first fight in over a year. Most recently, he was linked to Leon Edwards after the latter lost his UFC 269 opponent after Jorge Masvidal suffered an injury while training. Chimaev was also linked to a future bout with Masvidal with the best UFC betting sites opening Borz as the -300 betting favorite in bouts against Edwards and Masvidal.
Borz offered to step in and face Edwards at UFC 269 but his call-out fell on deaf ears. Prior to that, Chimaev also called out Nate Diaz and Conor McGregor. He even offered to fight Jake Paul and Logan Paul on the same night. But none of those names or the others he called out in the past said yes to Chimaev. And then there is Gilbert Burns.
Burns Open to Fighting Chimaev
Gilbert Burns open to fight Khamzat Chimaev: 'Why not? I'll give him the opportunity' (via @dannyseguratv) https://t.co/JyknTucI4E

— MMA Junkie (@MMAjunkie) November 15, 2021
But while most of the ranked fighters at welterweight have remained mum on the prospect of fighting Chimaev, no. 2 ranked Gilbert Burns says he is willing to give Chimaev the opportunity. Burns said he would prefer to fight no. 1 Colby Covington whom champion Kamaru Usman just dismantled at UFC 268. Durinho added that he thinks Chimaev needs more work but would be willing to fight him because he's going to face him soon anyway if he (Burns) wants another shot at the belt.
For Chimaev, a win over Burns would skyrocket him to the top of the rankings and possibly cut the line and fight Kamaru Usman next. Chimaev opened as the +170 betting underdog against Usman. Should those odds hold, it would mark the first time in Chimaev's UFC career where the plus money sign will be next to his name.
The same would hold for Burns. With the only guy ranked above him losing to Usman earlier this month and Edwards having his UFC 269 bout with Masvidal canceled, a win by Burns over Chimaev in January could earn him a second crack at Kamaru Usman's belt as Usman isn't shy about giving rematches like in the case of Masvidal and Covington.