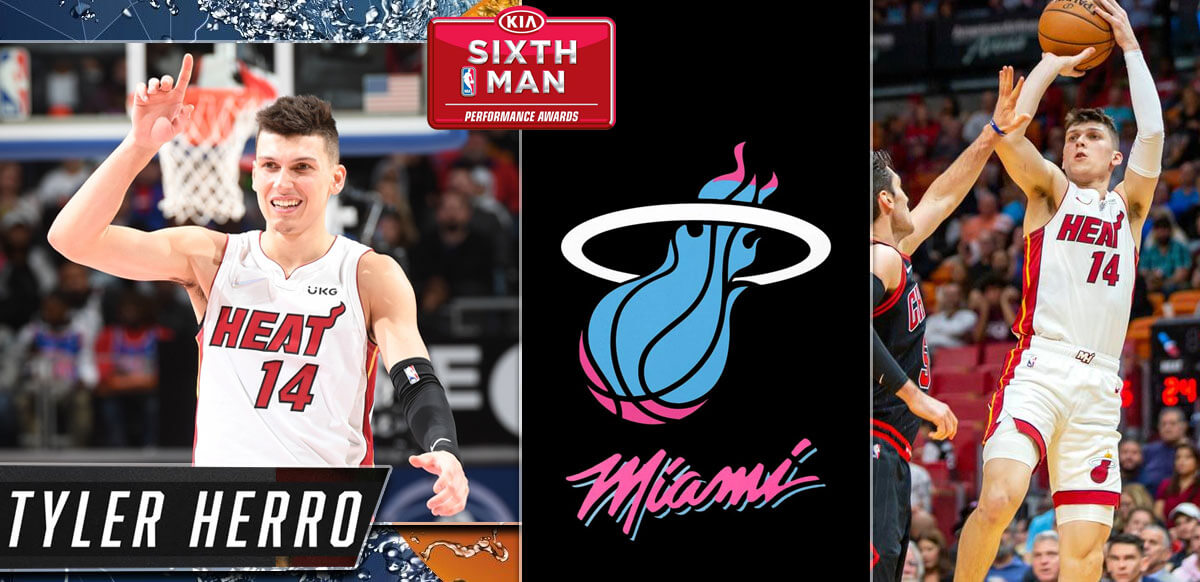 Tyler Herro is easy favorite for NBA Sixth Man of the Year
Montrezl Harrell in second on odds boards as his game rebounds
Boston's Schröder has value if C's move continues
The Miami Heat are currently in a deadlock for first place in the NBA Southeast Division with the Washington Wizards at 13-8 as the two teams are joined by the Milwaukee Bucks in a tie for third in the Eastern Conference.
One of the constants for the Heat this season is sixth man Tyler Herro, who is running away with odds to win the NBA Sixth Man of the Year as he is currently posting (-149) to win, but as high as (-140) as well.
we get it, kid pic.twitter.com/vu6nWVp1Zy

— Miami HEAT (@MiamiHEAT) November 25, 2021
His chiefest competition is coming from Wizards forward Montrezl Harrell, who is enjoying odds as high as (+1400) in some places.
Herro and Miami leading scorer Jimmy Butler sat out of last night's 120-111 loss to the Denver Nuggets in Miami. Herro is dealing with a non-Covid-19 illness while Butler continues to languish with a tailbone injury.
Herro has played in 18 games this season and has come off the bench in 14 of those to average 21.8 points, 5.7 rebounds, and 3.7 assists in 33.6 minutes per game.
— Miami HEAT (@MiamiHEAT) November 25, 2021
The Miami forward was getting (+1500) odds as the season started on Oct. 12 as Utah's Jordan Clarkson, the defending NBA Sixth Man of the Year winner had the best odds than at (+550).
By November 5, Herro was gathering (+180) odds to win the award as Clarkson stepped back to (+875).
Herro averaged 28.5 points per game in his first two outings as he had five games where he scored over 20 points and topped out with 30 in a 102-91 loss to Indiana on Oct. 23.
HerroBall https://t.co/FEbusqqHnN

— Miami HEAT (@MiamiHEAT) October 24, 2021
Miami is now third in the Eastern Conference with (+600) odds to go to the NBA Finals. Brooklyn tops the East with (+120) while the defending NBA Champion Milwaukee Bucks (+350) are second.
The Heat currently are nursing (+1500) odds to win the NBA Championship at the online sportsbooks, seventh in the Association.
Clarkson Looking to Strike a Chord
Utah's Jordan Clarkson started the season by shooting only 37.1 percent from the field as he has only canned 38 percent of his shots so far this season. His three-point game is down as well at 29.9 percent as both of these shooting percentages constitute the lowest of his career at this point in the season.
— Utah Jazz (@utahjazz) November 21, 2021
Currently, Clarkson has (+2200) odds to win the award as Utah needs him to regain his productivity and be the normal factor that he has been in coming off the bench. Last season, Clarkson averaged 18.4 points, which was the highest of his career, and his 4.0 rebounds tied for the highest rebound total as he amassed that number in 2015-16 with the Lakers.
Climbing a Mountain
Montrezl Harrell was being wasted with the Lakers a year ago as he averaged 13.6 points and 6. 2 rebounds as his minutes dwindled as the season went down the stretch. These were his lowest totals since he was with the Clippers (11.0 ppg, 4.0 rpg) in 2017-18.
Harrell has rebounded nicely and is making a major difference for the Wizards so far as he is second in odds to win the NBA's Sixth Man of the year with odds at (+1500), but he has seen movement to the point of (+1400) in some places.
Harrell is averaging 16.1 points and 8.2 rebounds this season as he is a major piece in the Wizards being in playoff contention through a quarter of the season as well as in a tie for first in the NBA Southeast Division.
OH OKAY TREZZ ?#DCAboveAll | @MONSTATREZZ pic.twitter.com/fleqFXlVqy

— Washington Wizards (@WashWizards) November 30, 2021
He is shooting 64.1 percent from the field which is the highest since 2016-17 when he shot 65.1 percent as a member of the Houston Rockets.
The Wizards and the Charlotte Hornets are tied with (+1700) odds to win the Southeast Division while Miami is a solid (-320) to win with the Atlanta Hawks at (+380). Harrell won the award in 2020 as a member of the Los Angeles Clippers when he posted 18.6 points per game with 7.1 rebounds.
Washington is a long shot to win the Eastern Conference with (+7500) odds therein, and they are posting (+18000) odds to win the NBA Championship.
Other Contenders
Unless Herro slows down, Boston's Dennis Schröder (+2500), the Mavericks' Jalen Brunson (+3000), and Sacramento guard Buddy Hield (+3000) are just that – contenders.
.@coorslight Cold Hard Fact: For a second consecutive season, @buddyhield has had at least two 3-pointers in each of the team's first 20 games. (h/t @TheAthletic) pic.twitter.com/lRMBokO8sx

— Sacramento Kings (@SacramentoKings) November 28, 2021
Schröeder has helped the Celtics rebound from a 2-5 start to the season, but they are still sitting at 11-10 and tied with the 76ers in the Atlantic Division. He averages 17.1 points and 4.9 assists as he has come off the bench in eight games.
Boston currently has odds at (+2800) to win the Atlantic and is a long shot behind the Nets (-500). Philadelphia (+500) and the New York Knicks (+2500) currently are in front of Boston with Toronto supporting a massive deficit with a (+6500) number to win the division.
Brunson has appeared in 18 games for the Dallas Mavericks and started only five in, averaging 14.5 points per game. The Mavs are currently 10-9, and a half-game in front of Memphis in the NBA Southwest Division as Dallas is the favorite (-650) with the Grizzlies catching (+1400) odds.
Meanwhile, Hield is averaging 17.3 points in 29.2 minutes per game for the Kings as he has come off the bench in 19 of 21 games.