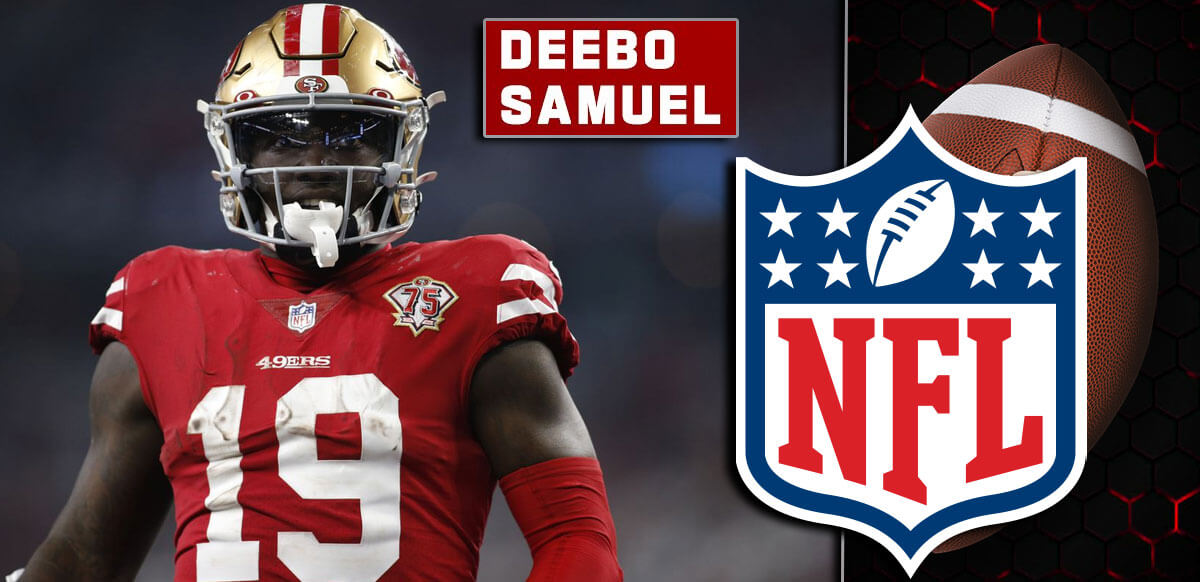 The Houston Texans are the odds-on-favorite to land WR Deebo Samuel in a trade.
Indianapolis and New Orleans have the second-best odds to acquire the 49ers WR at +500.
Samuel requested a trade from the 49ers last Wednesday but did not disclose his reasons.
The San Francisco 49ers have reportedly "zero intention" of trading Deebo Samuel. But with the future of last season's breakout wide receiver not set in stone, the best NFL sportsbooks have opened the betting lines for Samuel's possible trade destination.
According to online sportsbook BetOnline, the Houston Texans are the +500 co-betting favorites to land the former 36th pick of the 2019 NFL draft.
Texans Could be a Front-Runner
According to @timkawakami, the #WeAreTexans could be a front-runner in adding 49ers receiver Deebo Samuel.

Could it work? More on that here @TEXANSatSI: https://t.co/uewHnxZSOi

— Cole Thompson (@MrColeThompson) April 20, 2022
According to a report from The Athletic's Tim Kawakami, the Houston Texans could be a team to watch in the Deebo Samuel story. The Texans have the no. 3 and no. 13 picks of the 2022 NFL Draft so they have the draft resources needed to be included in a trade package for Samuel, not to mention the salary cap space to burn to get him.
Adding Samuel makes a lot of sense for the Texans too as he would give second-year quarterback Davis Mills a third weapon to throw to after Brandin Cooks and second-year standout Nico Collins. While Samuels could primarily take reps in the slot, he could work on a variety of spots after showing what he could do in space when he was with San Francisco.
Samuel ranked 3rd in all-purpose yards with 1,750. He was also 5th in receiving yards with 1,405 and ranked second among WRs with a total of 14 total TDs. Samuel also led all receivers with 24+ catches with his 18.2 yards per catch and was ranked 3rd among all players with 10+ rushes with 6.2 yards/per rush.
Colts Have Made a Trade Offer for Samuel
According to @Marco_Mart1205, one of the writers for @49erswebzone, the #Colts are among the teams that have made a recent trade offer for Deebo Samuels. pic.twitter.com/9vKxnOE67k

— Colts Coverage (@Colts_Coverage) April 20, 2022
The Colts are second in the BetOnline odds board at +500. According to 49ers writer Marco Martinez, Indianapolis is among the teams that have made a recent trade offer for Samuel. The Colts are in a win-now mode after trading for Matt Ryan. Indianapolis has Michael Pittman Jr. but they need another option and Samuel could be that piece of the puzzle.
Also listed at +500 are the New Orleans Saints who also have draft capitals that the 49ers might covet. New Orleans will pick 16th and 19th next Thursday and they also have a need for an elite wide receiver. The Saints have also carved out enough salary space to make room for a massive deal to acquire a superstar like Samuel.
The New York Jets at +600 are in dire need of a wide receiver. The Jets own the 4th and 10th picks of the 2022 NFL Draft but obviously, Samuel is the proven commodity. The Kansas City Chiefs at +600 traded Tyreek Hill but have back-to-back first-round picks at 29 and 30. Meanwhile, the Eagles are at +800 and could use a second WR after DeVonta Smith to open up their passing game.