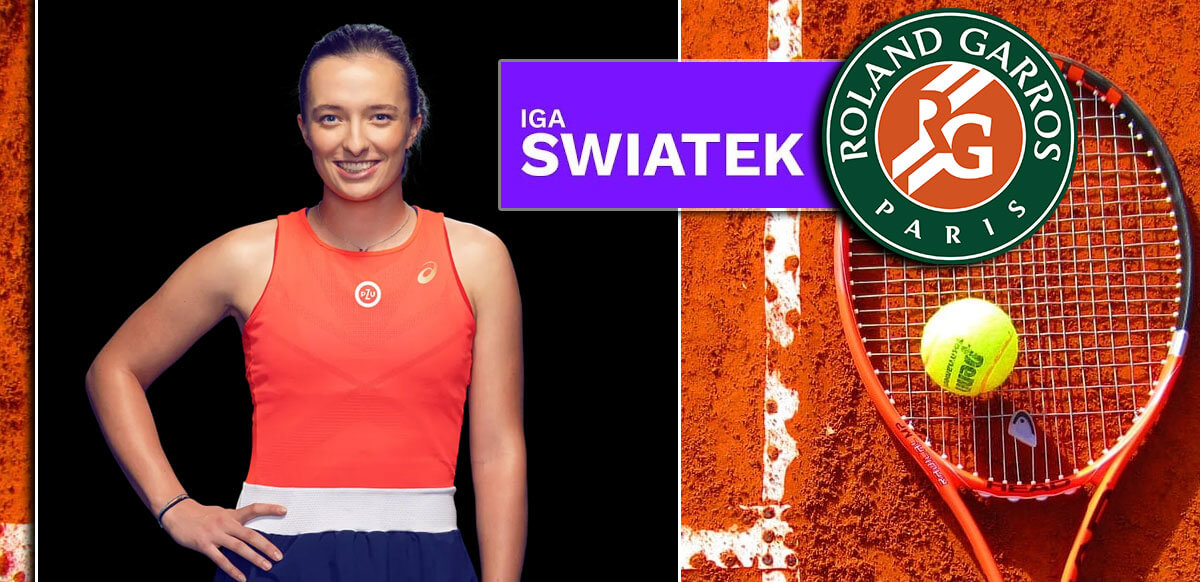 World no. 1 Iga Swiatek is the overwhelming favorite to win the 2022 French Opoen women's singles title.
At -110 odds, the player with the closest odds to Swiatek is Ons Jabeur at +1200.
Swiatek has won her last five tournaments and is unbeaten in her last 28 matches.
World no. 1 Iga Swiatek is not just the odds on favorite to win the 2022 French Open women's singles title. The 20-year-old Polish tennis star is also the most popular bet to win the tournament.
Early betting data from BetMGM revealed that Swiatek has 45% of the total betting tickets issued and a massive 72% of the total betting handle. With such heavy numbers, she is the biggest liability to win the tournament at the said sportsbook.
Swiatek Overwhelming Favorite to Win Second French Open Title
The 20-year-old Polish player is an overwhelming favorite to win her second French Open title (via AP) https://t.co/JU0kdYBef2

— Bloomberg Pursuits (@luxury) May 16, 2022
Swiatek is the overwhelming favorite to claim a second straight title at Roland Garros. Last year, she was unseeded and ranked 54th in the world when she cruised to the French Open women's singles titles without dropping a set. This year, Swiatek won't be surprising anybody.
The top-ranked women's tennis player in the world has looked unstoppable in 2022. Swiatek has won her last 28 matches, annexing five tournaments during that span. In her last 43 sets played, she's lost only one while leading the WTA Tour with 13 6-0 sets this year. Swiatek is also undefeated on clay this year with a 7-0 record.
At -110 odds to win Roland Garros, she is a cut above the rest with the second favorite Ons Jabeur listed at a distant +1200 odds and Simona Halep at +1400 via Bet365 USA. Swiatek is also listed at -110 at PointsBet USA with Jabeur and Halep both at +1200. The shortest odds for the world no. 1 is currently at -120 via Caesars Sportsbook. Jabeur and Halep are also at +1200 at that betting site.
Swiatek Dominates Jabeur in Rome
🏆 @iga_swiatek defends her title in Rome with a 28th win in a row dominating Ons Jabeur 6-2 6-2 in the final 👏 pic.twitter.com/SoNTm7f9ba

— Roland-Garros (@rolandgarros) May 15, 2022
Swiatek staked her winning streak against Jabeur in the final of the WTA 1000 event in Rome last week. Jabeur entered their matchup with her own 11-game winning streak but she was no match for Siwatek who dominated her in straight sets, 6-2, 6-2, for her fifth consecutive tournament title in her last five starts.
With consecutive titles at Doha, Indian Wells, Miami, Stuttgart, and Rome, Swiatek is the first player since Serena Williams in 2013 to win five consecutive tournaments. Even more daunting than that is the fact that Swiatek has won her last eight trips to a WTA tournament final, all in straight sets and with no set closer than 6-4. Swiatek has also won her last seven matches against Top 10 ranked players, with all wins coming in straight sets.
Since 2000, only Venus Williams (35), Serena Williams (32), and Justin Hene (32) have won more consecutive games than Swiatek. Should she go on to win the French Open as the best sportsbooks are saying, she will tie Venus' record with 35 consecutive wins.