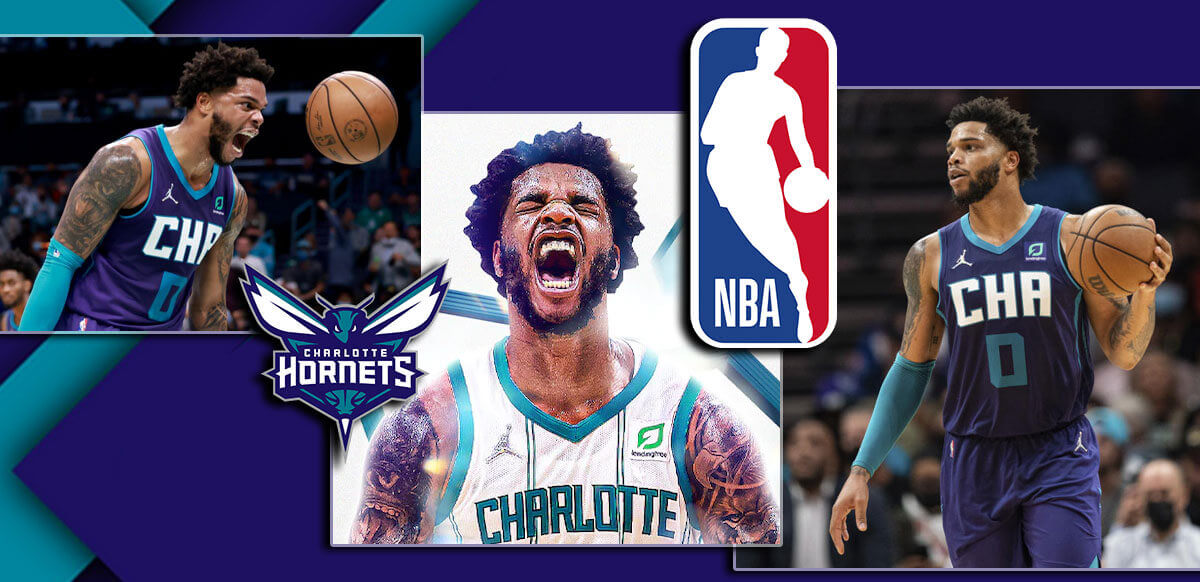 Miles Bridges scored 25 points with four rebounds and two steals against the Detroit Pistons last Saturday.
Bridges is currently second behind Ja Morant (-450) in the Most Improved Player odds boards at +750.
The Hornets are 9th in the Eastern Conference with a 29-29 SU record.
Miles Bridges is having a breakout season for the Charlotte Hornets and he's one of the reasons why Charlotte is very much alive in the playoffs race during a season where they are not expected to enter the postseason.
On Saturday, Bridges continues his impressive campaign as he joined LaMelo Ball and Terry Rozier in scoring at least 25 points, marking only the second time in the last decade where three Hornets' starters finished a game with at least 25 points each.
Miles Bridges Putting on a Show
Miles Bridges putting on a show with this crazy step-back?

The Hornets (-6.5) are up big with only half a quarter left of play.pic.twitter.com/qBb8zP5dPQ

— ClutchPoints Betting (@CPBetting) February 12, 2022
Ball led the Hornets with 31 points12 assists, 5 rebounds, 4 steals, and 7 three-pointers made but Miles Bridges also put on a show against the Pistons. The 23-year old Michigan Stat product scored added 25 points 4 rebounds, and two steals on Saturday night.
Entering Saturday's game, Bridges was averaging career highs of 19.9 points, 7.1 rebounds, 3.5 assists, 0.9 blocks, and 1.1 steals per game. Bridges' scoring improvement of 7.2 points per game from the previous season ranks fifth in the entire league with only Tyrese Maxey (+9.0), Desmond Bane (+8.4), Anfernee Simons (+8.3), and Ja Morant (+7.3) having better scoring seasons than Bridges.
With Bridges having a breakout season and LaMelo Ball continuing to improve, the Hornets are currently 9th in the Eastern Conference team standings and just 3.5 games behind the Toronto Raptors for the 6th seed and outright playoff entry. Right now, they would need to win two games in the play-in tournament just to make the playoffs. But for a team that was given just a modest +180 chance of making the playoffs by the best NBA spotsbooks, the Hornets are doing just fine.
Odds to Win Most Improved Player
Odds to win Most Improved Player ?

-450: Ja Morant
+750: Miles Bridges pic.twitter.com/OhTBnmpk4c

— NBABet (@nbabet) February 13, 2022
Ja Morant is still the heavy -450 betting favorite to win the NBA's Most Improved Player Award. But at +750, Miles Bridges has established himself as Morant's chief competitor, and the only other player to have odds shorter than +1000.
Over at Caesars Sportsbook, Morant is currently listed at +430 while Bridges is at 700. Garland has +1000 odds while Murray is at +1800. Anfernee Simons and Jarrett Allen are at +8000. At PointsBet USA, Morant is listed at -400 with Bridges chasing him at +600 and Garland at +1000. Murray is pegged at +1800 while Jarrett Allen at 5th is currently priced at +6600. Bovada meanwhile has Morant at +335 and Bridges at +600. Garland and Murray are at +1000 and +1400, respectively.
Right now, Ja Morant looks like he's running away with the MIP award. But Miles Bridges isn't just the solo second favorite. He has put his name alongside players who were named as first-time All-Stars this season in Morant, Garland, Murray. The future is bright for Miles Bridges.