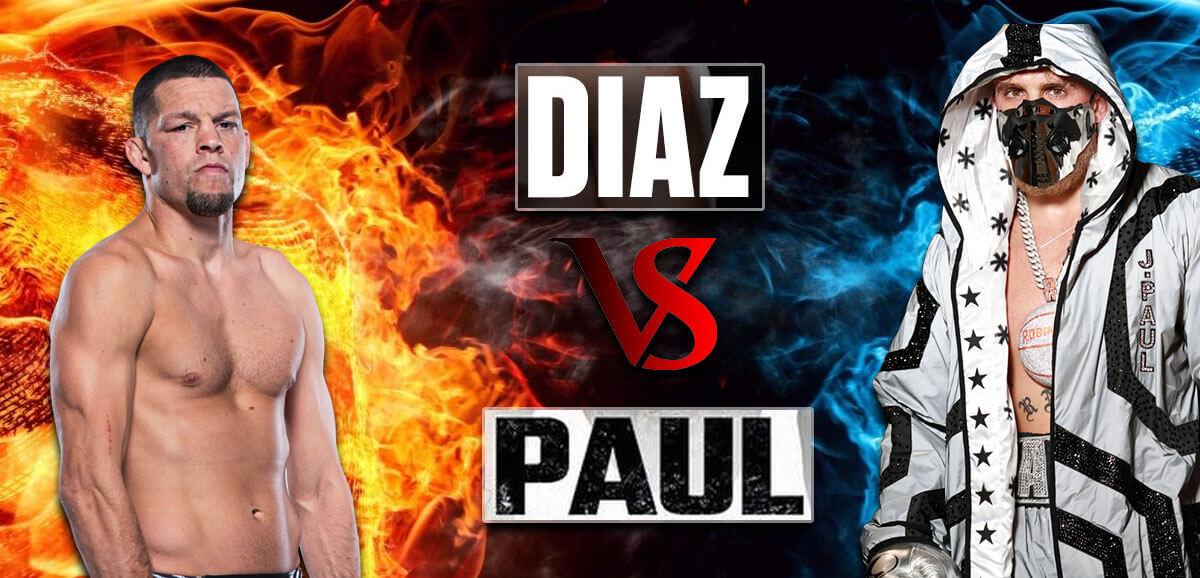 Jake Paul has opened as a +170 underdog in a potential Nate Diaz boxing match.
UFC President Dana White recently said that a Jake Paul vs Nate Diaz bout makes sense.
Paul is currently a +100 betting underdog in an August 6th boxing bout against Tommy Fury.
Jake Paul has opened as the betting underdog for the first time in his boxing career when he debuted at +100 odds for his August 6th bout against Tommy Fury.
He will be a bigger underdog if he pursues another heavily-talked-about fight against UFC veteran Nate Diaz after the Fury fight.
According to the online sportsbook BetOnline, Paul would be a +170 betting underdog in a potential Nate Diaz bout. Diaz meanwhile, opened at -250 odds, to beat Paul in a boxing bout.
Did Dana Just Sign Off on a Jake Paul vs Nate Diaz Bout?
Dana White on Nate Diaz: 'He probably should go on and fight Jake Paul. That's a fight that makes sense' https://t.co/Z20qE8VynG pic.twitter.com/OiVQvsdgot

— MMAFighting.com (@MMAFighting) June 21, 2022
Jake Paul and Nate Diaz have been going back and forth with each other on social media for years. In fact, Diaz opened with the third shortest odds to be Jake's next opponent last December, after the YouTube star knocked out Tyron Woodley in their rematch. At +700, Diaz had the same odds as Dillon Danis who is now linked as a possible Logan Paul opponent. Only Anderson Silva at +300 and Tommy Fury at 350 had shorter odds. Of course, the Fury bet cashed.
But Jake Paul has no plans yet after beating Fury. And it's not even sure if he's going to beat Fury, who is the first professionally trained boxer he will be fighting against. Still, the idea of Jake Paul fighting the iconic Nate Diaz of MMA in a boxing match is fascinating. Diaz is one of the most popular fighters in the UFC. The problem with Nate is that he is still under contract with the UFC. He has been trying to get a fight or get out of his contract but nothing has happened yet, well at least until earlier this week,
With UFC President Dana White saying in a recent interview that a Jake Paul fight makes sense for Nate Diaz, it wasn't clear if he was finally going to let Jake Paul fight inside the Octagon. Or if he will allow Nate, like McGregor in the Mayweather fight, to fight inside a boxing ring. Jake Paul also recently said that he was willing to fight Nate Diaz, even inside the UFC Octagon, for as long as his "demands" are met. But for now, the available odds are for a boxing fight and they are already against Jake. What more for an MMA fight?
Bigger $h*t to Do
Ufc release now please or give me fight with anyone in July or august
I have bigger shit to do pic.twitter.com/xyYSCBysLs

— Nathan Diaz (@NateDiaz209) June 21, 2022
Most recently, Nate Diaz asked the UFC to give him a fight with anyone in July or August or release him from his contract because he has bigger things ( shit, according to him ) to do. Accompanying that Tweet was a video clip of Jake Paul knocking out Woodley so it's pretty obvious Diaz wants the Jake Paul smoke, presumably for the money. But why is Nate Diaz a sizable betting favorite against Jake Paul when he has not even been a betting favorite inside the UFC Octagon since 2013 when he closed at -145 against Josh Thompson?
No, Nate Diaz has no previous boxing experience, either in the amateur or the pro ranks. However, Nate and his brother Nick have been known to train with professional boxers, including former world champion and Hall of Famer Andre Ward. Ward once said that Nate helped him prepare for his world title fight against Chad Dawson. Sure sparring is different from a real fight. But Nate's been with real boxers and Jake has not.
The Tommy Fury fight could make or break Jake Paul. While Tyson's little half-brother isn't as good as him, Tommy has trained and fought professionally although you may consider his opponents as tomato cans. But whom has Jake Paul fought before either? We'll see what happens. But if Jake does fight Nate Diaz next, he'll be an even bigger underdog.