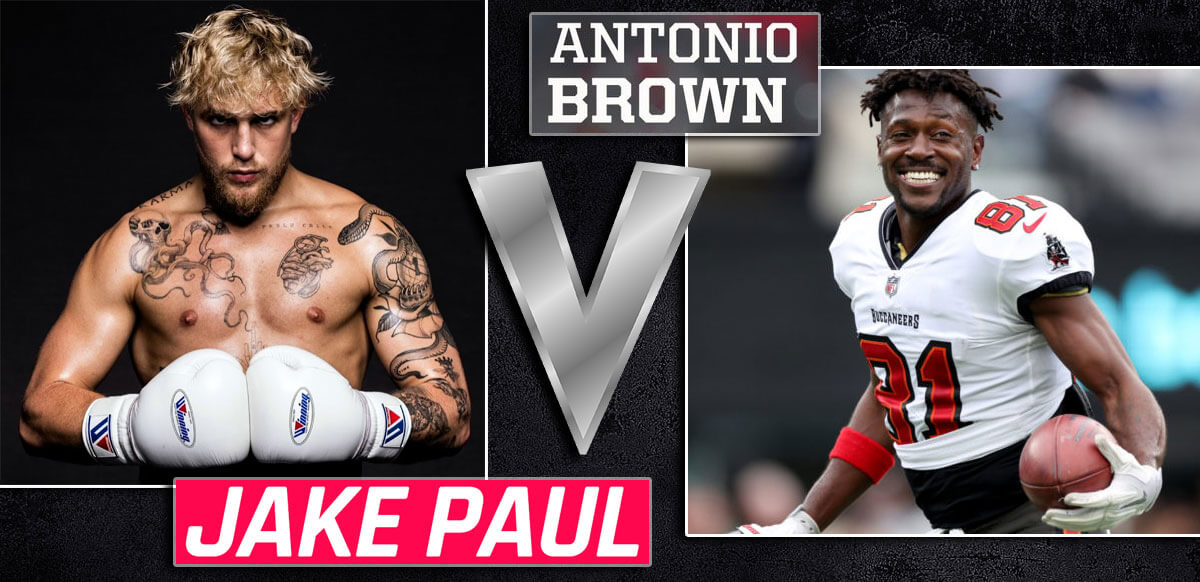 Jake Paul has opened as a -300 betting favorite against ex-NFL wide receiver Antonio Brown.
Brown, who walked out of the Tampa Bay Buccaneers game on Sunday, has been released by the team effective immediately.
Jake has been busy beefing with UFC President Dana White but is a 3/1 favorite to fight Andeson Silva next.
Last year, YouTube star turned celebrity professional boxer Jake Paul revealed a "boxing hit list" that included the names of Nick or Nate Diaz, Conor McGregor, Tank Davis, and Canelo Alvarez:
Jake Paul reveals HITLIST – including Canelo, Conor McGregor, Gervonta Davis and 'Timmy' Fury ?

How many wins does he rack up from this list? ? #boxing

?: Jake Paul pic.twitter.com/dYZgfaWz9v

— IntuBoxing (@IntuBoxing) August 14, 2021
While he's already checked four names off that list, he's still got a long way to go from completing it. Now, the best boxing betting sites are adding a new name in the arena:
Preview of the potential Jake Paul (-300) vs Antonio Brown (+240) boxing match pic.twitter.com/Fme9BlicwS

— BetOnline.ag (@betonline_ag) January 2, 2022
Yep, that's right. Jake Paul vs Antonio Brown. Like Paul's other targets, AB is a big name and unlike most of his preferred opponents, Brown is no longer under contract so they can fight as they wish. Yes, Antonio Brown is no longer under contract, effective Sunday afternoon.
AB No Longer a Buc
Antonio Brown walks out on Buccaneers in middle of game: 'He is no longer a Buc' https://t.co/RRmDww3NUt

— L.A. Times Sports (@latimessports) January 3, 2022
Brown, whom many thought had finally found a home with the Bucs after winning Super Bowl LV with the team last season, is no longer a Buccaneer according to head coach Bruce Arians after the controversial wide receiver stormed out of the Bucs' Sunday game against the New York Jets.
With the Buccaneers down 24-10 against the Jets, Brown took off his game equipment and left the stadium after he was told by Arians to "go away" after refusing to come into the game twice upon Arian's instruction. Brown took his coach's instruction by heart and left the field in a bizarre turn of events captured on amateur video:
Here's a sideline view of what happened with Antonio Brown. Looks like Mike Evans was trying to calm him down but nothing was going to help. AB took everything off and left.

(video via @mmmmillah)pic.twitter.com/sMii14O7bh

— Ari Meirov (@MySportsUpdate) January 2, 2022
Brown has yet to speak to reporters but with his NFL career unofficially over with this latest mischief, he may need another gig to pay his future bills. And when it comes to a second career, fighting Jakes Paul has been one of the most lucrative ones, with retired MMA stars like Ben Askren and Tyron Woodley earning more from one fight with Paul than the total purse money they received from the UFC.
Jake Paul vs Dana White
Dana White vs. Jake Paul

Cocaine Test vs. Steroid Test

Welcome to 2022

— Barstool Sports (@barstoolsports) January 2, 2022
Paul meanwhile, has been busy feuding with UFC President Dana White. The former Disney actor has accused the UFC boss of being a cocaine user while White has claimed that Paul has been using steroids. White has challenged Paul to a steroids vs cocaine test. Paul has countered by offering to retire from boxing and fight Jorge Masvidal in the UFC if White meets certain conditions involving fighter pay.
Despite their heated social media rivalry, the Jake Paul vs Dana White beef is likely going nowhere and it would be ridiculous for the two to end up fighting each other although, in 2007, White nearly fought Tito Ortiz in a boxing match. As for Masvidal, Coolbet Canada has opened Paul as the -154 betting favorite to beat Masvidal in a boxing match. However, remember that Masvidal demanded $20 million plus PPV to fight Paul and called Jake's fight offer chump change.
Jake Paul though, is a 3/1 favorite to fight former UFC middleweight Anderson Silva next with Tommy Fury at 7/2, Dillon Danis, and Nate Diaz at 7/1 at BetOnline. Paul has even talked about fighting Canelo Alvarez (33/1) while also claiming he might enter pro football with the Cleveland Browns after his boxing career ( +2500 odds to make NFL roster before 2024).