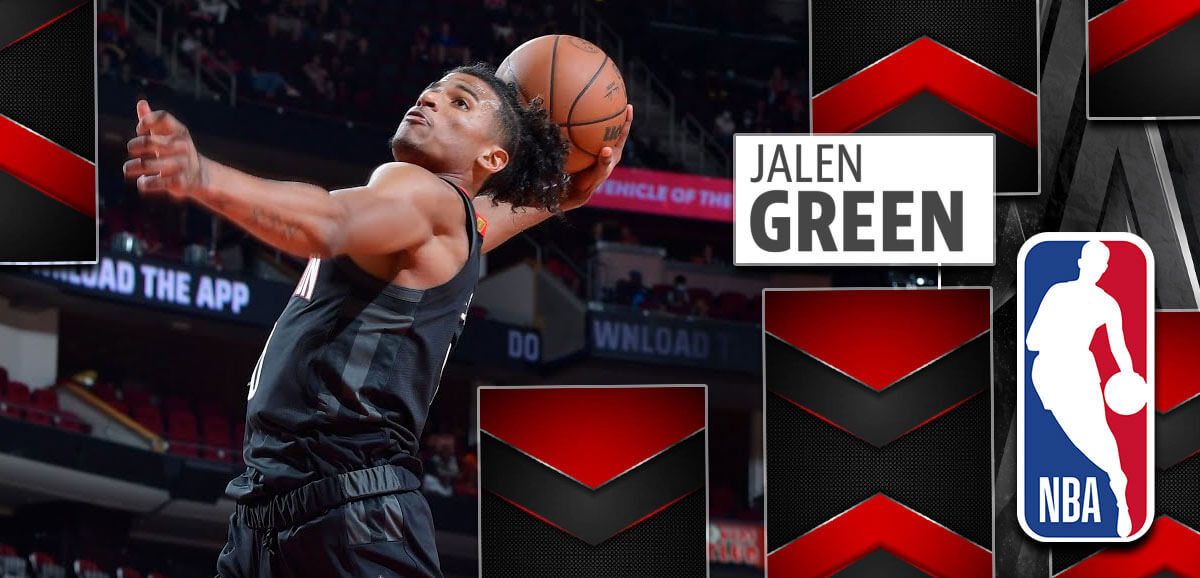 Houston Rockets Rookie Jalen Green is the +175 odds on favorite to win the Dunk Contest at the 2022 NBA All-Star Weekend.
Last year's runner-up, Obi Toppin is second at +225.
the other contestants are Orlando's Cole Anthony (+250) and Golden State's Juan Toscano-Anderson (+400)
The four-man field for this year's Dunk Contest at All-Star weekend is complete. Leading the cast is last year's runner-up Obi Toppin of the New York Knicks. Toppin is joined by Houston Rockets rookie Jalen Green, Orlando Magic guard Cole Anthony, and Golden State Warriors' Juan Toscano-Anderson.
Among the four, Green has been anointed by the best sportsbooks as the odds on favorite to win the contest. According to the online sportsbook BetOnline, the high-flying Rockets guard is the +175 betting favorite to become the NBA's next Dunk Champion.
Jalen Green +175
Obi Toppin +225
Cole Anthony +250
Juan Toscano-Anderson +400

Who are you betting on to win the #NBA Slam Dunk contest? pic.twitter.com/XFmL4iXFgi

— BetOnline.ag (@betonline_ag) February 4, 2022
Green is Not a Rookie in Dunk Contests
Green may be the youngest in the competition but he's definitely not a newbie in a dunk contest. It can be recalled that Green won an epic dunk contest in Manila, Philippines when he was much younger in 2019:
Throwback when Jalen Green won a dunk contest in Manila ? @JalenGreen https://t.co/4frC9EFzfk pic.twitter.com/uFPmHT7v9E

— Sydney Ame (@disneyame) February 2, 2022
The 19-year old has been a walking highlight reel for the Rockets this season, giving fans something to cheer about during a lottery season. Green was recently caught on video during the warmups dunking two balls at the same time with relative ease. Of course, we saw Larry Nance Sr. and even Javale McGee do it before but watch Green closely and see how effortlessly it looks:
So Jalen Green (.@JalenGreen) is out here dunking two basketballs at the same time like this is normal. #Rockets pic.twitter.com/a50tfUsQEp

— Coty M. Davis (@CotyDavis_24) January 31, 2022
Now Green isn't just a very high-leaper and a very creative dunker. He is also a very powerful slammer, which could be the difference in this contest, because while Toppin has the same or even more force, Green may be the more graceful dunker.
Jalen Green dunks like he's got beef with the rim ? @JalenGreen pic.twitter.com/7Yx7DN7NO0

— B/R Hoops (@brhoops) February 1, 2022
The Rockets rookie also has an arsenal of dunks we haven't seen before in the NBA setting whereas we already saw Toppin last year.
Toppin's Been Here Before
Every dunk from the 2021 NBA Dunk Contest

Anfernee Simons (46, 49, W)
Obi Toppin (48, 46, 2nd)
Cassius Stanley (44, 37) pic.twitter.com/E4xWU7k5b4

— Ballislife.com (@Ballislife) March 8, 2021
As stated above, Toppin was last year's runner-up as he narrowly lost to Anfernee Simons 3-2. No question, Toppin is the most powerful dunker in the competition and he's got a fun array of dunks under his sleeve. Last year, Toppin was the +175 favorite to win the dunk contest but was beaten by the +190 Simons. No doubt Toppin wants this badly.
Cole Anthony at +250 may be the dark horse of this competition. Although he is listed at just 6-3, being the shortest in the contest sometimes has its advantage, especially if you got the hops. And Anthony does. Like Green, this isn't the first dunk contest of his career:
Cole Anthony winning the City of Palms high school dunk contest! pic.twitter.com/GPLJklvLrf

— Ballislife.com (@Ballislife) January 29, 2022
Juan Toscano-Anderson also won a dunk contest when he was playing for Fuerza Regia in the Mexican Basketball League. The 6-6 Warriors swingman has been given the longest odds to win the Dunk Contest at +400.