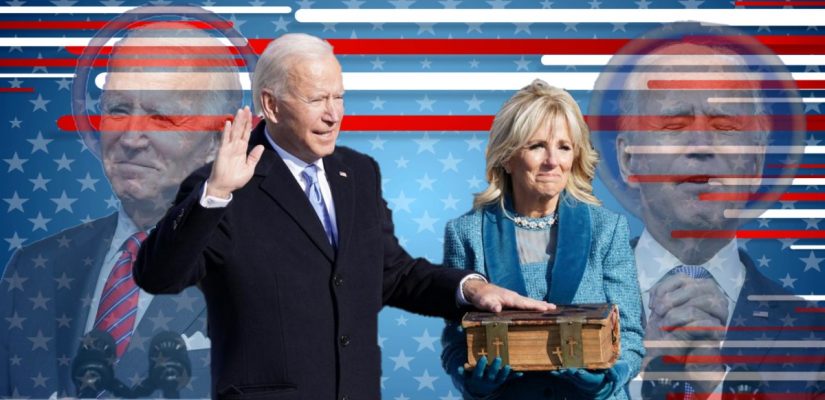 Key Points:
On Wednesday, January 20, Joe Biden was officially sworn into office.
The Inauguration Day events were toned down due to the pandemic and heightened security concerns stemming from the January 6 storming of the Capitol Hill.
Following Biden's inauguration and Wednesday night's "Celebrating America" event, we now have the results for all the Inauguration Day prop bets we've shared in recent weeks.
Before noon on Wednesday, Joe Biden was sworn into office, officially becoming the 46th President of the United States of America. The 78-year-old Democrat took his oath of office in front of the Capitol – where riots broke out two weeks ago — before a significantly reduced, socially distanced audience.
Attendance was limited, and Inauguration Day traditions were altered due to a combination of security concerns related to the January 6 Capitol Hill attacks and out of precaution for the covid-19 pandemic.
Eye of the Beholder
If you're a QAnon follower, I'm sorry. The miraculous last-minute 4-D chess move never came, and Donald Trump vacated office after all. You were duped.
To the bacl-to-brunch liberals: congratulations; all the world's problems are now solved! Trump is gone, so you can go back to ignoring politics for at least four years.
In his first address as the US President, Biden reflected on the violence from two weeks ago, opening with:
"Today, we celebrate the triumph. Not of a candidate, but of a cause –the cause of democracy. The people, the will of the people, has been heard, and the will of the people has been heeded. We've learned again that democracy is precious. Democracy is fragile. And at this hour, my friends, democracy has prevailed.

"For now on this hallowed ground, where just a few days ago violence sought to shake the capital's very foundation, we come together one nation under God, indivisible, to carry out the peaceful transfer of power as we have for more than two centuries."
Unity
He spent much of his speech calling for unity and healing following a polarizing four years, asking Americans to end the "uncivil war" that's divided the nation.
"This is America's day. This is democracy's day. A day in history and hope, of renewal and resolve," Biden said. "The answer is not to turn inward, to retreat into competing factions, distrusting those who don't look like you or worship the way you do, or don't get their news from the same sources you do."
He continued: "We must end this uncivil war that pits red against blue, rural versus urban, conservative versus liberal. We can do this, if we open our souls instead of hardening our hearts. If we show a little tolerance and humility. And if we're willing to stand in the other person's shoes, as my mom would say, just for a moment, stand in their shoes."
Biden also talked about the ongoing pandemic.
"To those 400,000 fellow Americans – mothers and fathers, husbands and wives, sons and daughters, friends, neighbors, and co-workers — we will honor them by becoming the people and nation we know we can and should be," he said.
---
Donald Trump did not attend the inauguration.
He's only the second president in the past 150 years to boycott his successor's ceremony.
Instead, Trump left Washington DC Wednesday morning, giving a farewell speech at Joint Base Andrews before continuing to Palm Beach, Florida, where the outgoing President plans to live at his Mar-a-Lago resort.
---
A Safe and Successful Inauguration Day
Following two weeks of much concern, the Inauguration Day festivities in Washington DC went off without a hitch. There were no right-wing riots or violent demonstrations near the Capitol or anywhere else around the country.
After Joe Biden and Kamala Harris were sworn-in, Lady Gaga sang the National Anthem, Jennifer Lopez performed a medley of patriotic songs — including "America the Beautiful" and "This Land is Your Land" — and Garth Brooks sang "Amazing Grace."
Next, the US's first-ever youth poet laureate, Amanda Gorman, recited a poem sticking with the theme of unity and asking Americans to "leave behind a country better than the one we were left."
Later, Biden and Harris partook in several Inauguration Day traditions, including signing presidential documents, such as the Inauguration Day Proclamation and Cabinet nominations, receiving congressional gifts, attending a wreath-laying ceremony at Arlington National Cemetary, and walking in the inaugural parade down Pennsylvania Avenue.
Biden finally arrived safely at the White House around 4 PM. He immediately set about to signing 17 executive orders, directives, and memorandums aimed at reversing Donald Trump's legacy.
For example:
He halted construction of his predecessor's border wall,
ended the travel ban on Muslim countries,
stopped the US's departure from the World Health Organization, and
started the process of rejoining the Paris climate accord.
On Wednesday night, a 90-minute "Celebrating America" special aired in place of the usual inaugural balls. The broadcast was hosted by Tom Hanks and featured several famous musical acts, more words from President Biden, and a massive firework display above the National Mall.
By the end of the night, we finally had a resolution to every Inauguration Day prop bet about which we've written over the past two weeks.
Find the Best Political Betting Sites Here!
Joe Biden Inauguration Day Prop Bet Results
This month, we've shared over a dozen political prop bets dealing with Inauguration Day. Several were decided before January 20 came around.
However, the following wagers were made official on Wednesday.
---
Will Joe Biden Take the Oath in Front of the Capitol?
Yes, Joe Biden took his oath in front of the Capitol as expected.
Our prediction was correct, although, in fairness, "Yes" was a –500 favorite, making the pick slightly less impressive.
---
What Color Tie Will Joe Biden Be Wearing?
Joe Biden wore a light blue tie with a diamond pattern to his inauguration.
"Blue" was the betting favorite at –150 odds.
In the 6 Great Joe Biden Inauguration Day Prop Bets we published last Friday, I wrote that while "wearing blue would be the obvious choice," I was "going out on a limb to pick "purple" at +300, for no other reason than it's the color created by mixing red and blue."
It turns out Biden was less concerned about reinforcing the "unity" message with his tie color than I had hoped.
---
Will Joe Biden be Photographed on the Balcony of the White House on January 20?
This was a great win! Yes, the Biden family was photographed on the White House balcony during the fireworks show.
If you bet my pick, this prop paid out at +170 moneyline odds. That's $170 profit for every $100 wagered!
---
Will Joe Biden Greet Mike Pence at the Inauguration?
After digging through every Inauguration Day photograph and video I could find, there's no evidence of President Biden greeting Mike Pence.
The former Vice President attended the ceremony and was met with bipartisan applause as he and his wife entered the seating area. The Pence family was greeted by every former President in attendance and Vice President Kamala Harris, but never by Biden.
The President did say "hello" to Vice President Pence during his inaugural address, but I doubt this counts:
"Chief Justice Roberts, Vice President Harris, Speaker Pelosi, Leader Schumer, leader McConnell, Vice President Pence, my distinguished guests, my fellow Americans, this is America's day. This is democracy's day, a day of history and hope, of renewal and resolve."
Barring a bizarre interpretation of their own rules by
MyBookie
, I believe the "No" side at +145 odds won this bet.
---
Will Joe and Jill Biden Share A Dance on the Virtual Inauguration?
"Share" is the operative word here.
Mr. and Mrs. Biden were each shown dancing, but I don't think it should qualify as "sharing a dance." They weren't necessarily dancing together, so much as next to each other.
Biden held what I assume was one of his grandchildren while the couple swayed in place a foot away from each other. They were both facing a television screen playing Demi Lovato's performance of "Lovely Day," not each other.
It's a lovely day around the USA! Thank you @ddlovato for helping America get dancing tonight. ??? #Inauguration2021 pic.twitter.com/QtRxWg0mQD

— Biden Inaugural Committee (@BidenInaugural) January 21, 2021
I suspect that for two people to "share a dance," there must be an embrace of some kind involved.
If you followed our advice, you doubled your money on this bet! We picked "No" at +200.
Donald Trump Inauguration Day Prop Bet Results
We also published an article about 4 New Donald Trump / Donald Trump Jr. Inauguration Day Prop Bets on Sunday – just three days before the event.
---
Will Trump be in DC on Inauguration Day?
This betting line was slightly deceiving.
All that was required for "Yes" to win was for Donald Trump to be photographed in Washington DC on January 20. Fortunately, we already knew that while he planned to skip Biden's inauguration, Trump was expected to start his day at the White House before leaving Wednesday morning.
We predicted:
"If the media already knows his plans, do you think there's a chance in hell he will be able to exit the White House for the last time and board Air Force One without anyone capturing the moment? By the time Joe Biden is being sworn in, the footage of Trump leaving will be plastered on every corner of the internet."
And like clockwork, that's precisely what happened!
Trump was photographed exiting the White House and boarding Marine One en route to Joint Base Andrews.
As predicted, the "Yes" side won, paying out at +175 odds.
---
Will Donald Trump be at Mar-A-Lago on Inauguration Day?
In Sunday's article, we asked two questions:
We can be confident in the press snapping footage of Trump leaving the White House and Washington DC, but what about the end of his journey?
Even if he's photographed landing in Florida, what are the odds the media will be able to snap pictures of him at the private beach club?
Donald Trump did finish his day at Mar-a-Lago but was never photographed at the resort.
The last footage of the former President on Wednesday was of his motorcade driving down Palm Beach, Florida streets on the way to the resort. Trump supporters lined the path to his luxury club holding signs and waving to express their love, but no cameras captured him at his final destination.
"No" bets at –120 odds won this matchup.
---
Number of Times Donald Trump Jr Tweets on January 20?
We also accurately predicted Donald Trump Jr tweeting fewer than 2.5 times on Inauguration Day – albeit for the wrong reason.
After the conservative purge on Twitter, I figured the President's son would get himself suspended from the platform, thus forcing the under automatically.
Instead, Don Jr. ever tweeted on Inauguration Day. The under paid out at +110.
---
Donald Jr suspended from Twitter?
Trump Jr played it safe in the days leading up to Biden's inauguration, mostly going quiet on Twitter. By disappearing, he avoided a suspension.
We predicted that "Yes" Donald Trump Jr would be suspended from the platform at +155 odds, but the more favored "No" at –220 was the winner.