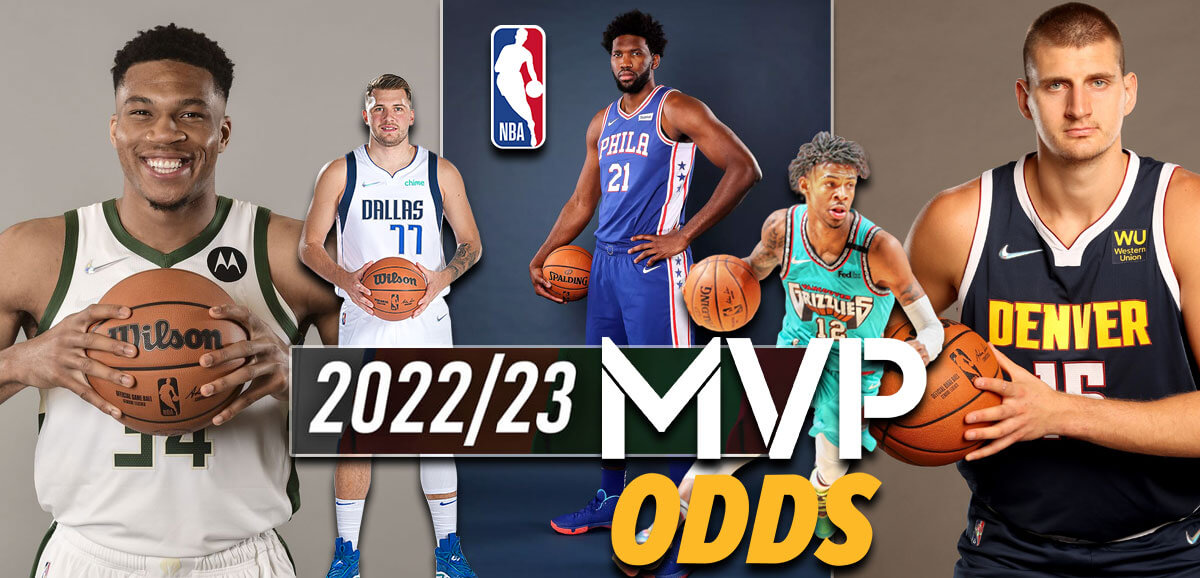 Joel Embiid opens as the 2023 NBA MVP betting favorite at +500 odds.
Embiid finished second to Nikola Jokic in the MVP voting during the past two seasons.
Last year's preseason MVP favorite Luka Doncic is a close second at +550.
With the 2022 NBA season officially over, the futures odds for next season have started to open at the best NBA betting sites. The Warriors, Celtics, and Clippers opened as the co-favorites to win the 2023 NBA title. Meanwhile, Joel Embiid has opened as the early odds-on-favorite to win the 2023 NBA MVP award.
Embiid Slightly Ahead of Luka
Current odds to win 2022-23 MVP @BetMGM ⭐️

+500: Joel Embiid
+550: Luka Dončić
+700: Giannis Antetokounmpo
+850: Nikola Jokić
+1000: Ja Morant
+1200: Kevin Durant
+1400: Jayson Tatum
+1800: Steph Curry
+2000: LeBron James, Devin Booker

More –> https://t.co/eIrEpm8aw1 pic.twitter.com/0wXjC7ZBNs

— NBABet (@nbabet) June 17, 2022
Embiid is currently listed as the +500 betting favorite at online sportsbook BetMGM, with last year's preseason favorite Luka Doncic coming in second at +550. Former back-to-back MVP winner Giannis Antetokounmpo is third with his +700 odds while the current and also back-to-back MVP winner Nikola Jokic is fourth at +850 odds. 2022 Most Improved Player winner Ja Morant completes the Top 5 at +1000 odds.
The next five names on the BetMGM list include three former MVP winners. With the 6th shortest odds is 2014 MVP award winner Kevin Durant at +1200 odds. He is followed by 2022 Eastern Conference Finals MVP Jayson Tatum who is listed at +1400. Meanwhile, two-time MVP and the recently named 2022 NBA Finals MVP winner Stephen Cury is next at +1800. Tied at +2000 odds are Devin Booker of the Phoenix Suns and four-time MVP winner LeBron James.
Atlanta Hawks guard Trae Young leads the next group of five with his +3000 odds. He is followed by two-time Finals MVP Kawhi Leonard who did not play during the entire 2022 season. Leonard opened at +4000 odds. At +5000 is Minnesota Timberwolves big man Karl Anthony Towns who is followed by Jimmy Butler, Anthony Davis, and Zion Williamson at +6600.
Dame Looking for a Bounce-Back Year
Put your favorite song on & watch this on loop 💆🧘‍♂️@dame_lillard | #RipCity pic.twitter.com/zBPITyEvx4

— Portland Trail Blazers (@trailblazers) June 16, 2022
.
Four players are pegged at +8000 odds via BetMGM. Leading the pack is Damian Lillard who is looking for a bounce-back year after the Blazers broke up his tandem with C.J. McCollum last season. Also listed at +8000 is 2021 Rookie of the Year LaMelo Ball, three-time All-Star Donovan Mitchell, and Chicago Bulls 4th quarter man DeMar DeRozan. The four are the last players to have MVP odds shorter than +10000.
The next group is led by Suns point guard Chris Paul who is joined by Clippers star Paul George, Brooklyn Nets guard Kyrie Irving, and Raptors forward Pascal Siakam. This quartet is currently listed at +10000 odds to be the next NBA MVP. Going further down the list, Wizards scoring machine Bradley Beal and San Antonio Spurs' Mr. triple-double Dejounte Murray are at +12500 odds. Jaylen Brown, Jamal Murray, Brandon Ingram, De'Aaron Fox, Zach Lavine, and 2018 MVP James Harden are pegged at +15000.
Other notables in the way too early 2023 NBA MVP odds boards are Thunder rising star Shai Gilgeous-Alexander and Darius Garland at +25000, Fred VanVleet and Michael Porter Jr. at +30000. The controversial Ben Simmons is priced at +50000, the same odds with 2017 MVP Russell Westbrook, 2021 top draft pick Cade Cunningham, and 2022 NBA Rookie of the Year Scottie Barnes. Australian guard Josh Giddey and 2022 Defensive Player of the Year Marcus Smart are among the players at +75000. Meanwhile, John Wall and Draymond Green lead the players who have the longest odds at +100000.