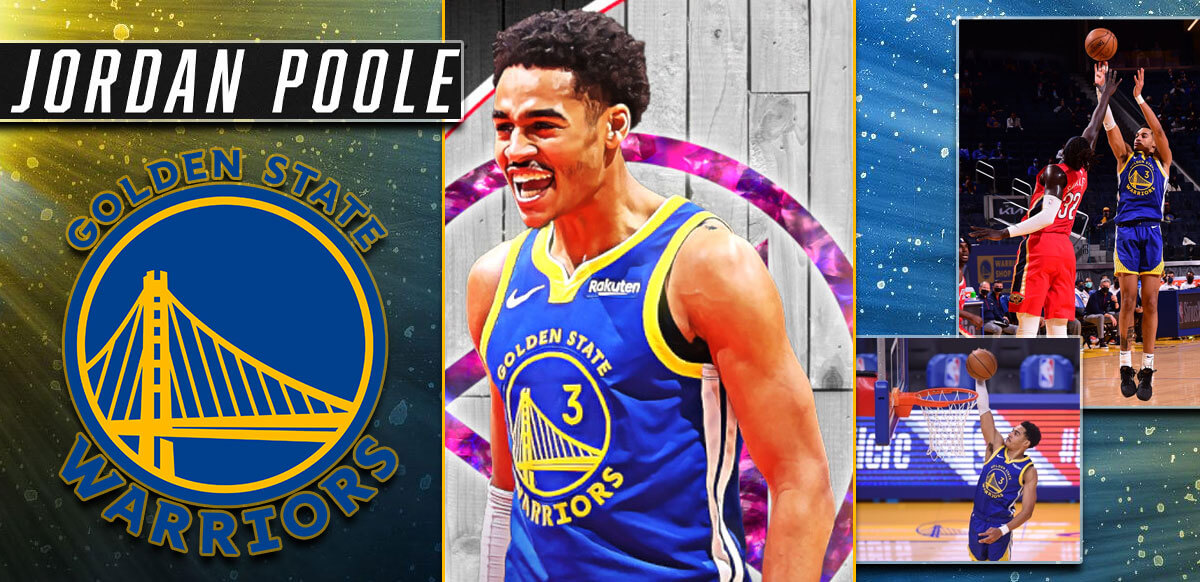 Jordan Poole is now the co-betting favorite to win Most Improved Player at the Barstool Sportsbook.
Poole and Michael Porter Jr. are tied with +1000 odds at the said sportsbook.
The Warriors' back-up guard is averaging 25 points per game on 43% three-point shooting in preseason play.
Most of the chatter around the Golden State Warriors has centered around Klay Thompson's impending return, which should enable the Warriors to live up to their preseason odds as one of the Western Conference favorites.
But with Thompson still a couple of months from being regular season-ready, Warriors' guard Jordan Poole has been making a lot of noise in the ongoing preseason. Poole hasn't just delivered many highlights but he's also consistently played impressive basketball so far. In fact, Poole has been so good that his name has suddenly emerged in the Most Improved Player betting boards.
Tied for the Best Odds to Win Most Improved Player
Jordan Poole (+1000) is tied for the best odds to win NBA Most Improved Player
pic.twitter.com/cQJhFcXqph

— Bet The Hoops (@betthehoops) October 11, 2021
At the Barstool Sportsbook, Poole has moved to +1000 in their Most Improved Player odds. He is now tied with Michael Porter Jr. for the best odds to win the award this season. Miami's Tyler Herro, L.A. Clippers' Terrance Mann, and Houston's Kevin Porte Jr. are next with their +1200 odds while OKC's Shai Gilgeous-Alexander is at +1600. Next on the list are Toronto's OG Anunoby and Cleveland's Darius Garland who are at +2000.
Poole has also moved to third in the BetOnline MIP oddsboard at +1200 with Michael Porter. Jr. and Kevin Porter Jr. having better odds at +800 and +1000, respectively. The Warriors' back-up is also third at BetMGM with his +1600 odds, tied with Memphis' Jaren Jackson behind MPJ and KPJ who are at +750 and +900, respectively. Poole and Jackson are also tied for third at +1400 via PointsBet with Denver's Porter at +1000 and Houston's Porter at +1200.
While most of the best NBA sportsbooks still have the two Porters on top, there's no question that Jordan Poole is moving in that direction and doing so at a frenetic pace. Poole was a longshot +5000 in the early Most Improved Player odds last August but after balling out in the preseason, the Warriors' back-up guard is climbing the ladder fast.
Poole on Fire in Preseason
Jordan Poole has been on FIRE in preseason ?

? 25 PPG
? 43.8% 3-Pt FG
? A highlight machine pic.twitter.com/cWLKRacCM6

— NBA on ESPN (@ESPNNBA) October 12, 2021
In their opening preseason game against the Portland Trail Blazers, Poole beat the first quarter buzzer with a deep three and scored 30 points through three quarters alone:
JORDAN POOLE FOR THE WARRIORS 1ST QUARTER ML pic.twitter.com/IXCi01FEJ2

— Alex? (@dbs408) October 5, 2021
Jordan Poole has 30 points through 3 quarters ?? pic.twitter.com/9AVUZLL00e

— NBA Central (@TheNBACentral) October 5, 2021
Steve Kerr sat him the rest of the way and he finished that game also with 5 rebounds, 5 assists, 1 steal, and two blocked shots. He made 10-17 shots and was 7-13 from deep.
Poole followed that up with a 17-point performance against the Denver Nuggets in another win for the Warriors. Then came the Western Conference betting favorites Los Angeles Lakers and Poole showed out again, scoring 28 points in 25 minutes against the Purple and Gold:
Jordan Poole vs Lakers:

28pts in 25 minutes pic.twitter.com/V0gdpkf5o4

— Alex? (@dbs408) October 9, 2021
Playing alongside Steph Curry, Poole shot 10-19 from the field and 6-13 from deep while also contributing 3 rebounds, 2 assists, and 2 steals. He was a +21 in the game, the largest plus/minus on the Warriors who beat the Lakes 121-114 to move to 3-0 in the exhibition round.
As it stands right now, Poole is averaging 25 points per game on 43% shooting from behind the three-point arc in just 23 minutes of playing time. Of course, it's only the preseason but Poole is starting the year on the right foot. With Klay Thompson expected to be out until at least Christmas Day, Poole will be Steph Curry's backcourt partner for the meantime. So far, he's impressed and looks deserving to be called a Splash Brother too. Even when Klay returns, he's going to play a major role off the bench. And yes, he should be the darkhorse pick to win the Most Improved Player Award this season.