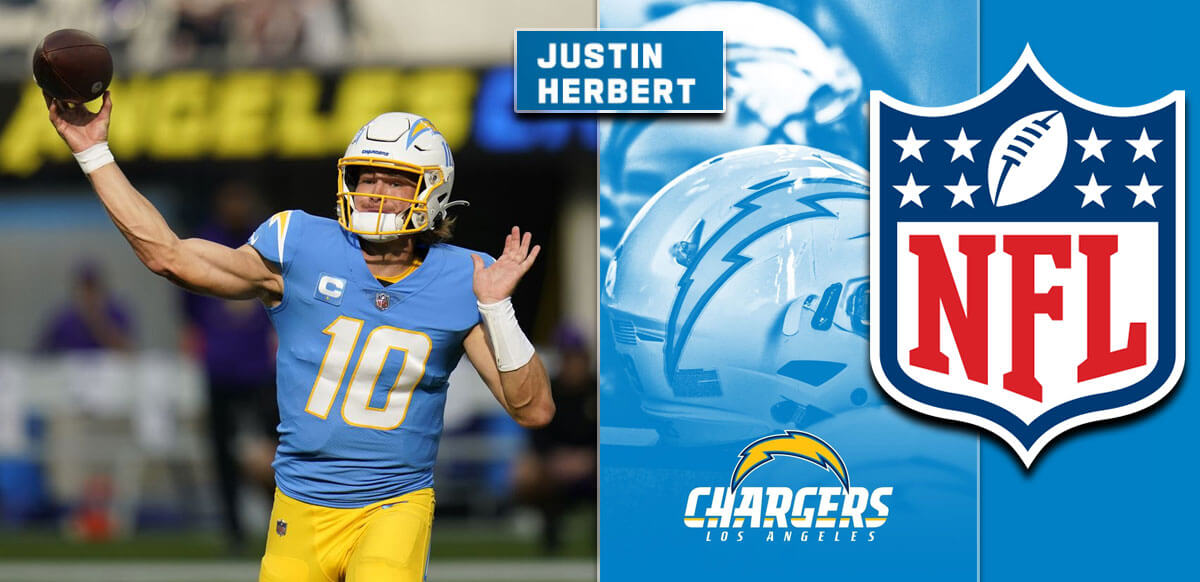 Justin Herbert's MVP odds soared after a dominant performance last Sunday.
Herbert thew for 382 yards and rushed for 90 yards with three passing TDs in a come-from-behind win.
The Chargers are now 6-4 on the season and just one-half game behind the Kansas City Chiefs in the AFC West division.
The NFL's MVP race is a very volatile one, at least in the betting arena.
Just last week, Josh Allen reclaimed the top spot after Tom Brady and the Bucs were upset by the Washington Football Team in Week 10. But after Allen and his Bills got ambushed by the Colts last Sunday, Brady supplanted Allen once again as the MVP odds on favorite, just as his Bucs overtook the Bills atop the Super Bowl LVI odds boards. This happened, even before the Bucs took the field on Monday Night Football.
The Bucs and Brady are back on ? for NFL futures at #CaesarsSportsbook pic.twitter.com/thT6iJgy84

— Caesars Sportsbook (@CaesarsSports) November 22, 2021
But while the ascent of Brady and the Bucs made all the headlines in mainstream and social media, Los Angeles Chargers sophomore quarterback Justin Herbert flew under the radar and overtook several leaders in the latest NFL MVP betting boards at the best NFL sportsbooks.
Justin Herbert Was Unbelievable Against the Steelers
Justin Herbert was UNBELIEVABLE vs. the Steelers ?⚡️ pic.twitter.com/E39BQAkwRX

— SportsCenter (@SportsCenter) November 22, 2021
To say that Herbert was unbelievable against the Pittsburgh Steelers last Sunday isn't an exaggeration. The 23-year old completed 30/41 passes for 382 yards and rushed nine times for 90 yards while throwing 3 passing touchdowns with only one interception for a 116.1 rating. Herbert became the first quarterback to throw for at least 350 yards and rush for at least 90 yards in the same NFL game. Prior to Sunday, no player in the 101-year history of the NFL had reached those numbers.
His 90 rushing yards are the most by a quarterback in the history of the Chargers franchise. He also joined Steve Young as the only QBs in NFL history to throw for at least 350 yards with 3 passing TDs and 50 rushing yards. He is also only the 8th player in league history to throw for at least 300 yards and rush for 60 yards twice, joining Young, Russell Wilson, Michael Vick, Jalen Hurts, Daunte Culpepper, Rich Gannon, and Donovan McNabb on the exclusive list.
Herbert also became the second-fastest QB to pass for 7,500 career passing yards in the NFL, accomplishing the feat in 25 games. Only Chiefs QB Patrick Mahomes has done it faster, doing so in only 21 yards. With Herbert continuing to set NFL records, the Chargers have been winning. Los Angeles is 6-4 and in 2nd in the AFC West, just one-half game behind the Chiefs. With the Chargers' Super Bowl odds going up, so have Herbert's MVP numbers.
From +2500 Last Week to +1200 Now
From +2500 last week ▶️ +1200 now. ?

How a dominant performance on SNF impacted Justin Herbert in the MVP race ?https://t.co/wLrq89ih38

— Matt O'Leary (@MattOLearyNY) November 22, 2021
Herbert was sitting at +2500 odds to win MVP last week after the Chargers' loss to the Vikings in Week 12 but after Sunday's dominant performance, Herbert has significantly moved up to +1200 via Caesars Sportsbook and Bet365 USA. That put him in the 7th spot with only Tom Brady, Josh Allen, Dak Prescott, Matthew Stafford, Aaron Rodgers, and Patrick Mahomes in front of him.
At BetMGM, Herbert is one spot higher in the 6th spot at +1100 odds and tied with Mahomes. Over at PointsBet USA, his +1000 odds are tied with Rodgers and Mahomes for 4th shortest in the MVP race. Meanwhile, his +1000 odds at FOXBet are 4th shortest with only Brady, Allen, Prescott, and Stafford ahead of him.
The 2nd year QB has even moved to a tie for third at the BetOnline MVP betting board. Brady is still the favorite there at +260 while Allen is at +600. Herbert, Rodgers, Prescott, and Stafford are all listed at +1000 odds. Sure, Herbert still has a long way to go in the MVP race but if he continues to play this well, it won't be a surprise to see him move higher in the betting boards in the coming weeks.