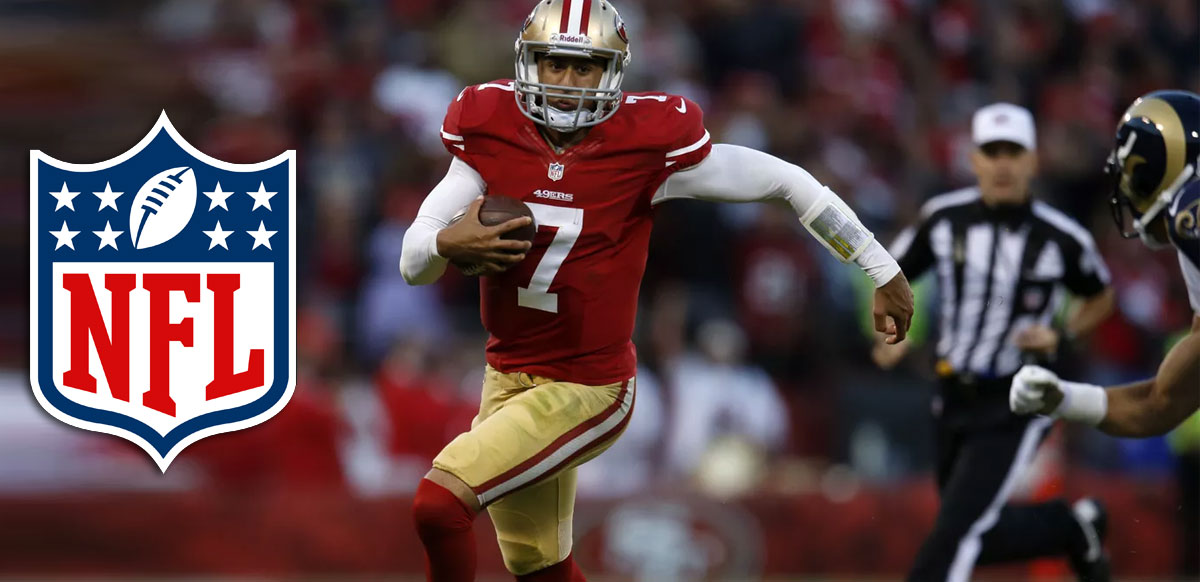 Oddsmakers aren't too optimistic about Colin Kaepernick playing in the NFL next season.
According to BetOnline, Kaep is a -4000 not to make the Raiders' Week 1 roster, and a -1500 not to even make Las Vegas' preseason team.
Kaepernick worked out with the Raiders last Wednesday, his first official invitation in six years.
Colin Kaepernick's dream of returning to the NFL is still alive after the former 49ers starting QB was invited to a workout by the Las Vegas Raiders last Wednesday.
That workout was Kaepernick's first official invitation from an NFL team since 2017 when he became a free agent. And while that is a positive sign for him and his supporters, the oddsmakers aren't too optimistic about seeing Kaep back in the NFL in Week 1 of the upcoming season.
Will Colin Kaepernick Play in the NFL This Season?
Will Colin Kaepernick play this season? pic.twitter.com/smveKxRqWr

— BetOnline.ag (@betonline_ag) May 28, 2022
According to BetOnline, Kaepernick is a -4000 favorite NOT to be on the Raiders' Week 1 roster and a longshot +1000 to sign with Las Vegas. The same sportsbook listed Kaep as a -1500 favorite NOT to be on the Raiders' preseason roster and just a +600 to be part of it. As for another team giving him a workout, the odds for a NO are an overwhelming -5000 with the yes at +1200.
Meanwhile, Bovada opened its Kaepernick odds one day after his workout, and the said online betting site listed the Raiders as +225 favorites to sign Kaepernick with the Seattle Seahawks at +950, Carolina Panthers, and Detroit Lions at +1800. However, the odds of him not being on any active roster in Week 1 was still the shortest at -400.
The odds are juicy right now but it looks like Kapernick's dream of returning to the NFL is a far-fetched idea right now. Getting his first workout was a welcome first step but if the Raiders don't end up signing him, even to their preseason squad, it's going to be an uphill battle. Kaep isn't getting any younger, and he's been out of the league since 2016.
Kaep Was 1-10 in His Last Season as a Starter
Colin Kaepernick is working out with the Raiders. That last stat line is what he got benched.

1-10-0. pic.twitter.com/LF0ZARm0Lb

— THE Red-Headed libertarian™ (@TRHLofficial) May 25, 2022
The Colin Kapernick saga has been an intriguing one in the NFL. But although his supporters will always say he got the raw deal from the league because of his political stand, one can never erase the fact that the San Francisco 49ers were 1-10 in his last season as the Niners' starter, 2-6 one year before that, and just 8-8 two seasons before he was sacked. So it wasn't that Kaepernick was suddenly axed while playing fantastic football because he wasn't.
Kaep started like a fairy tale in San Francisco. He replaced Alex Smith in the middle of the 2012 season after Smith was injured and led the 49ers to their first appearance in the Super Bowl since 1994. The following season, he led the team to a 12-4 record and took them to the NFC Conference championship game where they lost to the Seattle Seahawks. It went downhill since then.
Right now, Derek Carr is entrenched as the starter in Las Vegas. The three-time Pro Bowler has not missed a game since 2017 and led the Raiders to the playoffs last season. Carr had just signed a $121.5 million three-year extension last April. Carr also has a pair of veteran back-ups in Nick Mullens and Jarrett Stidham so it won't be easy to disrupt that depth chart. And yes, this has nothing to do with politics.