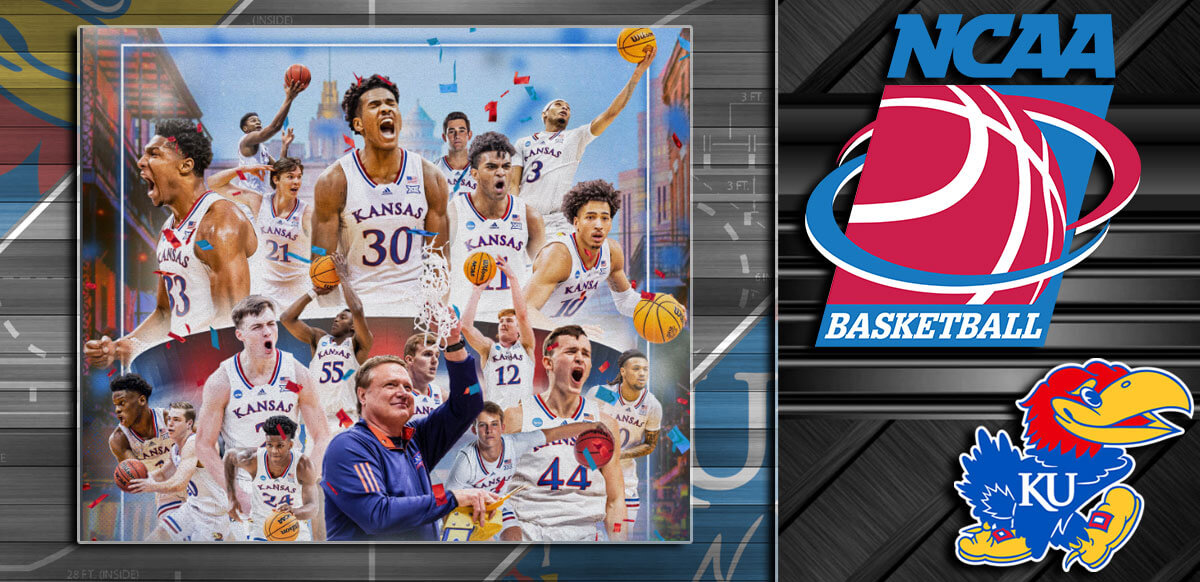 The Kansas Jayhawks defeated the North Carolina Tar Heels 72-69 to win the 2022 NCAA Men's Basketball title.
Kansas rallied from a 16-point first-half deficit and a +310 live odds at halftime to win the 4th title in program history.
Arizona State transferee Remy Martin scored 11 of his 14 points in the second half, making one big shot after another while coming off the Kansas bench.
The Kansas Jayhawks dug themselves an early hole and looked dead at halftime. Then just like the Undertaker in the WWE, they suddenly came back to life in the second half, took the lead, and made one big shot after another to win the 2022 NCAA Men's Basketball Tournament 72-69 in New Orleans.
North Carolina entered Monday's title game with a perfect 46-0 SU all-time tournament record and 21-0 SU this season when leading by double digits at the half. Well, everything has a first time. Unfortunately for the Tar Heels, it came at the worst time possible.
Kansas was a +310 at Halftime
REMY MARTIN FOR THE LEAD ?

Kansas was +310 at halftime… ? pic.twitter.com/CYRm4nucXD

— Action Network (@ActionNetworkHQ) April 5, 2022
The Jayhawks entered the title game as a -4.5 point favorite after opening at -3.5 at the best NCAAB sportsbooks. Those odds quickly moved to -7.5 after they took the early 9-3 lead. When UNC grabbed the upper hand at 22-18, the Tar Heels moved up as favorites for the first time in the live odds betting at -1.5 points. North Carolina became -7.5 points and -450 Moneyline favorites after taking a 40-25 halftime lead.
But after falling to a +310 underdog at the half, Kansas rallied to take a 53-50 lead on a Remy Martin triple. The game then turned into a back-and-forth battle the rest of the way. When the Jayhawks took a 65-61 lead on another Martin basket, Kansas was back to its pregame -4.5 point odds. However, the Tar Heels refused to go away. Brady Manek's tip shot with 1:41 left in the game gave UNC a 69-68 lead. But David McCormack scored the Jayhawks' next two baskets to give Kansas the 72-69 win.
North Carolina covered but there were no moral victories on Monday night. Kansas won its fourth NCAA men's basketball title and its first since 2008. They did so by overcoming the largest deficit in NCAA men's basketball title game history. North Carolina used a 16-0 first-half run to take a 38-22 lead with 2:17 left in the opening half. Kansas erased that 16-point lead and the +310 halftime odds to erase Loyola-Chicago's 15-point comeback win in 1963 as the greatest comeback in NCAA championship game history.
The Remy Martin Factor
How did Kansas pull off that second-half comeback?

Thank David McCormack's optimism, Dajuan Harris Jr.'s defensive pressure … and the Remy Martin factor ?@CBB_Central with more: https://t.co/MCTAnikoWc

— Sports Illustrated (@SInow) April 5, 2022
So how did the Jayhawks pull off that historic comeback? According to SI.com, it was David McCormack's optimism, Dajuan Harris Jr.'s defensive pressure, and of course the Remy Martin factor. Sure, it was Ochai Agbaji who won the Final Four Most Outstanding Player award but no one can deny that it was Martin who came up biggest when the Jayhawks needed it most.
Not only did he cash the over on his 11.5 points prop bet, Martin scored 11 of his 14 points in 11 second half minutes, He entered the game as a career 34% three-point shooter but made 4 of 6 three-pointers on Monday night, including a huge step back three-pointer down the stretch.
After playing four seasons for the Arizona State Sun Devils, Martin ditched the NBA Draft, took the extra year in college, transferred to Kansas, adjusted from being a top-level scorer at ASU into a bench contributor, and then balled out in the postseason to win a national title. Martin finished his 9-game postseason run with averages of 12 points and 4 rebounds per game. He also finished with 25 assists and only 9 turnovers while making 12 out of 40 three-point attempts or a 40% accuracy from deep.