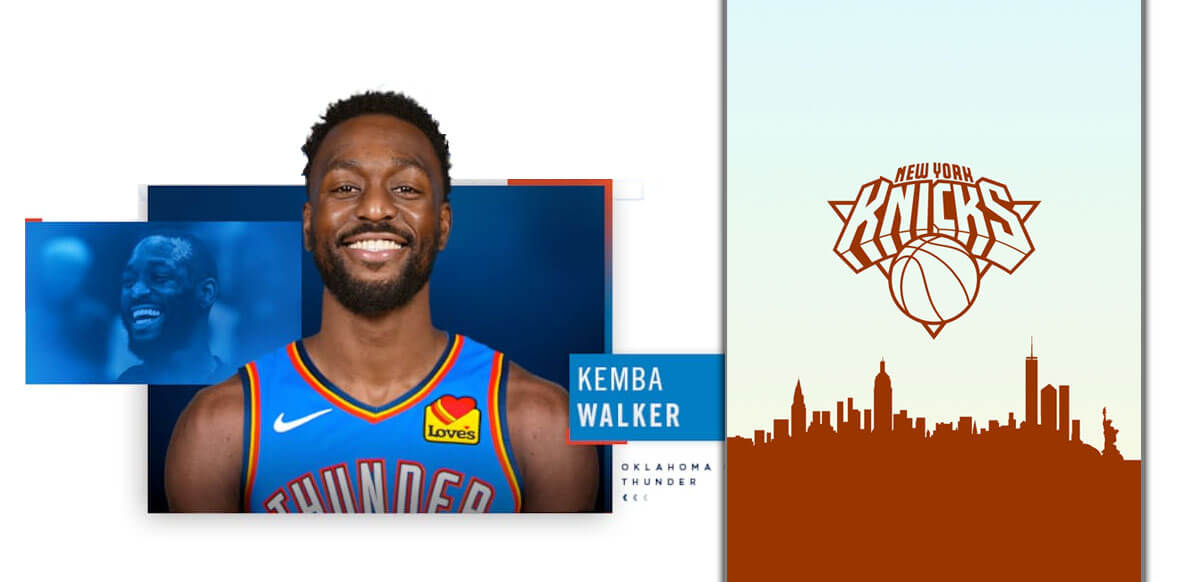 Kemba Walker will sign with the New York Knicks after agreeing to a contract buyout with the OKC Thunder.
Walker was traded by the Boston Celtics to the Thunder last June after an injury-filled 2021 campaign.
He will now join fellow newcomer Evan Fournier in a possible Knicks starting lineup that includes holdovers Julius Randle, RJ Barrett, and Mitchell Robinson.
Kemba Walker agreed to a buyout agreement with the Oklahoma City Thunder on Wednesday, paving was for the 31-year old guard to sign with his hometown New York Knicks using the latter's remaining cap space of around $10M.
Kemba Walker plans an MSG homecoming with the Knicks pic.twitter.com/NB7hIfmiw6

— Adrian Wojnarowski (@wojespn) August 4, 2021
Walker was traded by the Boston Celtics to the Oklahoma City Thunder last June in Brad Stevens' first move as the President of the Celtics. But with the Thunder on a youth movement, Walker wasn't expected to stay there too long. Now he gets to sign with the Knicks and play for New York where he first starred at Rice High School.
After high school, Walker built his legend as one of the best player ever for the University of Connecticut, leading the Huskies to the 2011 NCAA championship.
Stem Cell Injection
Kemba Walker received a stem cell injection in his knee and is out until at least the first week of January, the Celtics announced. https://t.co/vEuYnNwCzF

— NBA on ESPN (@ESPNNBA) December 1, 2020
After making the All-Star team in his first season with the Celtics, Walker averaged 19.3 points and 4.9 assists per game last season in just 43 regular games played. Injuries hounded him last season and his left knee was already ailing even before the season began.
Walker received a stem cell injection in his troublesome left knee and was put on a 12-week strengthening program. When the NBA decided to start the season in December instead of January, he was forced to miss the first 11 games of the campaign and had to rehab on the fly. Because of that, he struggled in the early part of the season, especially with his shooting.
He looked more like the Kemba of old after the All-Star break but it didn't take long before injuries struck again. Walker had an oblique strain that cost him another four games. He then suffered a bone bruise in his left knee that sidelined him for the last two games of the Celtics' playoff campaign. But now healthy and with the benefit of a full offseason, the Knicks hope he can make a difference.
New Knicks Squad
Knicks new squad:

Kemba Walker
RJ Barrett
Evan Fournier
Julius Randle
Mitchell Robinson

Bench: IQ, Rose, Burks, Toppin, Noel pic.twitter.com/OBY89fRwQV

— StatMuse (@statmuse) August 4, 2021
Although Walker may no longer be the same player that he was when he was still with the Charlotte Hornets, he still represents a significant upgrade over current Knicks starting point guard Elfrid and since he will be coming over at a discount, then it's a good move for New York to sign him.
Walker still averaged 23.7 points and 21.8 points per 36 minutes in each of the previous two seasons and made it to the All-Star team in 2020. In contrast, Payton put up just 15.5 points per 36 minutes for the Knicks last season and his lack of offense limited him to just 13 minutes of total playing time during New York's first round series loss to the Atlanta Hawks.
Together with fellow newcomer Evan Fournier, holdovers Julius Randle, RJ Barrett, and Mitchell Robinson, the Knicks have formidable starting unit that should help them improve an offense that sputtered to average 102.1 points per 100 possessions in their ill-fated playoff appearance. New York has also retained veteran Derrick Rose, presumably to provide leadership and firepower off the bench. Having said those, the Knicks are primed for another playoff run in 2022.