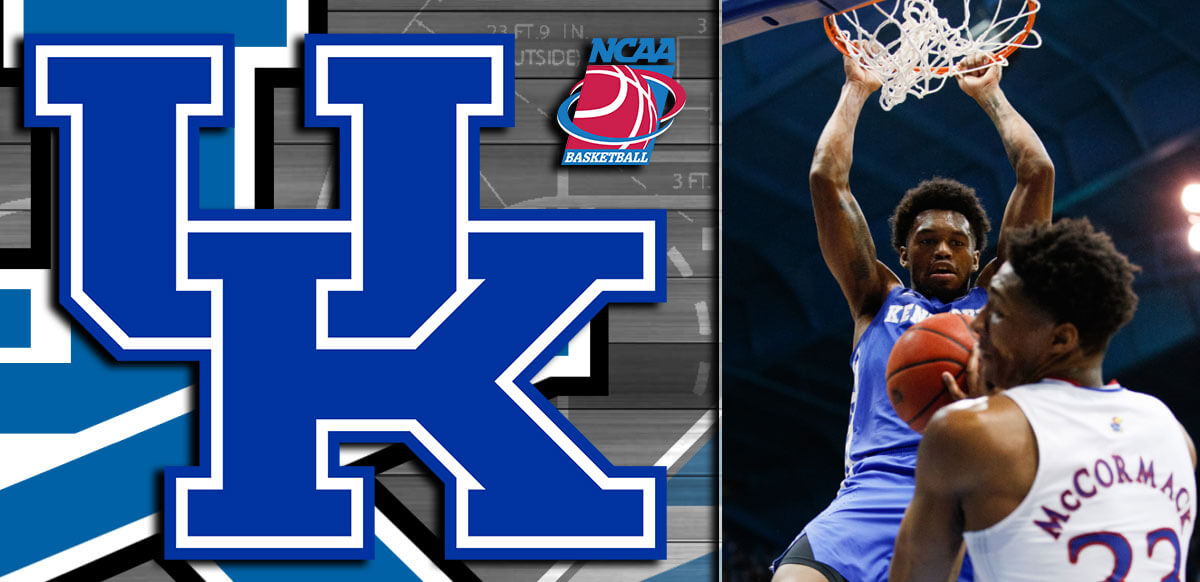 Top College oddsmakers still not pushing Kentucky after win over Kansas
Agbaji, Tushiebwe top Wooden Award odds
Longhorns, Volunteers look to make up ground in Big 12, SEC
Keion Brooks, Jr., scored 27 points and Oscar Tshiebwe posted 17 points and 14 rebounds as the No. 5 Kentucky Wildcats blew out No. 10 Kansas, 80-62, in Allen Fieldhouse on Saturday evening.
CATS BY 18 IN ALLEN FIELDHOUSE ? pic.twitter.com/QocluSn1Fa

— Kentucky Men's Basketball (@KentuckyMBB) January 30, 2022
The Wildcats shot 50.8 percent from the floor and held Kansas to 40.8 percent as Jayhawks leading scorer Ochai Agbaji only scored 13 points on 4-of-14 shooting.
As Kentucky trails No. 1 Auburn by two games in SEC play, the Wildcats are at (+700) odds to win the league while Auburn is sitting tight at (-550).
Kentucky is currently still behind the Jayhawks in odds to make the Final Four as Kansas sits at (+300) while the Wildcats post up at (+350).
No. 12 @KentuckyMBB came to play ?

This is the first time Kansas has allowed 50+ points in the first half since 2007. pic.twitter.com/GhphHV7aSl

— ESPN (@espn) January 30, 2022
Kansas has (+1400) odds to win the national championship while Kentucky is close to the Jayhawks with a (+1500) positioning.
The 'Cats went on an 11-2 run midway through the first half as Brooks scored on a layup to give the Wildcats a 25-13 lead with 10:30 remaining.
Kellan Grady made a pair of three that helped Kentucky increase its lead to 51-31 at halftime.
300th career three for @KellanGrady31 ??? pic.twitter.com/9muUoBFKYX

— Kentucky Men's Basketball (@KentuckyMBB) January 29, 2022
Agbaji still leads the odds for the Wooden Award at (+600), but Tshiebwe, who averages 16.3 points and 15.2 rebounds, is now at second at (+700).
Grady and guards TyTy Washington and Sahvir Wheeler all have (+15000) odds for the award as guard Remy Martin from Kansas is on the board at (+20000).
Longhorns Hold off Late Volunteers' Rally
The Longhorns looked like they had Tennessee hooked in Vols coach Rick Barnes' return to Austin as Courtney Ramey hit a three-pointer to give Texas a 47-32 advantage with 8:38 remaining and then he pushed Texas to a 51-35 margin with 5:34 remaining.
No. 18 Tennessee went on a 16-0 run over the next 4:06 behind seven points from backup guard Zakai Ziegler. Victor Bailey tied the game at 51-51 on a tip-in with 1:28 to play.
Longhorns guard Timmy Allen went to the line and made one of two free throws with six seconds remaining and Texas survived for a 52-51 win.
Challenge Won ?#HookEm pic.twitter.com/kZkxK2taSq

— #23 Texas Men's Basketball (@TexasMBB) January 30, 2022
The loss ended a three-game winning streak for the Volunteers as they have the third-best odds to win the SEC at (+1500) while Tennessee as (+1000) odds to make it to the Final Four and (+4500) to win the national championship.
Then Longhorns picked up their third win in a row although their odds to win the Big 12 have faded to fourth at (+1000).
Texas has odds at (+850) to make an appearance in the Final Four while they are (+4000) to win the national championship.
Red Raiders Established as Big 12 Contender
No. 14 Texas Tech followed up it's heart-breaking 94-91 double-overtime loss at Kansas with a 76-50 rout of Mississippi State on Saturday.
Just like football pic.twitter.com/2CYt5YWSFV

— Texas Tech Basketball (@TexasTechMBB) January 30, 2022
The Red Raiders used 16 points from Adonis Arms and 13 points from Kevin Obanor in shooting 61.7 percent from the floor while forcing the Bulldogs into 22 turnovers.
Texas Tech is two games back of Kansas in the loss column and has (+750) odds to win the Big 12 while (+650) to get to the Final Four.
The Red Raiders have (+3000) odds to cut the nets in New Orleans on the first Monday evening in April.
— Texas Tech Basketball (@TexasTechMBB) January 31, 2022
Texas Tech had (+900) odds to win the Big 12 last week while Kansas (+100) had a small lead on Baylor (+210).
The defensive mantra that first-year coach Mark Adams' squad brings to the court makes them a good value pick for the Final Four.
Texas Tech holds opponents to 38.3 percent from the field (14th/CBB) and then 30.9 percent from three (74th/CBB).
LSU Continues Fade with Loss at TCU
No doubt Jamie Dixon's TCU Horned Frogs are probably the surprise team in the Big 12 as they are tied with Texas and Texas Tech in the loss column with three each.
Saturday's 77-68 win over LSU was an eye-opener as the Horned Frogs are now at 14-4 and have moved up to (+7000) to win the Big 12.
.@TCUBasketball takes the first game in the Big12/SEC Challenge ?

It's their first win against a ranked SEC opponent since 1954. pic.twitter.com/HbZEpirbZB

— ESPN (@espn) January 29, 2022
Charles O'Bannon, Jr., and Mike Miles scored 19 points apiece as the Horned Frogs held the struggling LSU offense to only 36.9 percent.
TCU rebounded from a 73-50 defeat at home against Texas last Wednesday as the Frogs' odds to get to the Final Four are also (+7000) with (+25000) national championship odds.
TIGERS TAMED!

TCU defeats no.19 LSU in the Big 12/SEC Challenge!#GoFrogs #Big12MBB pic.twitter.com/fa5FrGv2AG

— TCU Basketball (@TCUBasketball) January 29, 2022
The Bayou Bengals have lost four out of their last five games as they are last in the SEC in shooting 41.1 percent and scoring just 63.8 points in the league games.
LSU still leads the SEC in six defensive categories as opponents score only 64.8 points while the Tigers lock down their league opposition at 39.2 percent as those are two of their SEC-leading categories.
The Tigers' odds to win the SEC stand at (+3500) while they post at (+1100) to get to the Final Four and (+5000) to win the national championship.