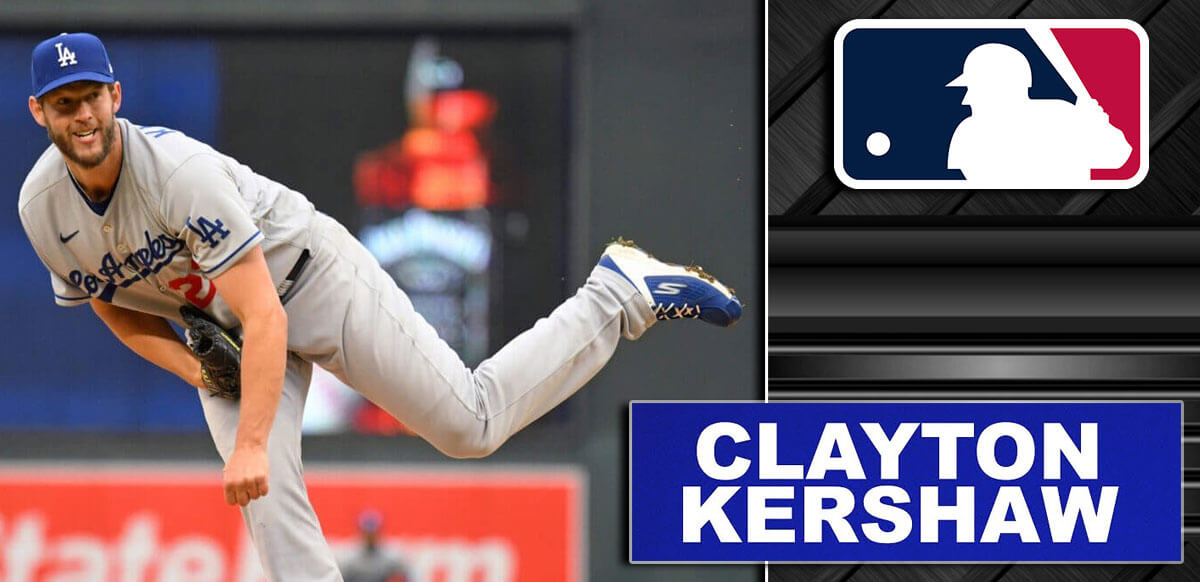 Clayton Kershaw pitched a perfect game through seven inning against the Twins on Wednesday.
Kershaw struck out 13 batters, easily going over his 5.5 strikeout prop bet.
The Dodgers are the +475 odds on favorite to win the World Series at the BetOnline App.
Clayton Kershaw left no doubts about his health with a "perfect" season debut, leading the Dodgers to a 7-0 win on Wednesday.
Re-signed with the L.A. Dodgers this season for $17 million after missing more than two months in 2021 due to inflammation in his left forearm, Kershaw was slotted as the 5th starter to come off the gate, an unfamiliar spot for the future Hall of Famer but was a necessary one to build up his arm strength after a limited spring training schedule.
Kershaw's slider looked immaculate as evidenced by the 17 swing-and-misses from the Twins on 41 sliders thrown, with no fastball going over 91 mph. Kershaw struck out the side in the sixth and fanned every Twins hitter once except Gio Urshela who grounded out to third and flied out to right in his first two at-bats. He struck out 13 of the 21 hitters he faced and recorded the 66th double-digit strikeout game of his career in 380 regular season games pitched. Kershaw also easily went over his modest strikeout prop bet of 5.5.
But not only was Kershaw cruising past his strikeout prop, but he was also perhaps on his best and probably last chance of achieving the one thing his Hall of Fame resume has been missing: a perfect game.
Kershaw Took a Perfect Game Through Seven Innings
Clayton Kershaw took a perfect game through seven innings for the Los Angeles Dodgers in his season debut before being pulled after 80 pitches and13 strikeouts in a 7-0 victory at Minnesota.

by @davecampbellaphttps://t.co/s9OxlM0aim

— AP Sports (@AP_Sports) April 13, 2022
Kershaw has won three NL Cy Young Awards, one NL MVP award, 8 All-Star selections, a Golden Glove, a Triple Crown, a Roberto Clemente Award, and a World Series title. He's led the National League in strikeouts five times, ERA three times, and wins thrice. He's also thrown a no-hitter but has never been this close to a perfect game.
There have only been 23 perfect games in the history of Major League baseball and none since Seattle's Felix Hernandez did it against Tampa Bay on August 15, 2012. Not only did Kershaw look like he was going to add another milestone to his long list of achievements, but he also looked set to end the current drought between perfect games which is the longest since Oakland's Catfish Hunter achieved the feat against the Twins in 1688 and 1981 when Cleveland's Len Barker shut down Toronto.
Kershaw took a perfect game through seven innings and his pitch count was only at 80. But as fate would have it, manager Dave Roberts took the ball out of Kershaw's hand and summoned left-handed reliever Alex Vesia to start the 8th inning. With one out, Twins catcher Gary Sanchez ended any chance of the Dodgers even completing a combined perfect game when he singled to right field on Vesia's fifth pitch thrown.
Eyes on a bigger prize
Clayton Kershaw knows the Dodgers have their eyes on a bigger prize ? pic.twitter.com/LoddVWIyeT

— SportsCenter (@SportsCenter) April 13, 2022
But while Roberts' decision to prevent Kershaw from chasing a perfect game drew plenty of criticism, Kershaw himself agreed with his manager's decision and told the media after the game to put the blame on the lockout and himself for not picking up a baseball for three months during the offseason. He also talked about the Dodgers having their eyes on a bigger prize.
Of course, the Dodgers are the current odds on favorite to win the World Series. The Dodgers are currently listed at +475 via the BetOnline App, Bet365 USA, and Unibet. They are pegged at +480 via the Caesars Sportsbook and are priced at +500 via the DK Sportsbook, FD Sportsbook, BetMGM, Borgata Online, and PointsBet USA.
The Dodgers last won the World Series in 2020, ending a drought that began in 1989. But their reign was short-lived. Los Angeles was ousted in the National League Championship Series by the eventual World Series winners Atlanta Braves in six games. Kershaw did not pitch during the entire postseason. If the Dodgers are to make a World Series run this year, they will need Kershaw to be healthy in the playoffs. And on that line of thinking, pulling him out on Wednesday was just the right thing to do, perfect game or not.