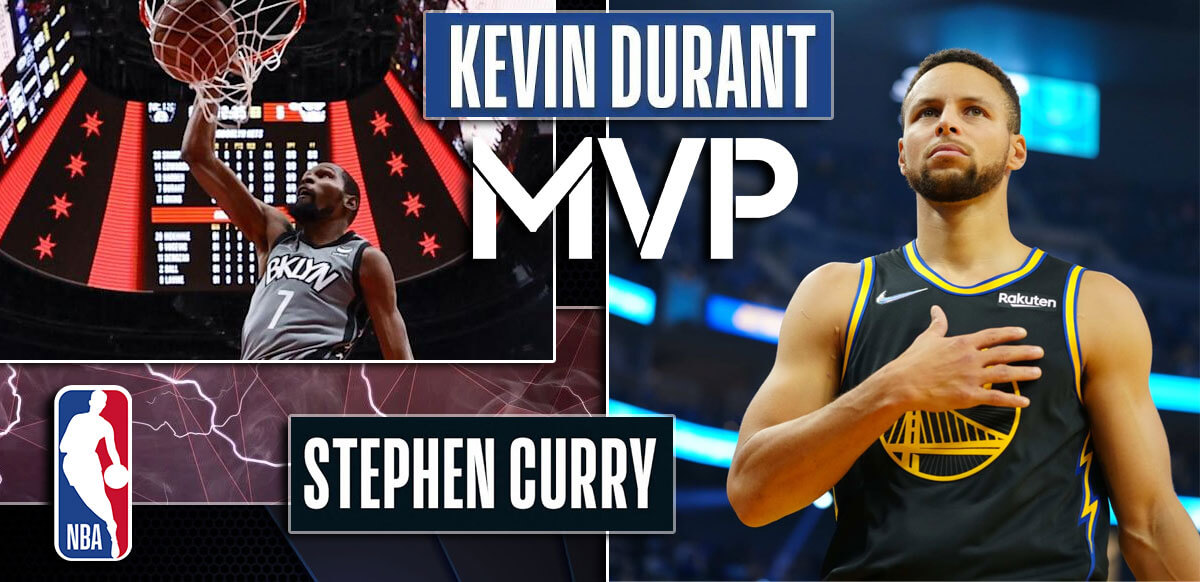 Kevin Durant is the new MVP betting favorite at PointsBet USA with his +160 odds.
Steph Curry, who is still the favorite at the other top NBA sportsbooks, is down to second at +180.
Curry has struggled with his shooting since the start of the new year, going only 33.9% from the field and 28.1% from behind the three-point arc.
Online sportsbook PointsBet USA has had enough with Steph Curry's shooting slump as it put Kevin Durant on top of its MVP betting boards on Thursday.
Chef Curry had been the MVP odds on favorite since overtaking preseason favorite Luka Doncic. But after a strong start, Curry has suddenly found himself struggling with his shot.
Curry's shooting woes continued on Thursday night as the Golden State Warriors were wallopped by the defending champions, Milwaukee Bucks. The former two-time MVP shot just 4-11 from the field, including 2-6 from deep while scoring only 12 points as the Warriors lost for the fourth time in their last five games.
Curry's Shooting Percentages Have Been Bothering
Stephen Curry's shooting percentages coming into the new year have been bothering! ?

Can this be troublesome for Warriors in the long run?#stephencurry #warriors #nba pic.twitter.com/RWbbQ2gLAW

— Sportskeeda Basketball (@Basketball_SK) January 14, 2022
The new year has not been kind to Steph Curry. So far, the Warriors' two-time MVP is shooting just 33.9% from the field and 28.1% from behind the three-point arc this month.
Curry has not had a game where he shot over 50% from the field since before Christmas. During the Warriors previous 20 games prior to Thursday night, Curry averaged 24.9 points, 5.1 rebounds, and 5.4 assists per game. However, he was shooting just 37.4%/34.3%/89.6% during that stretch.
The Warriors' offense also regressed during this period. Golden State ranked second in the league in defensive rating at 113.0 points per 100 possessions during their first 20 games of the season. In their last 20, that average is down to 108.0 points per 100 possessions, which is ranked only 26th overall.
Golden State opened the season with an 18-2 mark in their first 20 games. They are just 12-9 ever since, including Wednesday's 118-99 massacre in Milwaukee where the final score didn't reflect how lopsided the game was in favor of the 2021 NBA champions.
Curry's MVP Odds are Fading
Steph and Giannis go head-to-head tonight ?

Odds to win NBA MVP ? pic.twitter.com/uFR4d0F6p4

— FOX Bet Sportsbook (@FOXBet) January 13, 2022
Curry entered Wednesday's game against Milwaukee as the +140 betting favorite at FoxBet with Durant chasing him at +200. After Wednesday's game, Curry was down to +160 and Durant up to +190 at the same sportsbook. Meanwhile, Caesars Sportsbook's latest odds have Curry as the +175 betting favorite with Durant closing in at +190. The gap is wider at Bet365 USA at +140 for Curry and +120 for Durant and +155 against +255 at BetMGM. However, PointsBet USA has taken Curry down from the top of the mountain.
According to the latest PointsBet USA betting boards, Durant is now the +160 MVP betting favorite while Curry is now the second favorite at +180.Giannis Antetokounmpo is still third at +700 while reigning MVP Nikola Jokic is 4th at +850 with Ja Morant and DeMar DeRozan next at +3000. The other top NBA sportsbooks have yet to put back their MVP betting boards as of this writing, but after Curry's latest debacle, their boards should reflect a tighter race.
Durant sat out the Nets' Wednesday game but is coming off a 27-point game where he shot 7-10 from the floor and 3-4 from deep in a 138-112 rout over the East's top-seeded Chicago Bulls on Wednesday. KD has overtaken Steph as the NBA's scoring leader at 29.7 PPG and if Curry's shooting woes continue, the other top NBA betting sites will definitely follow PointsBet's lead.