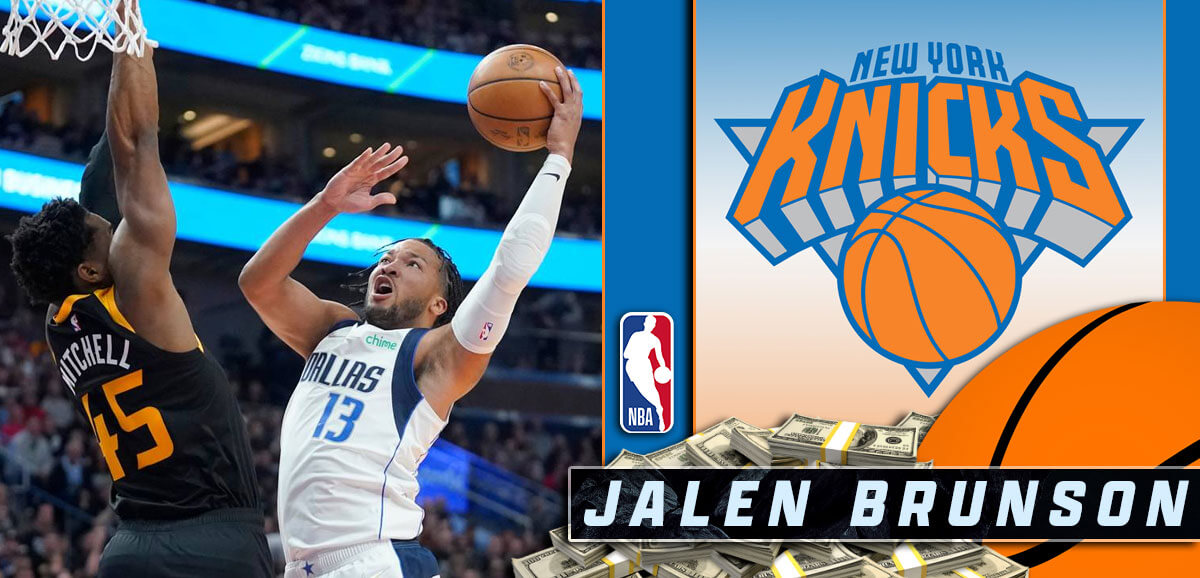 The New York Knicks' title odds have moved from +25000 to +10000.
New York signed guard Jalen Brunson to a four-year deal worth $104 million in free agency.
Brunson averaged 21.6 points per game in 18 playoff games as the Dallas Mavericks made the Western Conference Finals last season.
There has been plenty of movement at the top of the 2023 NBA championship odds boards on Day 2 of the 2022 NBA Free Agency period. But when you talk about which team has sliced the most out of its opening odds, it's the New York Knicks.
Despite still having Bottom 10 title odds, the Knicks have gone from +25000 to +10000 after one key free agency move.
Jalen Brunson Gets a $104 Million Deal From Knicks
Jalen Brunson's deal with the Knicks is for four years, $104 million, his agents tell @wojespn.

The deal includes a player option on the final season. pic.twitter.com/IQygy0vb4F

— ESPN (@espn) July 1, 2022
The Knicks signed guard Jalen Brunson to a four-year deal worth $104 million. With his deal, Brunson is only the 4th player in the Knicks' storied history to have a $100 million contract, joining Allan Houston, Carmelo Anthony, and Julius Randle, He is the first player in NBA history to be given a $100 million deal by a new team despite never having voted to play for an All-Star team.
The 25-year-old guard is coming off a season where he averaged career-highs with 16.3 points, 3.8 rebounds, and 4.8 assists per game during the regular season. Brunson further raised his stock with a breakout postseason where he averaged 21.6 points in 18 games as he helped Luka Doncic take the Dallas Mavericks to a run to the Western Conference Finals.
While Brunson is not the star or All-Star player that Knicks fans were hoping for, he fills a specific void that caused the Knicks to struggle last season. New York ranked fourth from the bottom in field goal percentage at 43.7% and was the fifth-lowest scoring team in the NBA at only 106.5 points per game. With Brunson's ability to score, the Knicks hope they will be a playoff team again in 2023.
Knicks Odds Shorten to +10000
Jalen Brunson is the 1st player in NBA history to sign a $100 million deal with a new team despite having never been voted an All-Star per @ESPNStatsInfo. @nyknicks opened +25000, now +10000 to win NBA Championship.

— John Ewing 🦁 (@johnewing) July 1, 2022
It remains to be seen if the Knicks will become a playoff team by overpaying Jalen Brunson. It's obvious that they are not championship contenders by adding him. However, Jalen Brunson should make the Knicks better than they were last season and in a better place than they were at when the 2023 title odds opened.
The Brunson acquisition caused the Knicks' title odds to shorten from +25000 to +10000. In terms of implied probability, that went from 0.40 to 0.99 percent. Though they are still longshots to win it all next season, the Knicks still moved an inch from having the 8th lowest odds to the 10th. That's not needle-moving but when you're as terrible as the Knicks were last season, you'll take that.
New York also improved to +1000 via Unibet and FOXBet. They are even at a shorter +8000 odds at Bet365 USA. Not all the top NBA sportsbooks are as optimistic, however. They are still at +12500 via Caesars Sportsbook and PointsBet USA. The Knicks are listed at +15000 via the DK Sportsbook and BetOnline App. But given they opened at +25000, the Brunson signing is still a victory for the Knicks.