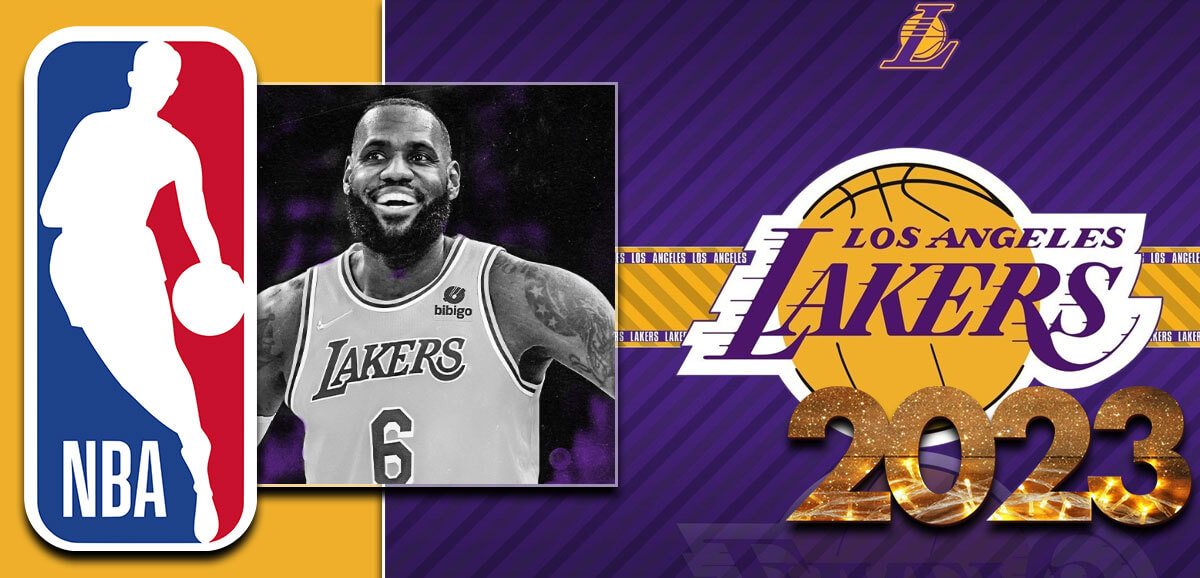 The Los Angeles Lakers have been given a win total of 46.5 games for the 2022-23 NBA season.
Los Angeles was given a 52.5 win total this season but ended up winning only 33 games.
The Lakers have also been given a -240 odds to make the 2023 NBA Playoffs.
Oddsmakers are expecting the Los Angeles Lakers to bounce back next season. With a new head coach in Darvin Ham, the best NBA sportsbooks are predicting the Lakers to significantly win more games this season and are even picking them to make the 2023 NBA playoffs.
Interesting Odds
Some interesting Lakers odds just dropped for next season with Darvin Ham reportedly the new head coach, via @SportsBettingAG pic.twitter.com/RHGrhSoYkC

— Ryan Ward (@RyanWardLA) May 30, 2022
Interestingly, the Lakers have been given a win total of 46.5 games. That's a surprise, considering the team won only 33 games this season with a core that included LeBron James, Anthony Davis, Russell Westbrook, Carmelo Anthony, Dwight Howard, and Malik Monk. The Lakers opened with the second-best odds to win the 2022 NBA title but the team ended up missing even the play-in tournament.
Los Angeles debuted at -3000 to make the playoffs during the previous offseason. But after injuries to Anthony Davis and LeBron James, Los Angeles fell way short of their 52.5 win total at the best NBA sportsbooks. and in fact, had the largest negative margin from their win total.
For the upcoming season, the Lakers have opened at -240 odds to make the playoffs or a 70.6% implied probability. However, remember that they debuted at a much shorter -3000 price to make the playoffs before the start of the 2021-22 season and ended up winning only 33 for a negative variance of 19.5 from their 52.5 win total.
No Coach Can Save the Lakers
.@dylanohernandez: "The Lakers have replaced the coach they unceremoniously fired last month, but that coach wasn't their problem.

No coach could save these Lakers"https://t.co/lm153xJhhk

— Los Angeles Times (@latimes) May 28, 2022
Los Angeles' inability to make the 2022 playoffs cost head coach Frank Vogel his job. Vogel led the team to the 2020 title but with Anthony Davis missing time due to injuries, the Lakers could only finish 6th in the Western Conference teams standings The Lakers had an extensive coaching search and they ended up signing former NBA player and current Milwaukee Bucks assistant Darvin Ham as their new bench tactician. But while Ham's arrival is a breath of fresh air in Los Angeles, no coach can save the Lakers.
The Lakers' biggest dilemma will be what to do with Russell Westbrook because obviously, the experiment did not work last season. Nothing is official but rumors say that the Lakers are trying to ship out Westbrook and are actively looking for trade partners. However, it has been reported that teams willing to take Russ want a first-round pick as a deal sweetener, something which the Lakers are said to be unwilling to do. The latest reports say that the Lakers may be willing to run it back with Russ because they don't want to mortgage their future picks just to move him out of Lala land.
How Westbrook rebounds if he stays in L.A. will be the key to the Lakers' 2023 campaign. LeBron James will be a year older and Anthony Davis remains to be as fragile as ever. Current betting odds have also put the Lakes' over/under playoff position to 6.5 which means that they are expected to be a play-in team more than a playoff team. Given their championship pedigree, the Lakers will want to return to the title picture. However, given last season's disaster, that would be too much to expect from LeBron and co. next season.