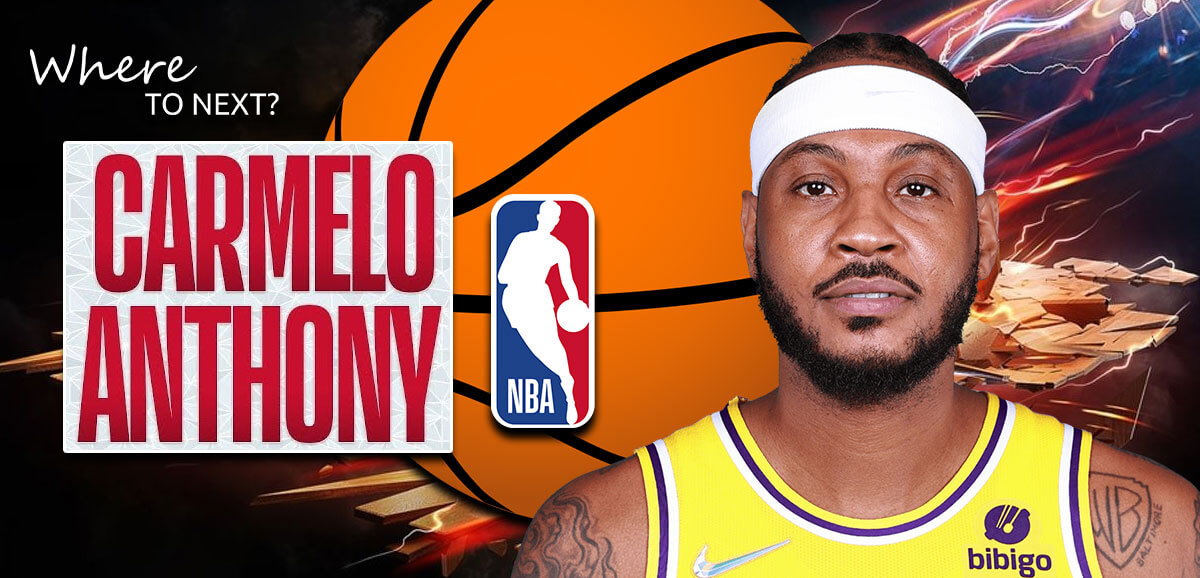 Carmelo Anthony is favored to sign with the Lakers or Knicks at +175 odds.
The Brooklyn Nets at +350 are the next favorites to be Melo's next team.
Anthony is one of the remaining notable free agents still available on the market.
Carmelo Anthony continued to reinvent himself last season as he excelled in a bench role for the Los Angeles Lakers. The 38-year-old 10-time All-Star and a six-time member of the All-NBA team has seen his numbers decrease since leaving the Knicks in 2017 but instead of fading away for good, Anthony has become a valuable bench contributor for his recent homes.
Last season, Melo put up 13.3 points, 4.2 rebounds, and 1.0 assists per game and was one of the bright spots in what was a disappointing year in Los Angeles.
But Melo's contract with the Lakers ended with the previous campaign and with the 2022 NBA free agency already one-month-old, Melo is still unsigned.
The question, though not so big anymore, is where will he play next.
Which Team Should Sign Carmelo this Season?
Which team should sign Carmelo this season? pic.twitter.com/Cbf9RvSYfA

— Legion Hoops (@LegionHoops) July 18, 2022
According to online sportsbook Bovada, the Los Angeles Lakers are still the +175 odds-on favorite to sign Carmelo Anthony this season. However, the Lakers are not alone at the top with Bovada also listing Melo's former team, the New York Knicks as co-favorites at the same price.
Returning to the Purple and Gold would seem to be Anthony's logical move. His good friend and banana boat brother LeBron James is there and he did find success playing for the team last season. However, with the Lakers' giving newly-signed free agent Troy Brown the no. 7 jersey, that could be a sign that Anthony might not be returning next season:
Troy Brown Jr. (@carmeloanthony) will wear No. 7 for the #Lakers. Number last worn by Carmelo Anthony in 2022. #NBA pic.twitter.com/rQHTqh8F5v

— Etienne Catalan (@EtienneCatalan) July 2, 2022
Of course, there's a possibility that Carmelo Anthony would be changing jersey numbers next season for the Lakers. After all, he wore 15 when he was with the Nuggets and even 00 with the Trail Blazers. But then again, maybe he is one-and-done in Los Angeles too.
Knicks Have 2 Roster Spots Left
Knicks have 2 roster spots left

Remaining Free Agents:

PG: Schroder, Rondo, Bledsoe, Campazzo

SG: Rivers, Bradley, Lamb, Lou Williams, Scottie Lewis, Culver, McLemore

SF: Hood, Woodard, Iguodala

PF: Carmelo, Blake, Jabari, Paschall

C: Whiteside, Harrell, Dwight, 🌮, Boogie pic.twitter.com/zUSCJQgwEN

— Knicks Memes (@KnicksMemes) July 14, 2022
There are still a handful of very good veteran free agents out there in the market and the New York Knicks only have two roster spots left. But it would not be a surprise if they make room to sign a player who was once the "King of New York" or the "Madison Square Guardian" during his prime. Sure, Melo never took the Knicks to greater heights, but there's no question he will always have a special place there. The Knicks at +175 is a very interesting proposition.
Bovada lists the Brooklyn Nets at the third spot with +350 odds. But it's unclear if that's the part of New York where Anthony wants to finish his career. Although they have not made a big trade yet, Brooklyn could end up being a mess and Melo might now want to be a part of it.
The Atlanta Hawks are at +800 but they bought him out after acquiring him for Dennis Schroder in 2018. Again, it's unsure if Anthony is interested in going there, not at this stage of his career. The Sixers are listed t +1200 and given that Philly is one of the favorites in the East, the 76ers could be the darkhorse to sign Melo.