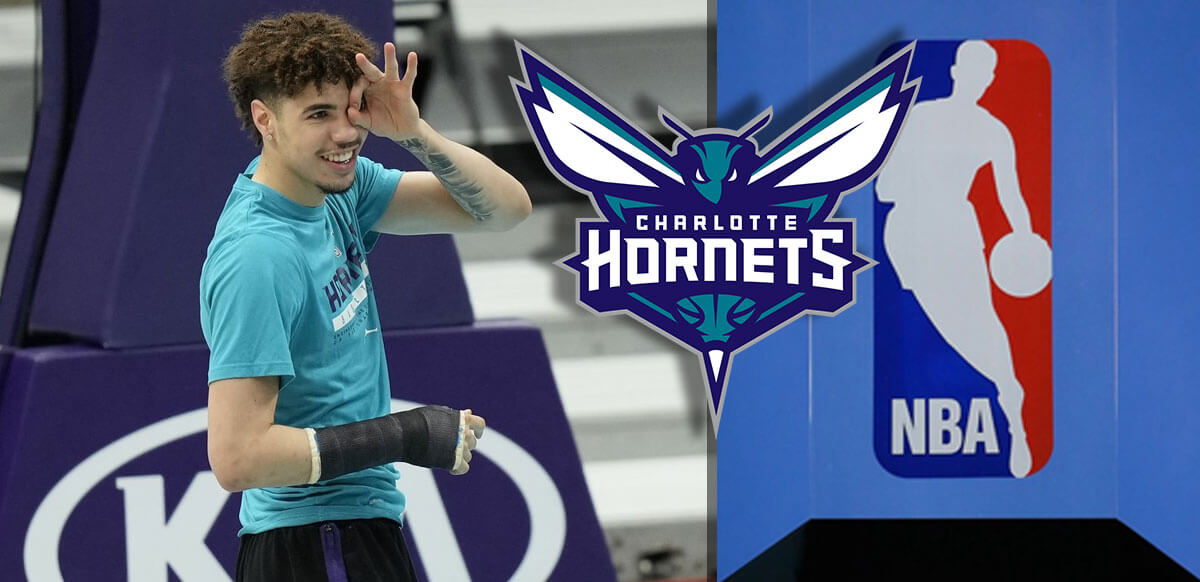 The Charlotte Hornets clinched their first .500 season with a win over the Orlando Magic on Thursday night.
LaMelo Ball had 28 points, 8 rebounds, 9 assists, and 4 steals while going over his points, rebounds, assists, and steals prop bets.
Ball also joined Luka Doncic and Anthony Edwards as the only players in NBA history to make 300+ three-pointers before turning 21 years old.
Thursday was a big night for the Charlotte Hornets and their bettors.
First, Charlotte won by 20+ points for the 10th time this season, the most in a single season in franchise history. The Hornets also won their 41st game of the season and assured themselves of ending the campaign with a .500 mark.
LaMeLo Ball also made his 300th three-pointer during the game, putting his name in the NBA record books once again. Ball also stuffed the stat sheet and rewarded his OVER bettors by cashing the OVER on his game prop bets.
LaMelo Did it All for Over Bettors
LaMelo Ball did it all for over bettors:

• Over 21.5 pts ✅

• Over 5.5 rebs ✅

• Over 8.5 asts ✅

• Over 1.5 stls ✅ pic.twitter.com/Y0kOrv7N8w

— Action Network (@ActionNetworkHQ) April 8, 2022
Earlier this week, LaMelo became the only player in NBA history to record 1000+ points, 500+ assists, and 200+ three-point makes in a single season at 20 years old or younger. He is also the youngest player in NBA history to make 200 three-pointers in a single season. On Thursday night, LaMelo continued his record-breaking season.
Ball made four out of 10 three-point attempts against the Magic to increase his career total to 301 three-pointers made, making him only the third player in NBA history after Luka Doncic and Anthony Edwards, to make 300+ three-pointers before turning 21. Ball is also the 2nd youngest ever to achieve the feat at 20 years and 228 days, behind only Edwards who did it at age 20 years and 17 days. By accomplishing the feat in only his 124th NBA game, LaMelo is also the 7th fastest to achieve the mark.
But not only did LaMelo etch his name in the NBA record books on Thursday night, but Ball also did it all for the OVER bettors. With a game total of 26 points, 8 rebounds, 9 assists, and 4 steals, LaMelo went OVER his game prop bets of 21.5 points, 5.5 rebounds, 8.5 assists, and 1.5 steals.
And oh, by the way, Ball also delivered the highlight of the night: a between-the-legs and off-the-glass alley-oop pass to Montrezl Harrell:
LAMELO AND TREZZ SHOWTIME ?
(via @NBA) pic.twitter.com/XEoM56nM8H

— Overtime (@overtime) April 8, 2022
First Non-Losing Season in Six Years
LaMelo Ball leads Hornets past Magic in a game where 3 players were ejected. Charlotte (41-39) assured its first non-losing season in 6 years https://t.co/DSLG1sibKZ

— Steve Reed (@SteveReedAP) April 8, 2022
The late-game incident that caused a three-player ejection wasn't enough to ruin the Hornets' night. With Thursday's win, Charlotte improved to 41-39 on the season and assured themselves of their first non-losing season in six years. The last time Charlotte had a .500 mark was during the 2015-16 season which is also the last time they made the playoffs.
The Hornets are currently the 10th seed in the East and would need two wins in the play-in tournament to make the playoffs. Right now, that means a win over the Atlanta Hawks in their first play-in tournament game and another one against either Cleveland or Brooklyn, none of which is an easy task. Still, no matter what happens, this has been a successful campaign for the Hornets.
After winning only 33 games last season Charlotte opened as a +100 to go over 38.5 wins this season at the best NBA betting sites. They've cashed the over on that prop bet two wins ago and still have one more regular season game left to play. ESPN's playoff index currently has Charlotte with a 20.1% chance of making the playoffs. But remember that they were just a +180 to make the playoffs before the start of the season.