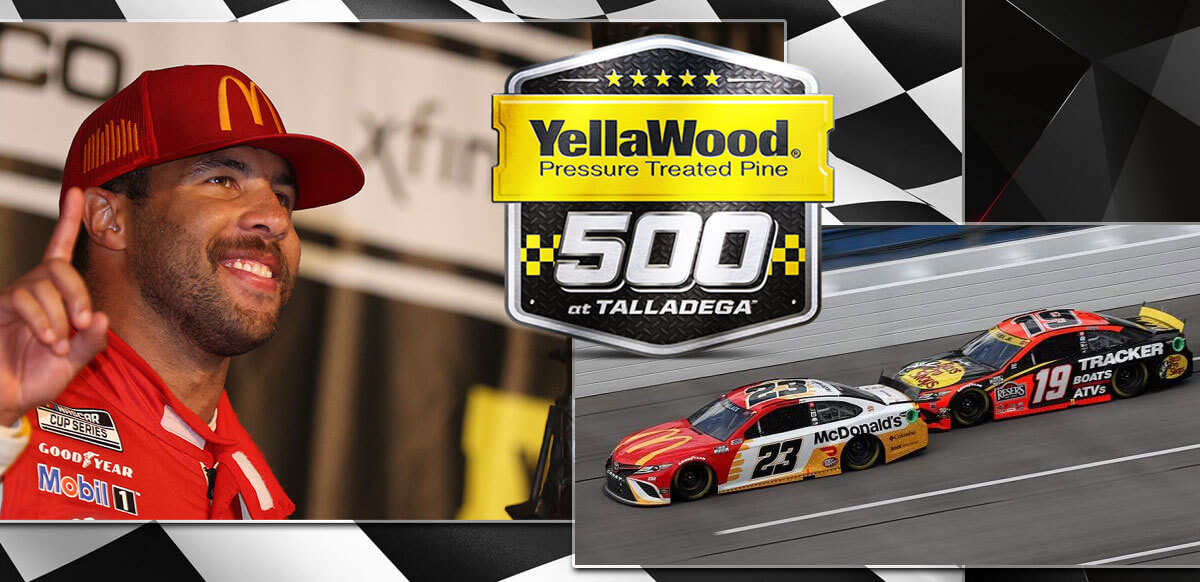 Bubba Wallace was declared the winner of the rain-shortened Yellawood 500 at Talladega on Monday.
The win was Wallace's first-ever in the Cup Series and the first by a black driver since 1963.
Wallace was a +3300 longshot to win the race at PointsBet and a +2500 at DraftKings and Bovada.
Bubba Wallace made history at the Yellawood 500 on Monday as he became the first black driver to win a NASCAR race in the modern era and the second overall to win in the NASCAR Cup Series since Wendell Scott won his first and only Cup race at Jacksonville in December 1963.
Although he had six victories in the Truck Series from 2103-2015, Sunday's victory was the first for Wallace in 142 career Cup starts. That's not all. Wallace's win was also unexpected as he was a longshot in the race as he was in the Cup Series title odds all-season long.
Said Wallace after the race:
"Got some credibility to my name now. I'm just like, 'Finally, I'm a winner and I'm a winner in the Cup level,' and it's just like 'Hell yeah!' It was a huge weight lifted off my shoulders."
Winning as a Longshot
Bubba Wallace was 25/1 to win this race, his best odds in a race all year I believe. He has been as much of a longshot as 225/1 this season. #NASCAR (Those odds are/were on @BovadaOfficial)

— Ryan (@Isley23) October 4, 2021
Wallace entered Sunday's race at Talladega as a +2500 longshot at DraftKings. He had longer odds at +3300 at PointsBet. The usual suspects were favored to win the race- Denny Hamlin at +850, Joey Logano and Chase Elliott at +1000, Ryan Blaney at +1100, and Brad Keselowski at +1300.
Just nine of the 40 drivers in the race had won at Talladega: Kyle Busch, Keselowski, Logano, Hamlin, Elliott, Blaney, Kevin Harvick, Ricky Stenhouse Jr., and Aric Almirola. Keselowski led all drivers with six Talladega wins while Logano (3), Blaney (2), and Hamlin (2) are the only other drivers who have won there more than once.
But Wallace dodged around a Ryan Preece crash and found his way in front of the field amidst the chaos. He held the lead for a good five laps before the race, which already had been rescheduled, was halted in Lap 118 of 188. After another rain shower halted attempts to dry the track, NASCAR pulled the plug and declared Wallace the winner.
Joining 23XI Racing Team
Bubba Wallace is the driver of the No. 23 car for 23XI Racing team, which is co-owned by Michael Jordan

Jordan is the first Black principal owner of a full-time Cup team since 1973

Wallace got his first Cup Series victory as a driver and MJ got his first win as a team owner ?? pic.twitter.com/YEnrDwr3qo

— The Undefeated (@TheUndefeated) October 4, 2021
Hopes were high for Wallace after he signed with Michael Jordan's single-car NASCAR team last year. Wallace was always seen as a potential but he never got the opportunity to blossom after struggling with mid-level equipment throughout his Cup Series career. Moving to MJ's brand new 23XI team was seen as a big break but even then, things weren't expected to change in an instant.
After seven races in the season, Wallace's odds to win the Cup Series was just a longshot +8000. Then after the Cup Series went on a three-week hiatus last August, Wallace further faded to +10000 at the best NASCAR sportsbooks and when the betting boards for the Cup Series Championship were released after the regular season, he was out of the equation.
Entering Monday's rescheduled race, Wallace wasn't among the 12 drivers still in contention to win the Cup Series. While the Top 12 drivers busy fighting to earn a spot in the Round of 8, Wallace and the 27 other eliminated drivers were focused on adding their names to the list of exclusive winners at Talladega. He did just that on Monday, in a victory that will never be forgotten.