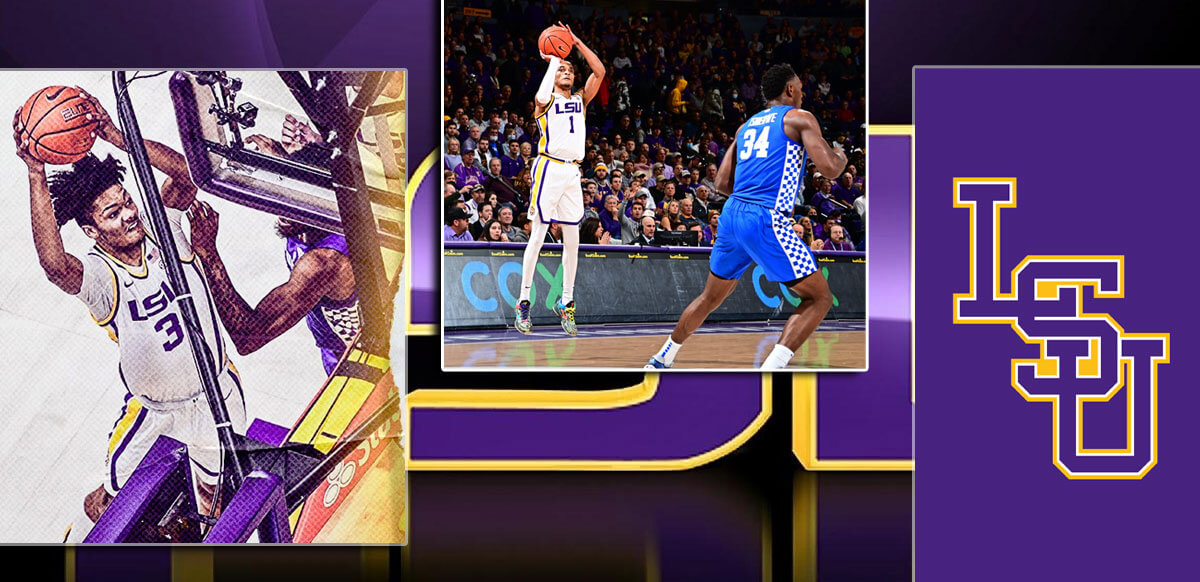 LSU pushes forward on odds boards with win over Kentucky
Online sportsbooks still favor Wildcats in deep and talented SEC
Auburn moves to 13-1 and grabs oddsmakers attention
A stubborn defensive effort and late layups off of turnovers sent the No. 21 LSU Tigers to a 65-60 win over the No. 16 Kentucky Wildcats on Tuesday night at the PMAC in Baton Rouge La.
BOOTS ARE ALLLLL THE WAY UP#BOOTUP pic.twitter.com/tC6FukTmmd

— LSU Basketball (@LSUBasketball) January 5, 2022
The Tigers trailed, 50-41, with 13:06 to go in the game. From there, a relentless defense held Kentucky to 1-of-11 shooting from the field with four turnovers as LSU went on a 20-2 run to take a 61-52 lead with 2:35 to play.
Darius Days keyed that run went a pair of three-point shots as LSU held the Wildcats to 36.1 percent from the field and outscored Kentucky, 16-6, on the offensive glass.\
only a matter of time for Darius ?

? ESPN pic.twitter.com/oOM3Zvkpv0

— LSU Basketball (@LSUBasketball) January 5, 2022
Oddsmakers moved LSU up to fifth in the SEC with a (+800) offering to win the league. The Tigers started the season with odds at (+1200) and as they had a composite (+950) two weeks ago.
Tari Eason led LSU with 13 points while Xavier PInson tallied 11. Davion Mintz led all scorers for Kentucky with 16 as Jacob Toppin netted 14 and Kellan Grady managed 13 points.
let's relive the last three minutes from last night again… then again, then again.#BootUp pic.twitter.com/Qf8cdwbEeL

— LSU Basketball (@LSUBasketball) January 5, 2022
Kentucky point guard Saviir Wheeler was injured early in the first half when he ran into a pick that was set by Tari Eason.
According to the oddsmakers:
Kentucky is still the favorite to win the SEC as the Wildcats have odds at (+250) as they had odds at a composite (+290) two weeks ago. Kentucky's odds post at (+500) to make it to the Final Four while LSU sits with a (+1100) number.
The loss snapped a four-game winning streak for the Wildcats and they are hosting (+2200) odds to win the national championship while LSU is postured at (+4000).
The Gold Standard. EP. 5 | New Blood

a behind-the-scenes look at our past four wins, exclusive interviews with Fudge, Efton, & BMurray, & more.

watch here » https://t.co/d4Sd7IYIUP pic.twitter.com/z4Bup39oRZ

— LSU Basketball (@LSUBasketball) December 23, 2021
The Tigers' activity on defense neutralized Kentucky big-man Oscar Tshiebwe's scoring opportunities as he only scored eight points while taking nine shots in 29 minutes.
Tshiebwe is sixth on the Wooden Award list with odds at (+1200) to win it. Gonzaga's Drew Timme (+700) has taken the lead over Duke freshman Paolo Banchero (+800) as Ohio State big-man EJ Liddell has tied Banchero for third with the (+800) listing.
Another Tiger Roars
Auburn keeps winning as the Tigers went into South Carolina as a 10-point favorite and covered with an 81-66 win over the pesky Gamecocks.
? straight wins! #WarEagle | @ChickfilA pic.twitter.com/Svjhxv5UPO

— Auburn Basketball (@AuburnMBB) January 5, 2022
Point guard Wendell Green, Jr., scored 22 points in 28 minutes to lead four Tigers in double figures.
Auburn led by as many as 20 points in the second half, but the Gamecocks fought back as James Reese, V, hit a pair of free throws with 6:44 remaining to cut the Tigers' lead to 63-55.
? Frames from last night.#WarEagle pic.twitter.com/WAcKPUJjQg

— Auburn Basketball (@AuburnMBB) January 5, 2022
The Tigers keep moving forward on the odds boards as they are now 13-1 and have won 10 in a row. Sportsbooks have Auburn posted at (+475) to win the SEC which is third behind Kentucky (+250) and Alabama (+330).
Auburn was a composite (+750) two weeks ago before they handed LSU its only loss of the season, 70-55.
Bruce Pearl's Bengals started the season at (+650) as there is a log jam in the SEC among the top seven teams.
The frontcourt of freshman phenom Jabari Smith and center Walker Kessler may be the best in all of college basketball. Smith (15.7 ppg, 6.5 rpg)n are a tough cover as Smith can go out to three-point range, stretch the defense and open things up in the middle for Kessler. Smith has odds at (+2500) to win the Wooden Award as he and Kessler formulate a defense on the inside that allows opponents to shoot only 38 percent from the floor (20th/CBB).
Auburn continues as a hot value pick as the Tigers are postured at (+800) to get to the Final Four while they sit with a (+3500) number to win the national title.
Erik Stevenson led all scorers for South Carolina as the Gamecocks fell to 9-4. This could be Frank Martin's best team since the Final Four team in 2017.
The Gamecocks are a long shot to win the league at (+12000) as their SEC championship odds were at a competitive (+8000) two weeks ago.
Razorbacks Fall at Home to Vanderbilt
Arkansas had a great run to the Elite Eight last season, but the Razorbacks have struggled of late as they dropped their fourth in a row, 75-74, to improving Vanderbilt on Tuesday.
Down to the wire. pic.twitter.com/L6FDSc3hSg

— Arkansas Razorback Men's Basketball ? (@RazorbackMBB) January 5, 2022
Coach Eric Musselman lost Moses Moody to the NBA and the Golden State Warriors as Justin Smith and Jalen Tate also graduated, making three of the top four scorers who left.
The biggest problems for the Hogs stem from shooting 30.2 percent from three and only making 6.6 triples per night. Arkansas also is not defending as well as Mussleman needs as opponents are shooting 43.2 percent from the floor (224th/CBB) and 36.3 percent from three (315th/CBB).
Stanley Umude led the Hogs with 28 points last night while leading scorer JD Notae was back and posted 16. Notae scored eight points in the last two minutes to rally the Hogs from six points down.
Arkansas has stepped back to (+1400) odds to win the SEC as they were a composite (+600) on Dec. 20 before the losses to Mississippi State and the Commodores. The Razorbacks started the season tied with Alabama at (+500) on some odds boards.
Arkansas is listed at (+1100) to make it to the Final Four and have a (+4500) posting to win the national championship.
Vanderbilt coach Jerry Stackhouse has upped the talent level considerably in Nashville. Scotty Pippen, Jr. leads the Commodores at 18.4 points per game as Jordan Wright (12.5 ppg, 6.1 rpg) is the second leading scorer and leads the 'Dores on the boards.
Defense has been the key to the 9-4 start as Vanderbilt has held opponents to 31.1 percent from three (101st/CBB) and 39.7 percent from the floor (63rd/CBB).
The Commodores are listed at (+12000) to win the SEC as they were a composite (+9500) on Dec. 20.