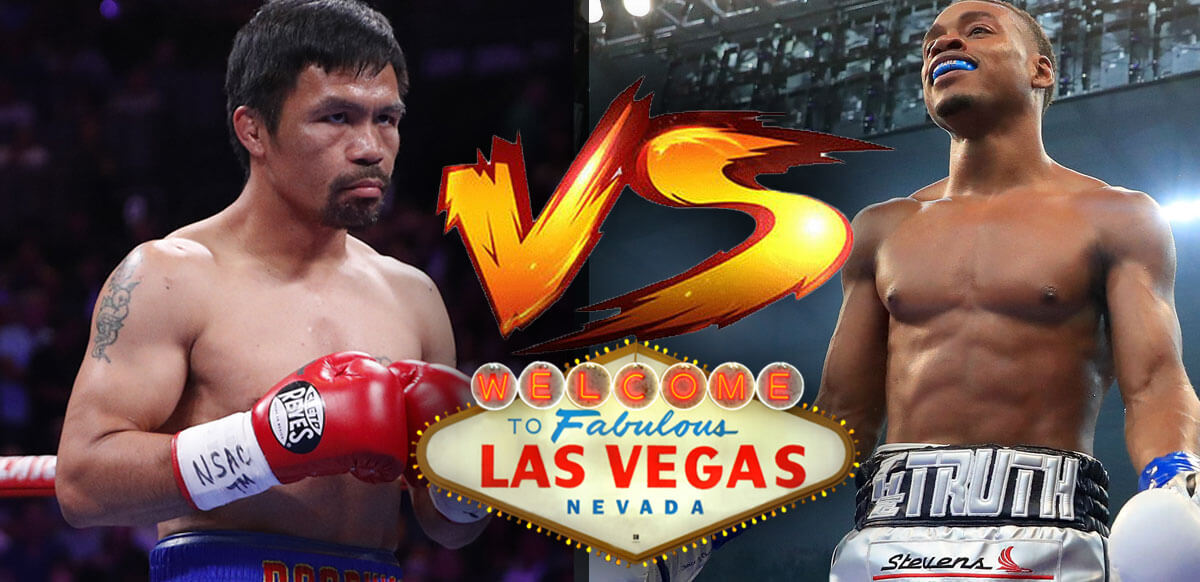 Manny Pacquiao will be fighting Errol Spence on August 21st in Las Vegas.
Pacquiao has not fought since defeating Keith Thurman two years ago.
Spence defeated Danny Garcia last December one year after a near-fatal car accident.
While Floyd Mayweather Jr. continues to fight tomato cans, Manny Pacquiao continues to fight killers.
Two years after fighting then undefeated Keith Thurman, the Filipino ring legend is returning to the ring against another killer. Pacman himself made the announcement via Twitter:
— Manny Pacquiao (@MannyPacquiao) May 21, 2021
Unified Champion
What a comeback story.

Almost one year ago Errol Spence Jr. was hospitalized after a serious car crash where he was thrown from his vehicle.

One year later, he beats Danny Garcia by unanimous decision. ? pic.twitter.com/L6n4P7lHQF

— Complex Sports (@ComplexSports) December 6, 2020
After a near fatal single car accident in 2019, Errol Spence triumphantly returned to the ring last December, defeating former champion Danny Garcia via unanimous decision to retain his WBC and IBF title. Prior to beating Garcia, Spence won a second welterweight belt by defeating Shawn Porter in a narrow split decision prior to his accident.
The 31-year old Spence is a former Olympian who represented the United States in the 2012 Summer Games. Since turning professional, Spence has won 27 consecutive bouts without a defeat and has knocked out 21 opponents. He first became a world champion when he travelled to England to dethrone Kell Brook via knockout.
Known as the Truth, Spence was looking at a fight with WBO welterweight Terence Crawford, in a fight that would have determined who is the best welterweight today. Spence was also angling at a Shawn Porter fight but that too, did not materialize. In the end, he will get an "easier" and probably richer fight against one of the all-time greats in the sport.
Oldest Welterweight Champion
Manny Pacquiao beats Keith Thurman to become the oldest welterweight champion in history https://t.co/KBsNTFgfXx

— CNN (@CNN) July 21, 2019
Nearly two years ago, Manny Pacquiao became the oldest welterweight champion when he defeated Keith Thurman via clear unanimous decision to win the WBA (super) welterweight title. Now 42 and a full-time legislator in his native country, Pacquiao has an opportunity to break his own record.
Pacquiao is one of the all-time greats in the sport. He is the only fighter to win a world title in eight different weight classes and the only one to win five lineal title. Since suffering a fluke hometown decision loss to Australian journeyman Jeff Horn in 2017, Pacquiao has won three straight bouts, defeating former world champions Lucas Matthysse, Adrien Broner, and Thurman in impressive fashion.
The Filipino fighting senator is way past his prime. And while he surprised the world with a vintage performance against Thurman, it remains to be seen what is left of the living legend at the age of 42. Still, Pacquiao fighting Spence is pretty much dope and gangster, considering that Floyd Mayweather Jr. is fighting YouTube punk Logan Paul after bouts with kickboxer Tenshin Nasukawa and MMA star Conor McGregor. That doesn't erase the fact though that Mayweather beat Pacquiao easily when they fought in 2015.